The Legend of White Snake – Yu Menglong, Ju Jingyi
The Legend of White Snake is a historical romantic fantasy drama directed by Zhi Lei, led by Yu Menglong, Ju Jingyi, co-starring Pei Zitian, Xiao Yan, Nie Zihao, Yu Lang, Feng Jianyu, Li Lin, Zeng Yunnicu, with special appearances by Cecilia Yip and Maggie Chan, Xie Junhao, Huang Kaijie, Zhao Yingzi, Ken Tong, David Wu, and Wang Ji.

The series was first licensed by Taiwan Television Corporation and is based on the 1992 version of the TV series of the same name, which tells the story of a thousand-year entangled love between the mortal doctor Xu Xian and the White Snake Bai Suzhen.
Details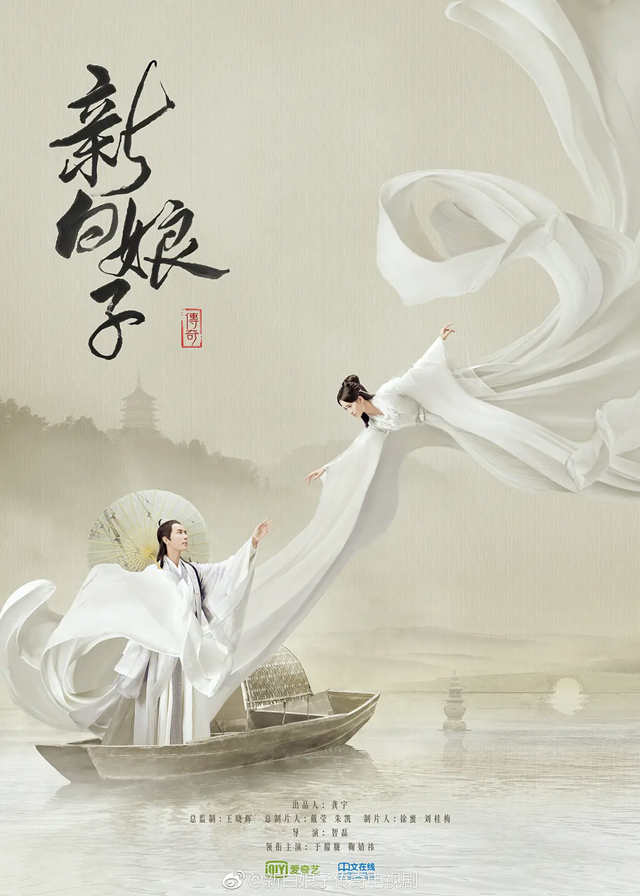 English Title: The Legend of White Snake
Chinese Title: 新白娘子传奇
Genre: Historical, Youth, Comedy
Episodes: 36
Duration: 45 min.
Director: Zhi Lei
Writer: An Yumo
Producer: Dai Ying, Zhu Kai
Product Company: iQIYI, CHINESEALL
Broadcasting Website: iQIYI, Netflix, Viki
Released Date: April 3, 2019
Cast

Yu Menglong
as Xu Xian

Ju Jingyi
as Bai Suzhen

Pei Zitian as Fa Hai

Xiao Yan as Xiao Qing

Nie Zihao as Jing Song

Yu Lang as Jin Ruyi

Feng Jianyu as Zhang Yutang

Li Lin as Li Gongfu
Synopsis
Bai Suzhen, who had been training for a thousand years, successfully transformed into a human being in Emei Mountain and received the enlightenment of the Goddess of Mercy. She decides to experience mortal life and accumulate good deeds to become immortal as soon as possible.
In the process of fighting against the demon, Bai Suzhen met Xu Xian, the Lin'an doctor, and became sisters with Xiao Qing, a five hundred-year-old snake demon.
Bai Suzhen and Xu Xian fell in love with each other and became husband and wife. At the Dragon Boat Festival, Bai Suzhen mistakenly drank Xiong Huang wine and showed her original body, making Xu Xian think that Bai Suzhen was eaten by snakes and died. He fell into sleep because of the shock.
Sobering up, Bai Suzhen was heartbroken and decided to go to Kunlun Mountain to steal the immortal grass to let Xu Xian wake. After a lot of hazards, she finally saved Xu Xian.
The news that Bai Suzhen was a demon spread throughout Lin'an City, she was rejected by the people. Xu Xian swallowed the evil medicine Man Ling Dan in order to protect Bai Suzhen, He transformed into a demon and was brought into the Jinshan Temple by Fa Hai.
However, after giving birth to her infant son, Bai Suzhen was imprisoned in the Leifeng Tower for her sins.
Bai Suzhen was imprisoned for love, Xu Xian traveled to save his wife by doing goods. Unless the Leifeng Tower fell, the West Lake water dry, the couple can reunite.