Sweet Combat – Lu Han, Guan Xiaotong
Sweet Combat is a youthful school romantic drama directed by Ke Hanchen, led by Lu Han and Guan Xiaotong, co-starring Pei Zitian, Shao Yuwei, Zhao Yue, Li Mengmeng.

The drama is based on the Korean comic "소녀the wild's/Kuang Ye Shao Nv" and is set at the Zhengze Sports Academy, telling the inspiring story of young people who grow up together because of combat competition.
Details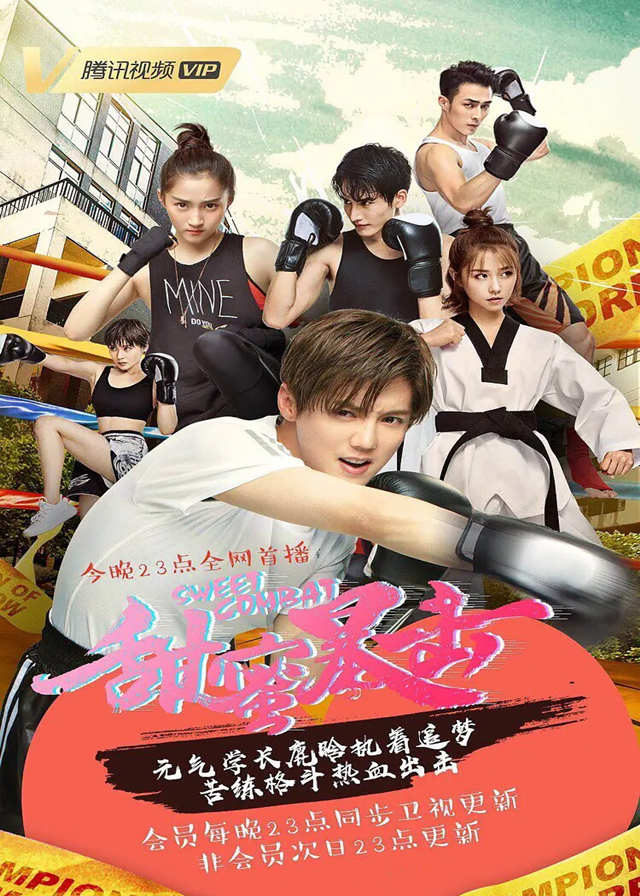 English Title: Sweet Combat
Chinese Title: 甜蜜暴击, 爱的回旋踢, 狂野少女
Genre: Youth, School, Romance
Episodes: 38
Duration: 35 min.
Director: Ke Hanchen
Writer: Ru Ping
Producer: Ye Zhaojun
Product Company: HUACE GROUP, MGTV
Broadcasting Website: TencentVideo, iQIYI, YOUKU, MGTV, AsianCrush, Viki, HUACE GLOBAL FUN
Released Date: July 23, 2018
Cast

Lu Han
as Ming Tian

Guan Xiaotong
as Fang Yu

lvy Shao as Song Xiaomi

Pei Zitian as Sun Hao

Zhao Yue as Luo Guanyan

Li Mengmeng as Cheng Yalan

Pu Kang as Ma Yichen

He Meixuan as He Xiaofeng

Wang Jia as Wang Shiwei

Ding Chengxin
as Fang Zhou
Synopsis
Ming Tian had taken three years off from school to work because of his poor family. He became more resilient through social trials and tribulations.
When he returned to school, he enrolled at Zhengze Sports College, which has a high scholarship.
He was discovered by Fang Yu, the number one ranked combat fighter. During the course of their sparring and training, they gradually had a mutual attraction and came together.
With the help of all the people, Ming tian overcame a series of difficulties and setbacks and eventually grew up to be a combat master with a sense of justice.
Fang Yu, the eldest daughter of the Fang Group, was raised as the heir apparent and always wears short hair and pants.
She has a passion for combat, and despite her family's objections, she enrolled in the Sports Academy Zhengze. At the age of eighteen, she gained the champion of the Zhengze League, becoming a true "combat queen".