Stay With Me – Joe Chen, Wang Kai
Stay With Me is a fashionable urban romantic drama directed by Billy Tang, Ruan Weixin, and Chen Guohua, starring Joe Chen, Wang Kai, Qiao Renliang, Chen Ran, and Zhang Xuanrui.

The drama tells the story of designer Li Weiwei, who loses part of her memory in an accident and is stuck at the age of 23, gradually resolves past misunderstandings with her former lover, and regains her love.
Details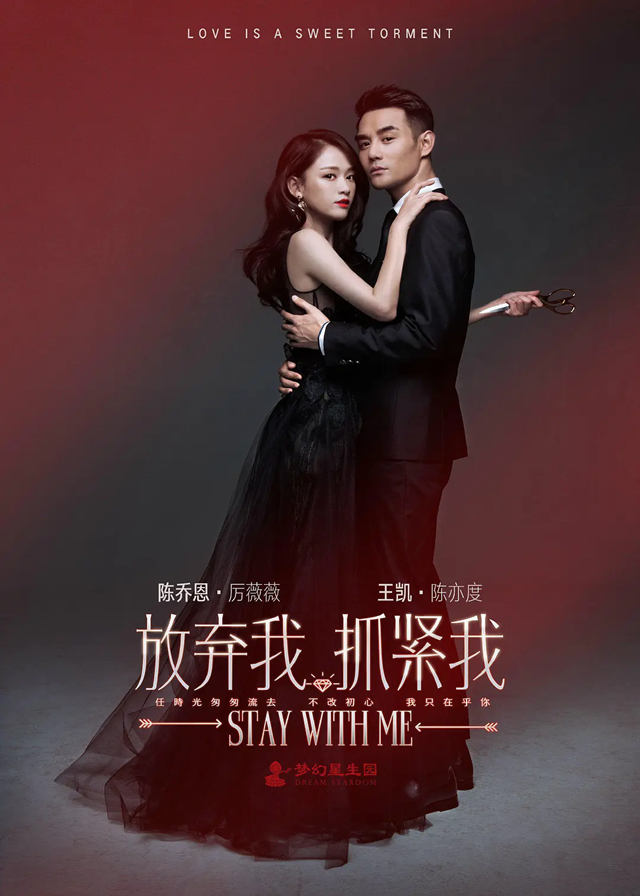 English Title: Stay With Me
Chinese Title: 放弃我, 抓紧我
Genre: Urban, Romance, Drama
Tag: Love Triangle, Love/Hate Relationship, Amnesia, Revenge, Second Chance, Misunderstanding
Episodes: 39
Duration: 45 min.
Director: Huang Yuanda
Writer: Qian Jingjing, Xu Ziyuan, Jiang Guangyu
Producer: Yu Yi
Product Company: DREAM STARDOM
Released Date: 2016-12-11
Watch On: Viki
Cast
Synopsis
A lack of oxygen to the brain for a long time in an accidental drowning makes the famous fashion designer Li Weiwei lose part of her memory, and her memory stays at the age of 23.
The designer boyfriend she remembered turns out to be a competitor, while her male best friend Huo Xiao becomes her fiance.
Li Weiwei does not believe that she would break up with her ex-boyfriend Chen Yidu, and she struggles to investigate the truth.
Her fiance, Huo Xiao, is trying to protect Weiwei and recover his fiancée by obstructing Weiwei's investigation and guarding around her.
Li Weiwei looks back into the past and finds herself and those around her gradually forgetting their initial dreams.
The reason why Weiwei and Chen Yidu broke up was also that they neglected love and communication in the process of chasing their careers. Chen Yidu misunderstood Weiwei's relationship with Huo Xiao and eventually broke up with her.
At the age of 30, Li Weiwei decides to change the current situation, she gradually unravels her past misunderstandings and settles her differences with her rival, not only finding love but also regaining her original heart and dreams!
Reviews
You May Also Like
Related Posts