Candle in the Tomb – Jin Dong, Joe Chen, Zhao Da
Candle in the Tomb is a suspenseful and thrilling web drama directed by Kong Sheng, Zhou You, and Sun Molong, starring Jin Dong, Joe Chen, Zhao Da, and Yue Yang.

The drama is adapted from the novel of the same name written by Tian Xia Ba Chang, which tells the story of Hu Bayi, Shirley Yang, and Wang Pangzi, who travel through many dangers to the ruins of the Jingjue ancient city in the Taklamakan Desert in search of the "Ghost Cave".
Details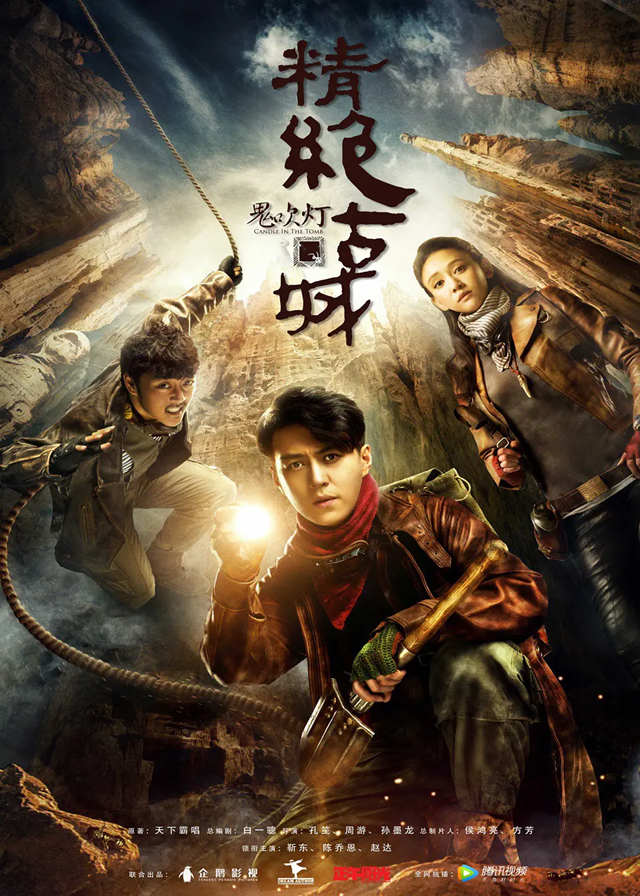 English Title: Candle in the Tomb
Chinese Title: 鬼吹灯之精绝古城
Genre: Adventure, Suspense, Thriller, Action
Tag: Tomb Raiding, Mystery, Investigation, Adapted From A Novel
Episodes: 21
Duration: 35 min.
Director: Kong Sheng, Zhou You, Sun Molong
Writer: Bai Yicong, Tang Jiayu, Yuan Yuan, Lu Hanning
Producer: Hou Hongliang, Fang Fang
Product Company: TENCENT PENGUIN PICTURES, DAYLIGHT ENTERTAINMENT
Released Date: 2016-12-19
Watch On: CN Drama, WeTV
Cast
Synopsis
Hu Bayi went and worked in the countryside on the border of China and Mongolia Ganggang Yingzi, taking the only book of his family – "Shi Liu Zi Yin Yang Feng Shui Shu". In his spare time, he memorized the text of the book.
After joining the army to Tibet, he suffered an avalanche and fell into a huge trench, Hu Bayi escaped death by using the secret art of burial he knew.
After demobilization, Hu Bayi and his friend Wang Pangzi joined an archaeological team to Xinjiang.
They came to the ancient city of Jing Jue ruins in the Taklamakan Desert and entered the underground "ghost cave".
The cave was full of organs and traps, and the mysterious "ghost cave" seems to be under the control of a prophet.
Reviews
You May Also Like
Related Posts