Jun Jiu Ling – Peng Xiaoran, Jin Han
Jun Jiu Ling is an ancient romantic drama directed by Xie Ze, starring Peng Xiaoran and Jin Han, and co-starring Du Yafei, Wang Youshuo, Zhou Zhan, Chen Fangtong, Gao Fei, Yang Yifei, He Hongshan, Liu Jun.
The drama is based on Xixing's novel of the same title, which tells the story of Jiuling who avenges her father, helps the others, and is reborn from a fallen princess to a famous doctor.
Details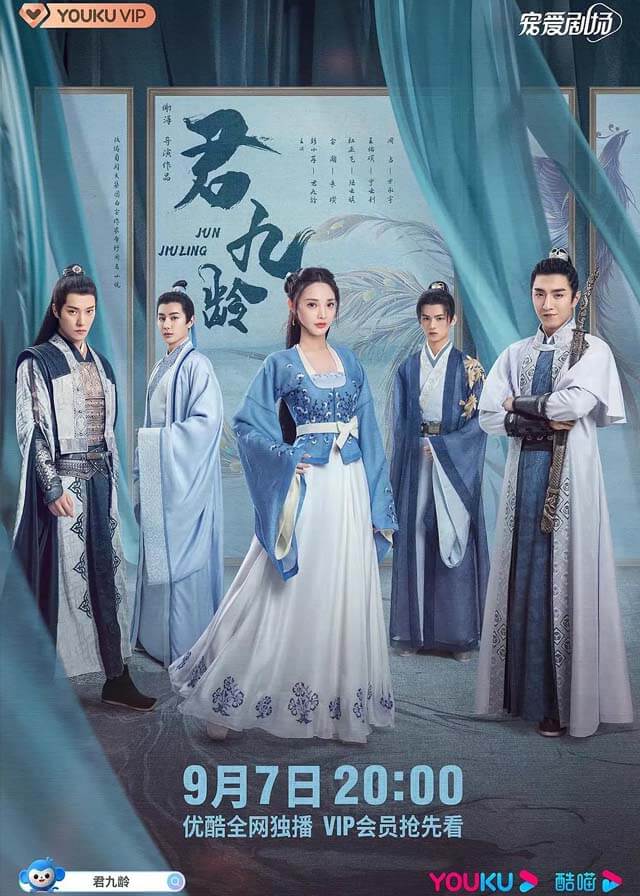 English Title: Jun Jiu Ling
Chinese Title: 君九龄
Genre: Historical, Romance
Tag: Revenge, Strong Female Lead, Smart Female Lead, Investigation, Reverse-Harem, Doctor
Episodes: 40
Duration: 40 min.
Director: Xie Ze
Writer: Li Mingchao
Producer: Gao Yuan
Product Company: Youku, Hongwen Media
Released Date: 2021-09-07
Watch On: Youku, Viki, youku.tv
Subtitle:
English, Chinese, Thai, Indonesian, Malay, Vietnamese, Spanish, Portuguese, Arabic, French, German, Hungarian, Polish, Italian, Romanian, Slovak
Cast
Synopsis
In the sixth year of Tian You, Zhizong died and his second daughter, Princess Chu Jiu Ling, questioned her uncle's regicide and usurpation of the throne. After a series of sudden changes, Jiu Ling is determined to find out the hidden secrets of Zezhou, uncover the truth of her father's murder, and protect her relatives.
With the help of Zhu Zan, the son of the Duke of Chengguo, Jiuling insisted on helping the people. She constantly fought against the harassment and attacks of the opponent and established the clinic Jiuling Tang to treat pox and protect the people.
At the same time, Zhu Zan and Ning Yunzhao, Lu Yunqi, and Fang Chengyu, four persons with different identities and complicated relationships, are caught in a whirlwind of feelings with Jiuling. Who is Jiu Ling's true destiny?
Reviews
You May Also Like
Related Posts