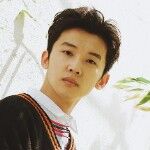 Guo Zhe dramas, movies, and TV shows list contains the best TV series, films of Guo Zhe and the ongoing and upcoming shows. The list will be updated continuously, bookmark this list to get the latest tv shows of Guo Zhe.
Guo Zhe Dramas List
2023-09-13

#1

Youth, School, Romance

Liu Te, Lin Qiyu

Chen Miren, as the "runaway" girlfriend of the school heartthrob, endured three difficult years in high school to escape the heavy burden of this "stolen love." She was determined to become a figurine designer and applied to the design department, thinking that university would bring a fresh start. However, fate took a twist, and she was accidentally switched to a different major. To make matters worse, she would be classmates with her ex-boyfriend who had been heartlessly dumped by her years ago! Zhong Wei relentlessly pursued her, using various methods to seek revenge in hopes of winning back his old love. However, Chen Miren was unable to admit that it all started because Zhong Weiqiong had mistaken her identity initially, leaving her in a state of confusion. But little did they know that their love for each other would ultimately bring them back together. They rekindled their romance until the unexpected appearance of the "real main character" turned their world upside down...

2023-06-13

#2

Youth, School, Romance

Zhou Yiran, Zhang Miaoyi

Sixteen-year-old high school girl Su Zaizai grew up in a good family environment and became a person who is not infatuated, does not blindly follow others, and has her own opinions. On the first day of high school, Su Zaizai, who showed disdain for her good friend's infatuation, was instantly proven wrong when she encountered the aloof and handsome Zhang Lurang. Su Zaizai fell in love at first sight with Zhang Lurang and decided to immediately take the offensive, transforming herself into a follower behind Zhang Lurang. However, behind the appearance of excellent academic performance and a privileged family background, Zhang Lurang is a "contradictory" person wrapped in self-doubt. Due to the existence of his genius younger brother, Zhang Luli, he is always compared to his brother by his mother. For over a decade, Zhang Lurang's life has been like living in a thick shell. He is reserved and speaks little, appearing composed and polite, but always keeps people at a distance. However, after encountering Su Zaizai, Zhang Lurang's "thick shell" of a life finally starts to let light shine through. The acquaintance between the two brings about a wonderful chemical reaction in their lives.

2019-05-06

#3

Historical, Wuxia, Romance

Qin Junjie, Crystal Yuan

In Jianghu, Baiyue Cult was bring disasters to all beings, the three masters of martial arts, Bai Di, Xue Gu, Xue Mo and "Listening Snow Tower" master xiao Shishui worked together to fight against it. The master of the Baiyue Cult, Hua Lian and its high priestess joined forces and used the sacred bell to invade the mind of Xue Mo and made him kill his wife. Shu Jingrong, the daughter of Xue Mo, was accepted by Bai Di and grew up with her senior brother Qing Lan, Qing Yu, and Xiao Yiqing, the son of Xiao Shishui, the beloved pupil of Xue Gu. After the death of her brother Qing Lan and her master Bai Di, Shu Jingrong discovered the prophecy that she was an unfortunate girl. She blamed herself. Shu Jingrong took away his father's Sword and joined "Listening Snow Tower", working with the young master Xiao Yiqing to destroy the "Pili Tang" and fight against the evil Moon Cult. The Baiyue Cult's Protector, Gu Guang, was turned against and helped Xiao Yiqing unlock the wordless book left by Xiao Shishui. After learning the cause of his parent's death, Xiao Yiqing vowed to avenge for his parents. Xiao Yiqing and Shu Jingrong joined hands to eradicate the Baiyue Cult and returned the world a peaceful Jianghu. Finally, Xiao and Shu lived and died together, never leaving each other.

2019-01-10

#4

War, Suspense, Thriller

Qin Junjie, Xu Lu

In the spring of 1931, the Central Committee set up red transport stations in Shanghai, Dapu in Guangdong, and Harbin, which were directly subordinated to the Central Transport Bureau. A group of Red agents, "Yan Gang" and "Qing Ci", attempted to establish a new underground route and set up a secret warehouse to escort important supplies of the CPC Central Committee and important underground intelligence agents to their destination. When the "Tianjin" temporary red transport station is betrayed by a traitor, Gui Wan, the "Yan Gang", is killed and the team members are replaced one by one. Zi Liping, Gui Wan's second brother, hatches an elaborate revenge plan to lure his elder brother, Gui Yi, into the trap and use his strength to solve the mystery. The real "traitor" emerges, and the brothers work together to eliminate the traitor and rebuild the red transport station.
Related Posts