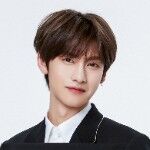 Hu Wenxuan dramas, movies, and TV shows list contains the best TV series, films of Hu Wenxuan and the ongoing and upcoming shows. The list will be updated continuously, bookmark this list to get the latest tv shows of Hu Wenxuan.
Hu Wenxuan Dramas List
TBA

#1

Historical, Romance, Fantasy

Vin Zhang, Sun Zhenni

In ancient times, the Human Emperor, Zhao Ming, petitioned on behalf of the people and sacrificed himself to resist the divine realm. After Zhao Ming's fall, his beloved, Hun Dun Zhu, risked her life to save a wisp of his soul, setting up the cycle of reincarnation for eternity. In the distant future, Zhao Ming reincarnated as Xie Xuechen, the leader of the Immortal Alliance, while Hun Dun Zhu became the Holy Maiden Mu Xuanling in the Dark Domain. The two finally reunited in the mortal realm but had forgotten their past, becoming adversaries in a "righteous versus evil" struggle. Mu Xuanling saved the heavily injured Xie Xuechen in the Dark Domain and coerced him to travel together in gratitude for saving his life. Throughout their journey, the two went from harboring schemes against each other to fighting side by side, gradually letting go of their guard and developing feelings for each other. However, amidst the conspiracy to seize the divine artifact, the "Chaos Pearl," they found themselves in a life-and-death trial. Mu Xuanling sacrificed herself to save the world, and Xie Xuechen defied fate to go back in time and rescue her. With the end of the eternal calamity, Xie Xuechen's soul finally returned to Zhao Ming, but Zhao Ming's original form had become a demon god. Mu Xuanling used love to awaken the demon god, dispelling the catastrophe, and bringing peace to the world.

2023-06-06

#2

Urban, Romance, Family

Hu Wenxuan, Xu Ziyin

Mo Ningxi, who once experienced betrayal and separation and was forcibly sent abroad, returned in a splendid manner after six years, bringing along her adorable child and assuming the identity of a renowned fashion designer. Her sole purpose was to uncover the cause of her grandfather's death and reclaim everything that belonged to her. Unexpectedly, she crossed paths with Li Xicheng. The malicious stepsister and wicked mother-in-law, one after another, unleashed their evil schemes, but Mo Ningxi was saved by him. From then on, she became the apple of his eye, sought after relentlessly, but she refused to become a stepmother. With the assistance of the divine power of the three treasures, the Dragon and Phoenix, Mo Ningxi and Li Xicheng finally came together after six years, and the conspiracies from six years ago and the truth behind her grandfather's death were revealed.

2023-05-10

#3

Historical, Romance, Drama

Hu Wenxuan, Han Leyao

The daughter of a convicted criminal, Xuan Qiancao, has exceptional talent. She is determined to clear her father's name and actively seeks a powerful supporter. Meanwhile, Chen Tongxue, an illegitimate child of the emperor, is manipulated by the crown prince and is in a precarious situation. The two people, each with their own motives, approach each other and use each other. After going through life and death situations together, they fall in love and join forces to fight against their enemies, striving for a peaceful and prosperous world for the people.

2023-02-13

#4

Urban, Romance

Yu Menglong, Song Yanfei

The founder of a famous dating app, Shan Liang, and a high-heeled shoe designer, Wen Rou, are like a prince and a princess in everyone's eyes. However, after the wedding, Wen Rou's "character setting" was broken. "Cinderella" was knocked back to her original form. However, Shan Liang did not give up on her. They decide to be honest with each other and fall in love with each other all over again.

2022-11-03

#5

Urban, Youth, Romance

Arthur Chen, Zhang Jingyi

Zhu Yun has just started her college life and her world has been changed completely by the intrusion of the "bad boy" Li Xun. He was treated by Zhu Yun as an uneducated rich guy, but his real identity is actually a special admission to the school, a rare programming genius. After a few encounters, both of them have some appreciation for each other. When senior Fang Zhijing makes trouble for Zhu Yun several times, Li Xun steps in to defend her and invites her to join the team he has formed to win a major programming competition on behalf of the school. During their time together, love gradually sprang up between them and they bravely came together in spite of their family differences. When they are getting closer and their business plan is close to success, Fang Zhijing indirectly causes Li Xun's elder sister to have a car accident, and Li Xun is sentenced to jail for injuring Fang Zhijing under his grief and impulse. After being released from prison, Zhu Yun never gives up and helps Li Xun turn the tide, beating his rivals Fang Zhijing and Gao Jianhong in the business competition and taking back the company. In the end, Zhu Yun's unreserved dedication allows Li Xun to finally cross the hurt brought about by his family and learn to open his heart and embrace the love that belongs to him.
Related Posts