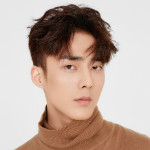 Pei Zitian dramas, movies, and TV shows list contains the best TV series, films of Pei Zitian and the ongoing and upcoming shows. The list will be updated continuously, bookmark this list to get the latest tv shows of Pei Zitian.
Pei Zitian Dramas List
TBA

#1

Fantasy, Immortal, Youth

Wang Yibo, Yukee Chen

Teng Jing is an orphan who has been living in Shushan since he was a child. He was raised by the principal of the Private Shushan Gakuen, Lan Ting Yu, and the director, Zhong Shun. He became the senior of the elite class of the senior section of the academy, with excellent grades, which he loved by his teachers and classmates. When Qiu Qi, a transfer student, comes to the school because his family has disappeared, Teng Jing and Qiu Qi become roommates under the arrangement of director Zhong Shun. Teng Jing's peaceful life ends from then on, they are incompatible from their personalities to their tastes, leading to conflict, but they eventually become good friends. Nangong Ling who loves Teng Jing, suddenly avoids seeing each other and announces that she wants to transfer to another school. Teng Jing was devastated and depressed, Qiu Qi found his change, and try to find out the truth of Nangong Ling's decision with Teng Jing. Eventually, with their joint efforts, they untie Nangong Ling's knot, and they express their love for each other and get back together. After a series of twists and turns, Teng Jing helps Qiu Qi to find his family. Because of these experiences, Teng Jing has been trained and grown, and he has learned the true meaning of growth, and finally said goodbye to his childish self.

2023-07-12

#2

Romance, Historical, Drama

Dilraba Dilmurat, Gong Jun, Liu Yuning

Di Ziyuan, who is righteous, heartfelt, comes from a family of founding fathers and was displaced by a sudden change in her family. Unwilling to be strangled by fate, she took the name Ren Anle and decided to do her best to resettle the people who suffered from the war, hoping to create a peaceful home for them. While at the same time, she was investigating and learning the truth, hoping to clear her family's name. In the process of helping the people, she not only gained a certain prestige and praise but was also appreciated by Crown Prince Han Ye and became his staff. Later, with the help of the resourceful Ren Anle, Han Ye solves the fraudulent imperial examination case and the Jiangnan disaster relief grain embezzlement case. At this time, war broke out at the border, Ren Anle, who takes the world's livelihood as her own, decided to follow Han Ye on his expedition, hoping to end the war as soon as possible so that the people can live and work in peace and happiness. Faced with a situation where the enemy was strong and they were weak, Ren Anle planned and killed the enemy even when she was ill, winning a close victory and bringing peace to the people. In the end, Han Ye helped Ren Anle to find out what happened back then and cleared her family's injustice.

2020-05-13

#3

Urban, Romance

Leon Leong, Eleanor Lee, Pei Zitian

22-year-old Liu Nuannuan was forced to leave the girl group and started from zero. After stumbling into society, she encountered Han Che, a talented young visual artist with "hypermnesia". In order to fulfill his grandmother's last wish, Han Che returned from abroad to undertake the "Recreating Dunhuang" project. Han Che has no choice but to take in the unkempt and embarrassed Nuannuan. With her unique aesthetic talent and hardworking, Nuannuan soon became the best clerk in the clothes store and was promoted to the head office. Liu NuanNuan encountered various tests but was accepted into the design department. Learning along the way made her grow quickly and gradually found a new direction in life. She also used her accumulated dressing experience to develop a treasure trove of civilian dressing. She was determined to make more ordinary people become beautiful and confident. Han Che accompanied Nuannuan all the way. Although their relationship experienced a lot of misunderstandings and challenges, there were also warmth and sweetness. They worked together to combine trendy clothes with Dunhuang culture, showing the cultural treasures to the world in a splendid modern form. In the end, Han Che held Nuannuan's hand and sayid: Nuan Nuan, Enlighten Me!

2019-04-03

#4

Historical, Romance, Fantasy

Yu Menglong, Ju Jingyi

Bai Suzhen, who had been training for a thousand years, successfully transformed into a human being in Emei Mountain and received the enlightenment of the Goddess of Mercy. She decides to experience mortal life and accumulate good deeds to become immortal as soon as possible. In the process of fighting against the demon, Bai Suzhen met Xu Xian, the Lin'an doctor, and became sisters with Xiao Qing, a five-hundred-year-old snake demon. Bai Suzhen and Xu Xian fell in love with each other and became husband and wife. At the Dragon Boat Festival, Bai Suzhen mistakenly drank Xiong Huang wine and showed her original body, making Xu Xian think that Bai Suzhen was eaten by snakes and died. He fell into sleep because of the shock. Sobering up, Bai Suzhen was heartbroken and decided to go to Kunlun Mountain to steal the immortal grass to let Xu Xian wake. After a lot of hazards, she finally saved Xu Xian. The news that Bai Suzhen was a demon spread throughout Lin'an City, and she was rejected by the people. Xu Xian swallowed the evil medicine Man Ling Dan in order to protect Bai Suzhen, He transformed into a demon and was brought into the Jinshan Temple by Fa Hai. However, after giving birth to her infant son, Bai Suzhen was imprisoned in the Leifeng Tower for her sins. Bai Suzhen was imprisoned for love, Xu Xian traveled to save his wife by doing goods. Unless the Leifeng Tower fell, the West Lake water dry, the couple can reunite.

2018-07-23

#5

Youth, School, Romance

Lu Han, Guan Xiaotong

Ming Tian had taken three years off from school to work because of his poor family. He became more resilient through social trials and tribulations. When he returned to school, he enrolled at Zhengze Sports College, which has a high scholarship. He was discovered by Fang Yu, the number one ranked combat fighter. During the course of their sparring and training, they gradually had a mutual attraction and came together. With the help of all the people, Ming tian overcame a series of difficulties and setbacks and eventually grew up to be a combat master with a sense of justice. Fang Yu, the eldest daughter of the Fang Group, was raised as the heir apparent and always wears short hair and pants. She has a passion for combat, and despite her family's objections, she enrolled in the Sports Academy Zhengze. At the age of eighteen, she gained the champion of the Zhengze League, becoming a true "combat queen".
Related Posts