My Love, Enlighten Me – Leon Leong, Eleanor Lee
My Love, Enlighten Me is an urban romantic drama directed by Wang Yan and starring Leon Leong, Eleanor Lee, Pei Zitian, Li Ximeng, Li Mingjun, and Xiong Yuting.

The drama tells the love story of Liu Nuannuan, a trainee of a girl group who fails to make her debut and becomes a stylist instead. Then, she meets and falls in love with Han Che, a high intelligent cool guy.
Details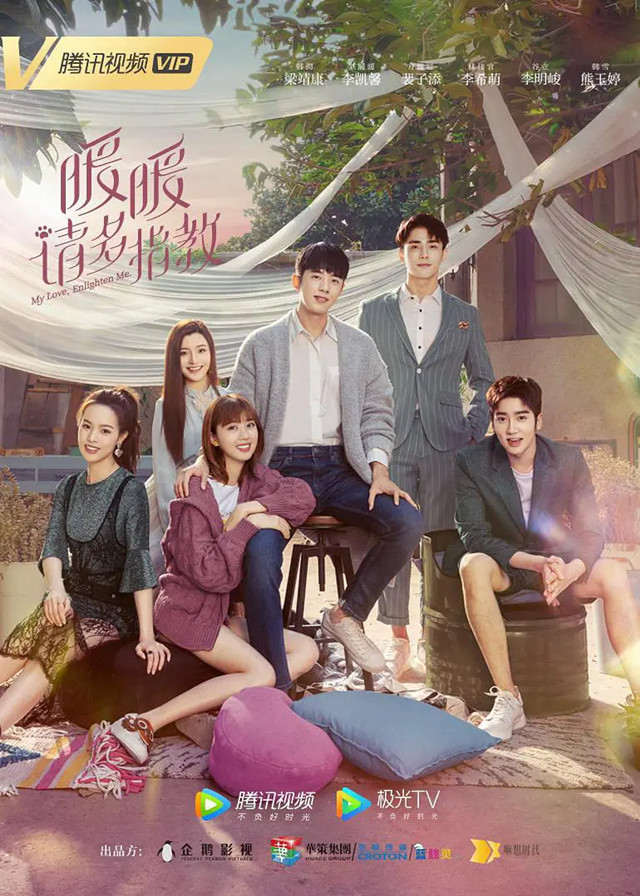 English Title: My Love, Enlighten Me
Chinese Title: 暖暖, 请多指教
Genre: Urban, Romance
Tag: Cold man/Warm woman, Steamy Kiss, Kiss Scenes, Love/Hate Relationship, Cohabitation, Height Difference
Episodes: 24
Duration: 45 min.
Director: Wang Yan
Writer: Bo Bangni
Producer: Fang Fang, Shao Wenyi, Zhang Meng, Wu Rong, Sun Xu
Product Company: TENCENT PENGUIN PICTURES, HUACE GROUP CROTON LANJINGLING STUDIO, Xiangxiang Shidai Media
Released Date: 2020-05-13
Boradcast Website: Viki, WeTV, TencentVideo, Huace, YoYo English Channel
Cast
Synopsis
22-year-old Liu Nuannuan was forced to leave the girl group and started from zero. After stumbling into society, she encountered Han Che, a talented young visual artist with "hypermnesia".
In order to fulfill his grandmother's last wish, Han Che returned from abroad to undertake the "Recreating Dunhuang" project.
Han Che has no choice but to take in the unkempt and embarrassed Nuannuan.
With her unique aesthetic talent and hardworking, Nuannuan soon became the best clerk in the clothes store and was promoted to the head office.
Liu NuanNuan encountered various tests but was accepted into the design department. Learning along the way made her grow quickly and gradually found a new direction in life.
She also used her accumulated dressing experience to develop a treasure trove of civilian dressing. She was determined to make more ordinary people become beautiful and confident.
Han Che accompanied Nuannuan all the way. Although their relationship experienced a lot of misunderstandings and challenges, there were also warmth and sweetness.
They worked together to combine trendy clothes with Dunhuang culture, showing the cultural treasures to the world in a splendid modern form.
In the end, Han Che held Nuannuan's hand and sayid: Nuan Nuan, Enlighten Me!
You May Also Like
Related Posts