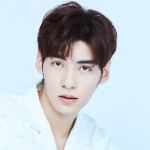 Cavan Wen dramas, movies, and TV shows list contains the best TV series, films of Cavan Wen and the ongoing and upcoming shows. The list will be updated continuously, bookmark this list to get the latest tv shows of Cavan Wen.
Cavan Wen Dramas List
2023-08-28

#1

Romance, Drama

Ke Ying, Cavan Wen

Miss Shen Qingxia, the young lady of the Shen family, was suddenly murdered the day before her marriage alliance with the warlord Nie family. Filled with shame and anger, she passed away. Shen family's maidservant, Xiaodie, in order to avenge this injustice, disguises herself as a wealthy young lady and marries Nie Zhen, the young marshal of the Nie family. This is the story of her step-by-step journey to uncover the truth. However, as Xiaodie discovers that the suspicions of the perpetrator point directly to Nie Zhen, what awaits her is not a simple act of revenge. Instead, it's a complex web of love, hate, and vendetta. The original villain seems to have a kind side, and the people she thought she knew reveal a cruel and ruthless aspect. In this swirling tale, as the story unfolds, the threads of fate are pulled, leading to the ultimate conclusion, and the sincere vows of true love are distilled.

2022-09-23

#2

Historical, Romance, Comedy

Sun Yining, Cavan Wen

Yue Liuying is originally just a innocent and naughty girl, but she is threatened by her "brother" and is forced to marry Ling Qiye as a concubine. Yue Liuying does not want to be controlled as a spy, but she cannot escape from her brother's control, so she has to find another way out. On her wedding night, she plans to poison her groom to fake his death so that she can escape from the Ling family and regain her freedom. On their wedding day, she and Ling Qiye play an ancient version of the "Mr. and Mrs. Smith" game, each with his own agenda. The innocent Yue Liu Ying is no match for Ling Qi Ye, who has been in the business world for many years and is teased by Young Master Ling. However, she is forced by her brother, who poisons her several times, so she has no choice but to put aside the idea of running away for the time being and find another opportunity in the Ling residence. Under the same roof, Yue Liuying gradually discovers that Ling Qiye is not as bad as his brother describes him, but is a good man who is affectionate, far-sighted, and responsible. Ling Qiyue also finds that Yue Liuying is kind-hearted, and has great talent. They finally fall in love over time and gradually resolve various conspiracies and crises, staging a sweet and funny love story.

2021-10-31

#3

Historical, Romance, Fantasy

Xing Zhaolin, Jian Renzi, Xuan Lu

Zhong Kui was cynical about evil and died as a martyr. The Jade Emperor felt that Zhong Kui was righteous and wanted to appoint him as a demon-subduing master, specializing in the injustice of the earth and doing justice for the earth. However, the immortals thought that Zhong Kui was impulsive and could not take up the important task. After some heated arguments, Guanyin Bodhisattva proposed to let Zhong Kui go down to the mortal world to experience as a test, and then decide it. The Jade Emperor readily agreed and set taboos of no interference in mortal grudges, no favoritism to change mortal karma and others. Since then, the three buddy Zhong Kui, Liu Hanyan and Wang Fuqu have been working together to face the trial. They are very enthusiastic and want to use their swords to sweep away all the injustice on earth, but they repeatedly encounter problems and realize that right and wrong are not as simple as they thought. In one after another setback and trial, the character of them gradually matured, the power is also gradually strong. In the face of the rampant demon world counterattack, they are willing to self-sacrifice to achieve justice. This fearless spirit eventually touched the heaven, they were not only appointed as demon-catching celestial masters, but also became the eternal patron saint of the human world.

2021-08-08

#4

Historical, Romance, Suspense

Her Nan, Qiu Shilun

Ye Xiaotang, the girl from the richest family who is destined to live beyond the age of 20, painstakingly pursues the "Tan Hua" Mu Jinyan, claiming to "marry" him, but is repeatedly rejected. The reason is that they are destined to be mutually exclusive and will both perish if they are forced to be together. After learning the secret of the incompatibility of the fates of the descendants of witch and Bone Touch, Mu Zhenyan withdrew from the marriage in order to protect Ye Xiaotang, but has been secretly looking for the dream-making crystal and the method to lift the incompatibility of their fates to renew the life of Xiaotang. Ye Xiaotang knows nothing about this and is willing to throw thousands of gold, chasing after him, just to marry him as his own. Facing Ye Xiaotang's pursuit, Mu Jinyan refuses on the surface, but his heart is very honest, often being teased by Ye Xiaotang. Ling Ziran has been in adoration of Ye Xiaotang, saying that he will marry Ye Xiaotang. Although his marriage proposals were repeatedly rejected, he never gave up. But he hasn't yet seen Ye Xiaotang change her mind, his true love Princess Yue You'er is appearing ……

2021-04-22

#5

Urban, Youth, Fantasy

Chen Yao, Gong Jun

The story of a group of game masters who are caught in the crisis of overlapping virtual and real worlds because of a bug in the game A bug in a popular game that no one is aware of seamlessly connects the game world with the real world, involving a group of gamers who had no interactions in the real world in a crisis where the virtual and the real overlap. Ren Yi warrior and his good buddy Li Yuan, not only are they childhood friends who grew up together in real life, they are also good partners who run around in the game world. In order to prove himself, Li Yuan tries to awaken the ancient evil god Savage King in the game and try to control the game world. In order to stop Li Yuan, Ren Yixia decided to gather the game's top players Gu Ling, Long Ziche, Yan Yufei, Xiao Hanlin, formed a "chivalrous group", a battle to attract the attention of the whole service, but accidentally created a "dimensional door", not only let the game's characters open their minds, but also let the chivalrous group of players gain superpowers.

2021-02-06

#6

Urban, Romance, Youth

Ji Meihan, Luo Zheng

The cool handsome boy Gu Yanluo (Luo Zheng) and the funny girl Ye Weimian (Ji Meihan) fall in love by mistake after an awkward chance encounter. Lu Yao (Li Shaminzi), a valiant young lady, and Mu Ze (Chen Heyi) are a pair of lovers who dislike each other constantly but gradually warm up. Meanwhile, Zuo Sichen (Wen Yuan), a talented painter, and Yan Jiuyue (Chang Huasen), a straight-A student, also find their own dreams and love.

2020-03-23

#7

Urban, Romance

Xing Fei, Garvey Jin

Ye Qianyu, an ordinary girl who is known as "the leader of the fishing village", and Shan Junhao, a "digital prince" who believes that " the rate of return is better than everything". The two of them, who could not have had interactions, were tied together by fate because of a sudden car accident. The cool boss Shan Junhao changed his temperament due to memory loss and turned into a soft and considerate warm man, Tong Hao. On the beautiful island, Ye Qiangyu gradually fell into a romantic relationship with Tong Hao. But when she learned that Tong Hao's real identity is Shan Junhao, the general manager of Senwell Group, Ye Qiangyu was caught in a conflict. After a conspiracy, Tong Hao accidentally regained his memory and turned back into the cool "prince" again, and the memory of his love with Ye Qianyu on the island was lost. At this time, on the one hand, Ye QianYu had to face the subversive reconstruction of the island by the Senwell Group led by Shan JunHao, and on the other hand, she hoped to try her best to find her lover who had lost his memory. The double pressure of love and life pushed Ye QianYu to grow up continuously.
Related Posts