Make My Heart Smile – Ji Meihan, Luo Zheng
Make My Heart Smile is a youth school romantic drama directed by Xi Dao, led by Luo Zheng, Ji Meihan, co-starring Chen Heyi, Chang Huasen, Wen Yuan, and Mai Tong, with a special appearance by Li Shaminzi.

The drama tells the story of a group of young college students who encounter friendship and love on their way to growing up and realizing their youthful dreams with the encouragement of each other.
Details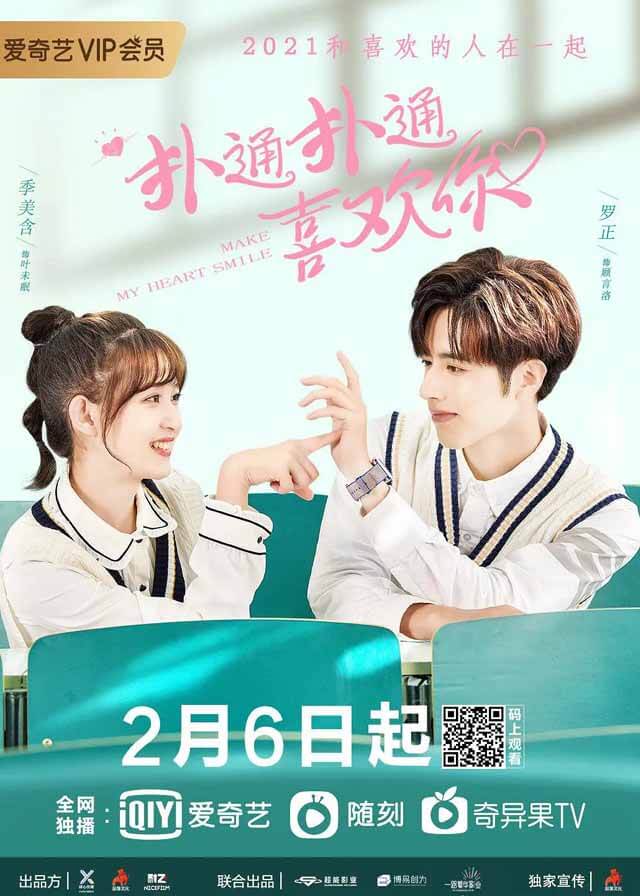 English Title: Make My Heart Smile
Chinese Title: 扑通扑通喜欢你
Genre: Urban, Romance, Youth, School, Friendship
Tag: Enemies to Lovers, Love Triangle, Cohabitation, Identity Swap, Contract Relationship, University
Episodes: 24
Duration: 36 min.
Director: Xi Dao
Writer: Liu Yimeng, Su Xie, Liu Tingting, Yu Jingxuan
Producer: Peng Zhe, Lou Kuiwen, Han Shengping, Ni Ying
Product Company: Yixin Culture Media
Released Date: 2021-02-06
Watch On: iQIYI
Cast
Synopsis
The cool handsome boy Gu Yanluo (Luo Zheng) and the funny girl Ye Weimian (Ji Meihan) fall in love by mistake after an awkward chance encounter.
Lu Yao (Li Shaminzi), a valiant young lady, and Mu Ze (Chen Heyi) are a pair of lovers who dislike each other constantly but gradually warm up.
Meanwhile, Zuo Sichen (Wen Yuan), a talented painter, and Yan Jiuyue (Chang Huasen), a straight-A student, also find their own dreams and love.
Reviews
You May Also Like
Related Posts