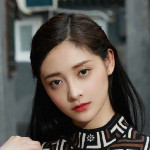 Zhou Jieqiong dramas, movies, and TV shows list contains the best TV series, films of Zhou Jieqiong and the ongoing and upcoming shows. The list will be updated continuously, bookmark this list to get the latest tv shows of Zhou Jieqiong.
Zhou Jieqiong Dramas List
TBA

#1

Historical, Romance, Fantasy

Zhou Jieqiong, Mao Zijun

Yang Wangyue, who comes from the demon sect, has escaped death and become a declasse orphan girl. She is determined to realize her wish that she has never been able to fulfill: to get married to Yang Qing, the leader of the famous righteous sect. With such a wish, the reborn Wangyue coincidentally met Yang Qing, and eventually, they worked together to kill the real devil, achieving reconciliation between the demon sect and the righteous sect, and returning Jianghu a peace.

2022-03-16

#2

Romance, Urban

Xu Zhengxi, Zhou Jieqiong

The movie star Mu Tingzhou is a cool guy who is always single. But by mistake, he lost his memory after an accident and believed that he was a "Grand Preceptor" from ancient times and Ming Wei was his "Princess". So he has been respectful and in charge of Ming Wei ever since. The intersection of the hero and heroine's minds is constantly interspersed in ancient and modern times, and their daily life is also extraordinarily "confusing": Mu Tingzhou will call the Ming Wei every day to greet her: "I, Mu Yun, pay my respects to the princess", and will also wear a straight suit and kneel in front of everyone to pay respects to Ming Wei.

2020-12-15

#3

Historical, Wuxia

Zhao Liying, Wang Yibo

During the Northern and Southern Dynasties, various Separatist Forces appeared and the Jiang Hu underworld was in turmoil. Li Zheng, the "Southern Sword", established a sect named "Sishibazhai" in Hunan and took in fallen martial artists, and has lived in seclusion ever since. Li Zheng died, while the famous sect fell into disrepair. Many years later, Li Zheng's granddaughter Zhou Fei was accidentally rescued in the Ximo River by a young man who called himself Xie Yun. Six months later, Zhou Fei and Xie Yun meet again in the prison of the Huojia Village. But at the same time, they are pursued by several masters of the "Disha Villa", a dark force in Jiang Hu. they are involved in a conspiracy of Jianghu. Zhou Fei is instructed by her predecessors to sharpen her sword skills. With her bravery, she kills the "Disha", ends the rebellion, captures the enemy king, and saves the refugees. While Xie Yun is by Zhou Fei's side all the time, advising her .they work together to quell the turmoil in Jiang Hu. The new generation of talents represented by Zhou Fei and Xie Yun has since grown into true "gentlemen of the bandit world", and Zhou Fei has become a young master of the "Southern Sword".
TV Shows with Zhou Jieqiong
2021-05-28

#1

Reality Show

Sun Honglei, Sha Yi, Huang Zitao

"The Detectives' Adventures Season 1" reconstructs the presentation of film and television IPs by adapting classic IPs such as "Lurk," "Joy of Life," "Princess Pearl" "Journey to the West," and "Madame White Snake" into murder mystery themes. By igniting emotional resonance in the audience through engaging storylines, the show unlocks different genres such as espionage, period dramas, and mythology, providing viewers with a multidimensional detective experience. "The Detectives' Adventures Season 1" enhances audience engagement and immersion by introducing an interactive murder mystery mode. Viewers, along with the "Cute Detective Family," collect clues and search for the truth, strengthening the program's "joyful decompression" effect.
Related Posts