Crush – Evan Lin Yanjun, Wan Peng
Crush is a contemporary urban romantic drama, direct by Yu Cuihua, starring Evan Lin Yanjun, Wan Peng, Chen Meiyi.
Details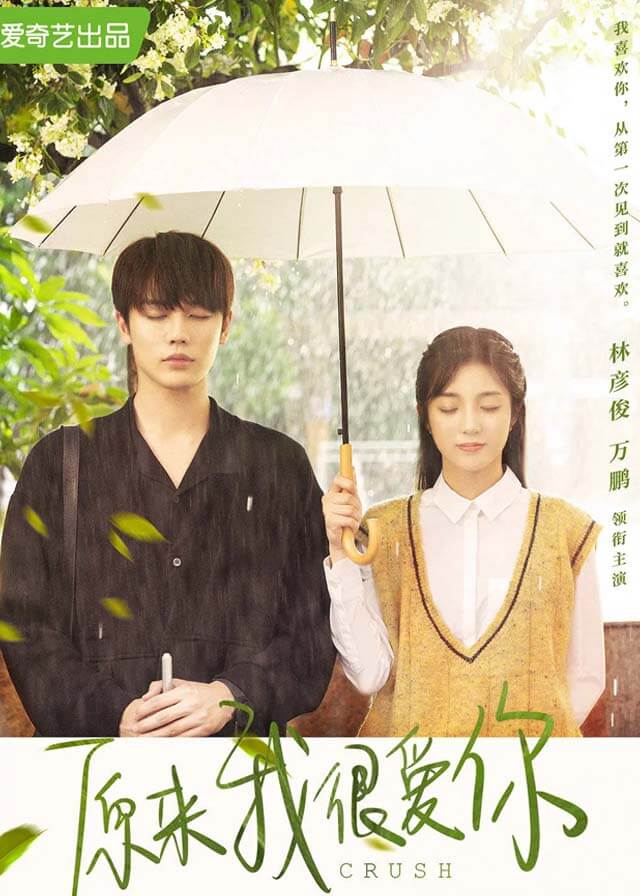 English Title: Crush
Chinese Title: 原来我很爱你
Genre: Contemporary, Romance, Urban
Episodes: 24
Duration: 40 min.
Director: Yu Cuihua
Writer: Mu Fusheng
Product Company: Dongyang iQIYI Film and Culture Co.
Broadcasting Website: iQIYI
Release Date: August 3, 2021
Cast

Lin Yanjun
as Yan Poyue

Wan Peng
as Ai Qianxue

Chen Meiyi as Guo Xiaoxiao
Synopsis
Sang Wuyan, a graduating senior, dreams of becoming a broadcaster, working as an anchor assistant at a radio station, and likes a mysterious songwriter with the pseudonym "Yi Jin".
Sang Wuyan falls in love at first sight with Su Nianqin, whom she meets by chance, only to find out later that she is an aloof and visually impaired person.
Sang Wuyan peels away Su Nianqin's arrogant and indifferent shell like an onion until he finds out that Su Nianqin is the lyricist "Yi Jin" and falls in love.
The tug-of-war between hard-won happiness and fear of losing it, they are desperately trying to protect their love, and finally break up due to the pressure of reality and misunderstanding.
Three years later, Sang Wuyan becomes a radio host, and Su Nianqin has her eyes cured and takes on family responsibilities to learn how to manage a business, so they meet again on different paths in life and finally overcome the difficulties to come together.