My Girlfriend is an Alien – Wan Peng, Bie Thassapak Hsu
My Girlfriend is an Alien is a fantasy romantic comedy directed by Gao Zongkai and Liu Hanyang, starring Bie Thassapak Hsu (Xu Zhixian), Wan Peng, Yang Yue, Wang Youjun, Ashin Shu, and Ben Wang , with Zhang Meng and Christopher Lee in special roles.

The drama is about an alien girl, Chai Xiaoqi, who is trapped on Earth and met the cool CEO, Fang Leng, and started a hilarious and romantic interplanetary love story.
Details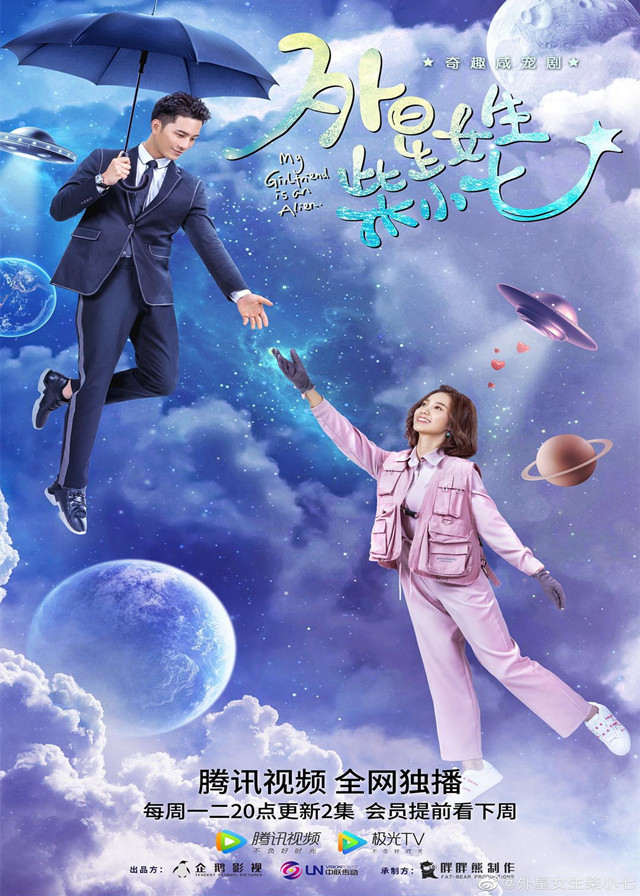 English Title: My Girlfriend is an Alien
Chinese Title: 外星女生柴小七
Genre: Fantasy, Romance, Comedy
Episodes: 28
Duration: 45min.
Director: Gao Zongkai, Liu Hanyang
Writer: Dong Ke, Chen Jing
Producer: Li Eryun, Zhang Xinyu, Liu Zhimin
Product Company: TENCENT PENGUIN PICTURES, VISION POWER
Broadcasting Website: WeTV
Released Date: August 19, 2019
Cast

Wan Peng
as Chai Xiaoqi

Bie Thassapak Hsu as Fang Leng

Yang Yue as Jiang Xue

Wang Youjun as Fang Lie

Ashin Shu as Doctor Zhang

Ben Wang as Han Jinming
Synopsis
The alien girl Chai Xiaoqi from " Cape Town Planet" meets the CEO Fang Leng, who suffers from "heterosexual amnesia on rainy days", accidentally loses her beacon, and is trapped on Earth.
Chai Xiaoqi is not only an alien but also an amazing girl who will fall into a "boy crazy state" once she inhales the hormones emitted by men on Earth.
She experiences all kinds of funny and hilarious encounters, which will perfectly restore the nymphomaniac girl's psychology of flirting with men for the audience.
In order to survive on the earth, Chai Xiaoqi will also use her various superpowers to solve unexpected trouble one after another.
Fang Leng is a different kind of boss. Once it rains, he will forget the girls who appeared on his side. So he has a variety of hilarious "battles of wits" with the Chai Xiaoqi.