Braveness of the Ming – Zhang Han, Park Min Young
Braveness of the Ming is a historical martial arts drama directed by Zhong Shujia, Liang Shengquan, and Huang Junwen, starring Zhang Han, Park Min Young, Xu Zhengxi, Wei Qianxiang, Chen Hao, Guo Ziqian, Song Yanfei, Wu Qian, Shao Meiqi and Liu Changde.
The drama tells the story of Xia Xun, who replaces Yang Xu by mistake, a dead rich merchant and scholar, and becomes a Jin Yi guard to assist Zhu Di and achieve a generation of greatness, and in the process meets Xie Yufei, they fall in love and become a pair of a happy couple.
The drama is divided into two parts: the first part is "Jin Yi Ye Xing / 锦衣夜行" and the second part is "Jin Yi Fei Long / 锦衣飞龙".
Details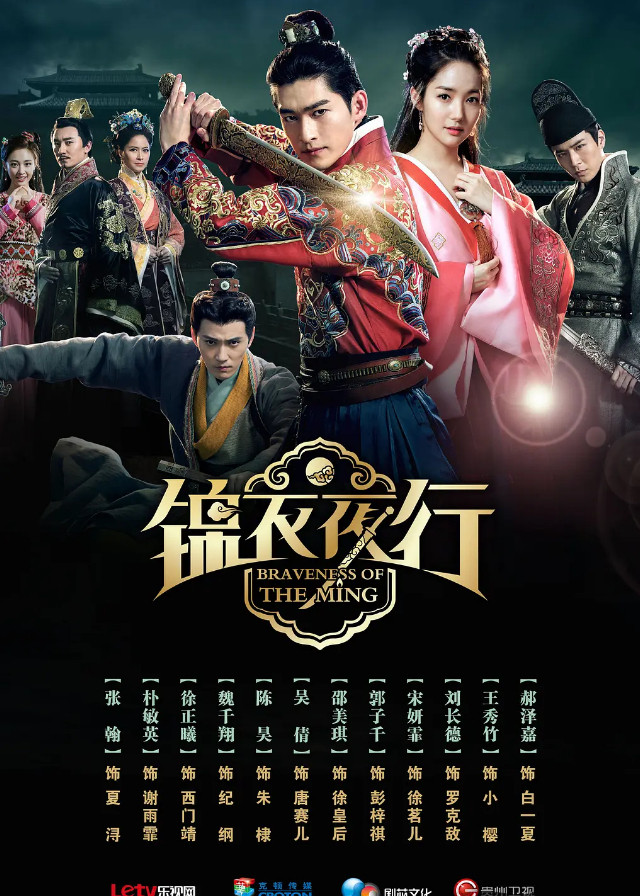 English Title: Braveness of the Ming
Chinese Title: 锦衣夜行
Genre: Historical, Romance, Wuxia
Episodes: 30
Duration: 45 min.
Director: Zhong Shujia, Liang Shengquan, Huang Junwen
Writer: Bai Yicong
Producer: Yang Fan, Lin Guohua
Product Company: JUXIN CULTURE, Letv
Released Date: –
Watch On: –
Cast
Synopsis
In the early Ming Dynasty, Xia Xun, a civilian, blindly replaces Yang Xu, a dead rich merchant, becoming a pawn of the Jin Yi Wei (Emperor Guards).
After witnessing the ruthlessness of Zhang Shisan, and others against him, he decides to eliminate harm to the people in order to protect himself.
At the same time, he meets his future wife Xie Yufei.
Soon after, Xia Xun is chased by Jin Yi Wei on his way back home and is rescued by Ximen Lang and Ji Gang. The three of them become sworn brothers.
After the three unintentionally save the Lord Yan couple and the Princess, Xia Xun's ability attracts the attention of the two factions of the Jing Yi Wei leader Bai Yixia and Luo Kedi.
After the training of Bai Yixia and Luo Kedi, Xia Xun becomes an excellent Jin Yi Wei.
After the accession of Zhu Yunwen, he started to get rid of the power of the Lords.
Xia Xun decides to assist Lord Yan to ascend to the throne in order to avoid more suffering of the people.
He and Ji Gang work together perfectly around Lord Yan, and make a great contribution to the later ascension of Lord Yan.
Reviews
You May Also Like
Related Posts