Warm and Sweet – Victoria Song, Michelle Chen, Lu Yi
Warm and Sweet is an urban romantic drama directed by Liu Jiang, led by Song Qian, Michelle Chen, Lu Yi, Jing Chao, and Sun Jian, co-starring Pan Hong, Tian Min, Cao Zheng, Lin Lin, and Jiang Ruilin.
The drama tells the story of Nan Fei, who is over 30 and facing a marriage test, and her beloved lover Chen Fang, who is going through a career transition and is hesitant about marriage.
Details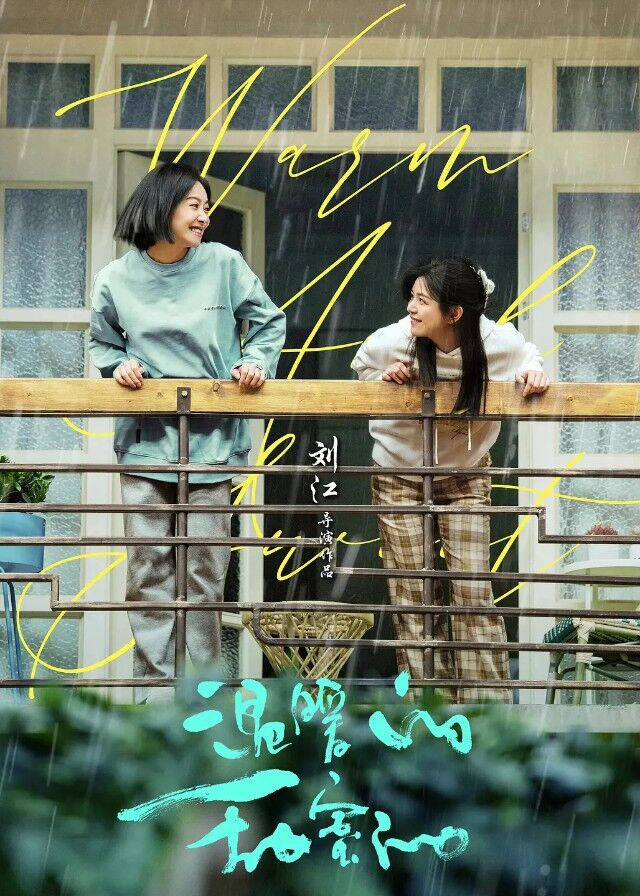 English Title: Warm and Sweet
Chinese Title: 温暖的甜蜜的
Genre: Urban, Romance, Life
Tag: Slow Burn Romance, Sismance, Family Pressure, Friends to Lovers, Disapproving Parent, Independent Female Lead
Episodes: 38
Duration: 45 min.
Director: Liu Jiang
Writer: Mao Yunfei
Producer: Wang Tong
Product Company: MGTV
Released Date: 2023-05-03
Watch On: MGTV, MGTV Drama Channel
Subtitle:
English, Chinese, Thai, Indonesian, Malay, Korean, Portuguese, Vietnamese, Spanish, Arabic, French, German, Russian, Japanese, Italian, Filipino, Swahili
Cast
Synopsis
Nan Fei and Qi Jiayi are two best friends. Nan Fei is a cosmetic surgeon who returned from studying abroad, coming from a medical family background. She has a sharp personality and a near-perfect relationship with her boyfriend, Chen Fang, who is an elegant and mature art curator.
On the other hand, Qi Jiayi is an interior designer for a large decoration company who is overwhelmed by work pressure and engaged with a stable but dull man named Xu Xi.
As they approach their thirties, they both realize that there may be a different choice beyond the common standard answer when it comes to the question of marriage.
Nan Fei and Qi Jiayi each face their own romantic crises, causing them to return to the dating phase. They fight together in the battle between love and marriage, gaining new insights into themselves, love, and marriage.
They both also pursue successful careers and overcome misunderstandings to repair their relationship, supporting each other like family. Together with their partners, Chen Fang and Jiao Yue, they ultimately come to understand what is truly important in life: responsibility, love, truth, and freedom, while facing the dilemma of life.
Recap
Plastic surgeon Nan Fei, who is approaching thirty, was annoyed when her colleague Ling Jiaoyang asked about her love life and tried to sell her a plastic surgery package. However, Nan Fei's attention was caught when Ling Jiaoyang showed her a news article on his phone. The article was about Nan Fei's boyfriend from the south, Chen Fang, a renowned curator with international acclaim, but it said that he and his wife Liu Shuting had a deep relationship. Nan Fei had told her colleagues that Chen Fang was divorced, but the news clearly stated otherwise, and everyone was privately discussing whether she was the third party who destroyed someone else's relationship.
Chen Shuting returned to the country with her son, and the first thing she did was to look for Chen Fang. Chen Fang was very happy to see his son. At this time, Nan Fei called to question him about the news, but Chen Fang said it was all written by the reporters. He then declined the invitation to have dinner together that night, saying that he wanted to accompany Chen Shuting and their son to have dinner with his parents. Nan Fei hung up the phone feeling desolate upon hearing this.
Qi Jiayi called Nan Fei while wearing a knockoff wedding dress that cost over 300 yuan. Nan Fei disapproved and told her to return it, but Qi Jiayi believed that a wedding dress is only worn once, so it's not worth it to buy a cheap one. Qi Jiayi's boss interrupted their conversation and, in order to make up for her mistake, Qi Jiayi was sent by her boss to deal with a difficult client, Jiao Yue. As an interior designer, Qi Jiayi rode a small electric scooter to the construction site, which was an old building from the 1940s that faced many challenges. When the contractor tried to back out, Qi Jiayi staged a play by bringing in other people to act.
Chen Fang's parents are not aware of his divorce with Chen Shutin and they want their grandson Chen Po to stay in China. This is also Chen Shutin's idea for returning this time. At the dinner table, everyone was happy, but Chen Fang's expression was not good. In the past, Chen Shutin was willing to follow another man to get a green card and even suffered domestic violence, but now she wants to come back. Chen Fang naturally disagrees with reconciliation. They have already ended things. Chen Fang left the house in a hurry and went back to Nan Fei's house. Nan Fei was still angry about the report, feeling that she was being treated like a mistress in front of everyone, despite being the legitimate girlfriend. Chen Fang hoped that she could give him some time and he would handle everything.
The young girls in the department refuse to assist Nan Fei in surgery, saying they don't want to be an accomplice to a mistress. Nan Fei, feeling angry, goes to the department head, who sends someone else to take her place. Nan Fei is frustrated and can only explain to the patient, who only trusts Nan Fei and not the person who replaced her. Chen Fang asks the author to delete the part about his family, but the author refuses to change the article, knowing that Chen Shuting is divorced and suggests that Chen Fang reunite with her for the sake of their child, who is struggling overseas. However, Chen Fang doesn't want to continue in this wrong marriage, and he and Nan Fei are planning to get married.
Qi Jiayi came to Nan Fei's city for a business trip, and Nan Fei confided in her troubles. She really wants to marry Chen Fang, especially since her parents have been urging her to get married. Chen Fang bought a very gorgeous wedding dress for Qi Jiayi, which made her very touched. Yesterday, the hospital wanted to punish Nan Fei for a surgery and claimed that it was her fault. They almost labeled her as the "mistress". Nan Fei was suspended from performing any surgeries and had to do outpatient work.
Qi Jiayi and her boyfriend Xu Xi set off to the train station to pick up their future mother-in-law. Xu Xi had given her a preventive shot earlier and told her not to reveal his secret in front of his mother because he cares about his mother's reputation. Xu Xi boasted in front of his relatives that he had bought Qi Jiayi's house, but she didn't take it seriously. After all, they were family after getting married. When they arrived at Qi Jiayi's big house, Xu's mother was very happy and kept praising her son. But when she saw Qi Jiayi's wardrobe, she frowned. Xu's mother took out tools to teach Qi Jiayi how to make dumplings, and kept hinting that she should behave herself, take care of the family, and rely on Xu Xi for her livelihood. Qi Jiayi wanted to explain something, but felt powerless.
Xu's mother was massaging Xu Xi's legs and crying, saying that she couldn't bear to part with him. He was her most cherished child, and she had never remarried because she was afraid he would be hurt. Xu's mother hoped that Xu Xi would find someone who would take care of him and cherish him like she did. Although Qi Jiayi was very good, she didn't seem like someone who would cherish others. Xu Xi said that as long as they were happy together, it would be fine. However, Xu's mother's tears became more and more intense. After Qi Jiayi came back from taking out the trash, Xu's mother immediately stopped crying and instructed her to fetch water to wash her feet. Xu Xi wanted to help but was stopped by her. Qi Jiayi brought the water, but Xu's mother asked Xu Xi to soak his feet and once again instructed Qi Jiayi to take care of every aspect of their son's life.
The surgery was successful, but Nan Fei's achievement was attributed to someone else, and she even received criticism. Fed up with it, she questioned the director at the meeting, insisting that she had done nothing wrong in this matter. However, the director said that she should reflect on her own problems and her poor relationships with colleagues. Ling Jiaoyang saw that she had caused trouble and quickly pulled her aside to analyze the situation. The director was just trying to show off his power and make an example of Nan Fei. Ling Jiaoyang advised Nan Fei to apologize to the director, but Nan Fei refused to back down. Ling Jiaoyang was frustrated with her stubbornness.
Her mother called and demanded that she come home for dinner in a very firm tone. Nan's mother had received an article forwarded by a friend questioning Nan Fei's situation. Wasn't she already divorced? Nan Fei repeatedly assured her mother, but her parents were not convinced and worried about their child being hurt. Nan Fei had good conditions, so why would she look for someone who had been married before? Her parents demanded that she break up with Chen Fang.
Feeling down, Nan Fei went to the bar where she had already had quite a few drinks by the time Chen Fang arrived. Nan Fei looked at her lover in front of her, but she just couldn't seem to hold on to him no matter what she did. Nan Fei was an ordinary girl who just wanted to be with Chen Fang and show off their love shamelessly. After four years of hiding their relationship, Nan Fei was tired. Chen Fang was very self-blaming, and it seemed like Nan Fei had made up her mind to break up. She didn't want to pressure Chen Fang, nor did she want to be an immature person, but who knew the pressure she was facing now. Her parents had never approved of their relationship, and as a gynecologist, her mother kept repeating that if she didn't have children now, she would never be able to. Nan Fei had no choice but to break up, as it seemed like the best option. Chen Fang held her hand tightly, not wanting to let go. He wanted to spend the rest of his life with Nan Fei and promised to come back home tomorrow to clear things up.
Shanghai. On the day when Qi Jiayi's mother and Xu's mother met, Qi Jiayi hurried over and saw her mother still elegantly drinking coffee in the lobby. Although they were just an ordinary single-parent family in the lane, Qi's mother considered herself to be a cut above the Xu family, and believed that Qi Jiayi should be more proud, so she left the gift she bought at the front desk. When she arrived at the private room, Xu's mother and Qi's mother warmly greeted each other. Xu's mother gave Qi Jiayi a gift of handmade buns, and Qi's mother's face stiffened when she saw it. She then presented her own gift, a hand-painted fan. Xu's mother was also taken aback. Qi Jiayi and Xu Xi tried to adjust the atmosphere, but their mothers kept competing, not only about family background, but also about education. As they talked, they came to the topic of the wedding. Qi's mother took out her notebook and Xu's mother took out her calculator. Qi's mother refused to compromise on anything, but at that moment, Qi Jiayi received a work call and had to leave hastily, and the dinner ended.
Chen Fang returned home, and before he could speak, his father sighed about the joy of family reunions and suggested that he should reconcile with his ex-wife, Chen Shuting. It turned out that Chen Shuting had already informed them about the divorce, and his parents believed that reconciling was best for the child. Even if they didn't consider themselves, they had to consider the child. Chen Fang said that they no longer had a foundation of love, and everyone was talking about the child. Chen Shuting cried and said she was willing to pay the price for what happened. Chen Fang had to confess that he already had a girlfriend and was planning to get married. However, his parents became emotional and threatened to find a stepmother for their grandson, unless Chen Fang was dead! Chen Pei witnessed all of this and suddenly cursed before running back to his room in tears, causing Chen's father to have a heart attack.
The conversation between Chen Fang and others was overheard by Chen Po. She was saddened and hid in her room, while Chen's father suffered a heart attack and collapsed, causing chaos in the Chen family.
Chen Fang went to Nan Fei's house at night, hesitated, and finally turned away, but Nan Fei upstairs saw everything.
Xu Xi received a call from Qi Jiayi, who didn't come home at night because of work and was worried that Bao Huimei would be angry.
After finishing work, Qi Jiayi returned to Chen Baozhu's house and listened to her complain about Bao Huimei. Qi Jiayi repeatedly persuaded Chen Baozhu to be more generous.
Liu Shuting took the initiative to ask Nan Fei to break up with Chen Fang and revealed that she returned to China to remarry Chen Fang. She used both soft and hard approaches, first pressuring Nan Fei with Chen Po, and then begging Nan Fei with a humble attitude.
At night, Chen Fang came to Nan Fei's house but could not open the door. After Nan Fei opened the door, Chen Fang expressed his feelings for her and explained the family situation, requesting more time. However, Nan Fei had already waited for Chen Fang for four years and was no longer willing to wait, choosing to end their relationship.
While working, Nan Fei met a client who was unsuitable for facial surgery and refused to operate on him, but was later reported.
The dean, who was reported, found Nan Fei and asked her to publicly apologize.
Meanwhile, Qi Jiayi at work found that her client had been snatched away by others, which made her very unhappy. Facing her colleagues' consolation, she became more depressed.
Nan Fei received a call from Qi Jiayi at home and learned that Qi Jiayi had received a job designing the wedding house for her first love, Tian Zhongqing. Qi Jiayi also learned about Nan Fei's decision to end things with Chen Fang and expressed her encouragement and support.
When Qi Jiayi came home with shopping bags, Bao Huimei complained that she was spending money carelessly, which made Qi Jiayi somewhat unhappy. Xu Xi didn't want her mother to get angry and persuaded Qi Jiayi to listen to her mother, leaving her confused. Bao Huimei lived in the house but didn't do any housework, which made Qi Jiayi very upset.
Tian Zhongqing took Qi Jiayi to see the house. Although he had his own ideas, he ultimately decided to listen to his fiancée. At this time, Qi Jiayi received a call from Xu Xi to come home, so Tian Zhongqing suggested that they have dinner together with Xu Xi. Qi Jiayi had no choice but to agree.
At the dinner table, Xu Xi asked Tian Zhongqing various questions and learned that Tian Zhongqing's family conditions were good. In order to fulfill her task of getting a loan from the bank, she asked Qi Jiayi to introduce Tian Zhongqing to her. Xu Xi personally went to pick up Qi Jiayi, with the intention of adding her name to the property deed.
At home, Bao Huimei doesn't do any household chores and leaves the dishes and chopsticks for Qi Jiayi, who reluctantly washes them while watching Bao Huimei wash Xu Xi's feet.
The next day, Qi Jiayi met with Tian Zhongqing's fiancée at the construction site.
While chatting with colleagues, Qi Jiayi mentioned that she had been in a relationship with Tian Zhongqing, but they broke up because of long-distance work and a misunderstanding where Tian Zhongqing thought she had found someone else.
In order to prepare for her wedding, Qi Jiayi went to a wedding planning company and saw Bao Huimei and Chen Baozhu arguing over who would be the wedding witness. Qi Jiayi immediately pulled Chen Baozhu aside to persuade her. Bao Huimei wanted to save money on the wedding, while Chen Baozhu wanted to give Qi Jiayi a perfect wedding, causing them to argue again. Xu Xi, seeing the conflict escalating, left after answering a phone call, leaving Qi Jiayi to follow Bao Huimei's arrangements and then comfort Chen Baozhu.
Xu Xi, who had been avoiding the situation outside, was relieved to hear that Qi Jiayi had resolved everything and then sweet-talked her to comfort her.
During the process of obtaining the property deed, Qi Jiayi saw Xu Xi and Bao Huimei coming together. Xu Xi prepared a written agreement to allow Qi Jiayi to add her name to the property deed. However, Bao Huimei was unhappy with this and believed that the house was purchased by Xu Xi alone, and therefore didn't want Qi Jiayi's name on the deed.
Nan Fei was asked to write a self-criticism, and although Ling Jiaoyang helped her write the letter, she ultimately did not read it. Nan Fei publicly resigned and left despite Ling Jiaoyang's dissuasion.
Meanwhile, Tian Zhongqing, who was discussing renovations with Qi Jiayi, learned that Qi Jiayi had added Xu Xi's name to the property deed of her own purchased house. He expressed his dissatisfaction with Xu Xi and questioned why Qi Jiayi had chosen to leave him in the past. Tian Zhongqing reminded Qi Jiayi of Xu Xi's moral character, but Qi Jiayi refused to back down and even gave him a wedding invitation.
After Nan Fei left, Ling Jiaoyang couldn't get in touch with her and contacted Qi Jiayi, only to find out from her that Nan Fei had already broken up with Chen Fang.
Qi Jiayi received a call from Ling Jiaoyang and told him that Nan Fei had been in a relationship with Chen Fang for four years, which ended in a breakup after being dragged on for four years.
Ling Jiaoyang was upset for Nan Fei and went to Chen Fang's company to confront him physically. As a result, Chen Fang learned about Nan Fei's mistreatment and voluntarily showed his divorce certificate, hoping to clear Nan Fei's name.
When Nan Fei came to see her, Qi Jiayi took her to their alma mater to drink and vent her sorrows. Qi Jiayi also contacted Xu Xi to let her know she wouldn't be coming home that night.
The next day, Nan Fei woke up to a call from Ling Jiaoyang and called back to let him know she was safe.
Tian Zhongqing and his fiancée attended Qi Jiayi and Xu Xi's wedding, but his fiancée was not impressed with the decorations. In the bathroom, Tian Zhongqing gave the earrings he had been preparing for Qi Jiayi for ten years to her.
As the wedding was about to begin, everyone was waiting for Qi Jiayi to appear. Nan Fei noticed that Qi Jiayi was not happy and urged her to reconsider, but Qi Jiayi eventually walked down the aisle and got married to Xu Xi.
After the wedding of Qi Jiayi and Xu Xi, Qi Jiayi hid herself and received a call from Xu Xi. She expressed her desire to divorce, which angered Xu Xi. Looking at everything at home, Qi Jiayi decided to divorce and left with Nan Fei.
At night, Bao Huimei complained to Xu Xi about Qi Jiayi not coming home while counting the wedding gift money.
Qi Jiayi and Nan Fei were together, and Qi Jiayi revealed to Nan Fei that she was hiding from her parents and Chen Fang. She also talked about how she spent time with Bao Huimei preparing for the wedding and how Xu Xi never helped her and always sided with Bao Huimei. She realized and decided to give up on the marriage.
On the other side, Xu Xi was lost in thought after seeing the written guarantee he had written in Qi Jiayi's bag.
While working at the construction site, Qi Jiayi saw a house for sale next door and was very satisfied with the layout. She decided to buy it as her wedding house and paid the deposit on the spot.
At the same time, Ling Jiaoyang proved that Nan Fei was not a third party by showing Chen Fang's divorce certificate in front of colleagues.
Ling Jiaoyang publicly showed Chen Fang's divorce certificate to clarify the situation for Nan Fei, and then exposed the affair between a nurse and office doctor targeting Nan Fei, seeking revenge for her.
Nan Fei's mother, Dong Bihua, learned from the dean that Nan Fei had resigned, and angrily contacted Nan Fei to blame her. She intended to confront Chen Fang but learned from Nan Fei that she had already broken up with him.
Liu Shuting brought Chen Po to Chen Fang's workplace and the three of them had dinner together. Chen Po saw Liu Shuting leaving to answer a phone call, took the opportunity to ask about Chen Fang and Liu Shuting's marital status. Chen Fang admitted that they had already divorced, and also stated that his love for Liu Shuting would not change no matter what.
In order to find Qi Jiayi, Xu Xi went to Chen Baozhu's house. Chen Baozhu saw that Qi Jiayi had returned home but did not know that she wanted a divorce, so she let Qi Jiayi leave with Xu Xi.
After Qi Jiayi and Xu Xi left, she expressed her determination to divorce to him. No matter how Xu Xi tried to persuade her, Qi Jiayi still did not change her mind and agreed to handle the divorce proceedings with Xu Xi.
On the other hand, after returning home, Liu Shuting brought up the topic of wanting to remarry Chen Fang again. She mentioned Chen Po and begged Chen Fang for a chance. When Chen Fang refused, Liu Shuting began to blame him, talking about all the efforts Chen Fang had made in the past. Because of this, Chen Fang realized that Liu Shuting had never changed over the years.
Chen Fang went alone to Nan Fei's house, reminiscing about everything he had with Nan Fei in the past.
In terms of work, Chen Fang refused to compromise on quality for the sake of professionalism, which went against his partners' thoughts.
Qi Jiayi was with Nan Fei and asked about the situation between Nan Fei and Chen Fang. Nan Fei was confident that she could handle it.
In order to keep Qi Jiayi, Xu Xi deliberately showed up outside Qi Jiayi's company and confessed his love for her, but instead angered Qi Jiayi.
When Qi Jiayi and Xu Xi were talking together, Xu Xi criticized Qi Jiayi and listed all of her flaws, and finally suggested that they split the house in half. It was then that Qi Jiayi realized Xu Xi's true nature. She refused to give him any part of the house and mentioned the promise letter Xu Xi had signed. However, Xu Xi denied ever signing it and even burned the letter.
A distraught Qi Jiayi turned to Nan Fei and cried, and Nan Fei comforted her.
Qi Jiayi saw through Xu Xi's greedy face and, fearing that her house would be seized by Xu Xi, cried to Nan Fei for help. After comforting her, Nan Fei promised to help her handle the matter.
Under Nan Fei's guidance, Qi Jiayi went to a law firm for consultation and learned that her carelessness had led to this situation. If she were to sue Xu Xi, it would be a protracted battle.
Qi Jiayi's client, Jiao Yue, couldn't reach her by phone due to a construction site shutdown and went directly to the site to find her. Seeing Qi Jiayi discussing the purchase of a house with the landlord at the site, Jiao Yue thought Qi Jiayi was unprofessional and, despite her explanation, decided to complain about her.
Qi Jiayi was reprimanded by her supervisor, who demanded that she hand over the design work for Jiao Yue's house directly to other colleagues.
In listening to Qi Jiayi's explanation, Jiao Yue realized that Qi Jiayi was fighting for his project not only to avoid letting her competitor, Yan Yi, push the responsibility onto her but also to seize the opportunity to study abroad. Therefore, he decided to entrust the design of his house to Qi Jiayi in the end.
Chen Baozhu brought her friends to Qi Jiayi's house but was stopped by Bao Huimei. Bao Huimei didn't believe Chen Baozhu's claim that the house was bought by Qi Jiayi and not by Xu Xi. While belittling Qi Jiayi, Bao Huimei also mentioned Qi Jiayi's divorce from Xu Xi.
After returning home, Chen Baozhu received criticism from Qi Jiayi and remembered her own advice to Qi Jiayi. Feeling frustrated, she only demanded that Qi Jiayi get the house back. Qi Jiayi's house was purchased with her father's pension, so Chen Baozhu was very angry that Qi Jiayi added Xu Xi's name to the property certificate. Seeing Chen Baozhu angry, Nan Fei tried to console her.
Xu Xi was determined to get the house and made various excuses to avoid meeting with the lawyer.
Now, Qi Jiayi's funds were tight and she could not purchase the house she had put a deposit on. She hoped that Nan Fei would buy the house instead.
Qi Jiayi took Nan Fei to see the house and Nan Fei was very satisfied after seeing it. She decided to sell her house in Beijing to use as a down payment and promised to help Qi Jiayi repay the mortgage.
In order to sell the house in Beijing, Nan Fei contacted Ling Jiaoyang for help. Ling Jiaoyang agreed to help and when he brought an agent to see the house, they met Chen Fang. After learning that Nan Fei was selling the house, Chen Fang decided to buy it.
When Nan Fei returned to Beijing to sell the apartment, she was surprised to see Chen Fang. She didn't want to have anything to do with him and initially didn't want to sell the house to him. But eventually, she agreed to sell it to him for the right price.
That night, Chen Fang came to Nan Fei's apartment building and thought about the four years he had spent with her. He felt sad knowing that their relationship had come to an end. As Nan Fei was preparing to leave, she opened the door and saw Chen Fang standing outside.
Chen Fang waited outside Nan Fei's house all night until Nan Fei, who was about to leave, arrived. He helped her with her luggage and saw her off.
When Qi Jiayi learned that Tian Zhongqing wanted to introduce her to a client, she met with him, but only saw Tian Zhongqing alone. Qi Jiayi thought that Tian Zhongqing wanted to reconcile with her and refused in advance, not wanting to become the third party between Tian Zhongqing and his girlfriend Qian Qian. When she learned that Tian Zhongqing did not have such intentions, Qi Jiayi was very embarrassed. Later, she learned from Tian Zhongqing that Xu Xi had an affair and was caught in the act. Qi Jiayi was grateful to Tian Zhongqing, but still felt uneasy.
Qi Jiayi obtained photos of Xu Xi with another woman, but to prove Xu Xi's infidelity, she needed evidence of a hotel stay. In order to get the evidence, Nan Fei and Qi Jiayi waited outside Xu Xi's company for him to appear. When they saw Xu Xi, they wanted to secretly follow him, but Xu Xi discovered them and mocked them instead.
Qi Jiayi and Nan Fei learned from Tian Zhongqing the identity of the girl who was with Xu Xi. They knew that the girl's family was well-off and that she met Xu Xi because of the Spring Mountain Group's case, and that Xu Xi deliberately concealed the fact that he was already married.
Therefore, Nan Fei took the initiative to warn Xu Xi's mistress and persuade Xu Xi not to miss the opportunity to marry into a wealthy family because of his entanglement with them.
Chen's parents were very worried when they noticed that Chen Po was feeling down and didn't want to communicate with anyone. Chen Fang sought advice from a colleague who works at a children's hospital and learned that he needed to provide a sense of security to Chen Po along with his mother. Chen Fang could only choose to face the situation together with Liu Shuting.
With the help of Nan Fei and Tian Zhongqing, Qi Jiayi successfully divorced Xu Xi. A week later, Xu Xi and Bao Huimei moved out of the house, and Bao Huimei thought that the house was taken by Qi Jiayi and got angry and was hospitalized.
After returning home, Qi Jiayi saw the key and letter left by Xu Xi. Although she was sad after reading the letter, she knew that she had made the right choice.
The house that Nan Fei and Qi Jiayi bought together became their common home. Nan Fei received a call from her mother Dong Bihua, who wanted to come to Shanghai, but she refused.
When Jiao Yue and Qi Jiayi were picking furniture, Jiao Yue asked Qi Jiayi to pretend to be his partner and meet his parents as a condition for giving her some advice. Qi Jiayi thought of Nan Fei, who also needed a fake partner, and introduced them to each other, and they reached a cooperation.
Nan Fei followed Jiao Yue to visit his parents and gained their approval.
Jiao Yue's parents, Jiao Xingguo and Cai Wenjuan, were very pleased with Nan Fei's sincere personality when they saw her returning home with Jiao Yue. During dinner, Jiao Xingguo became very angry after learning that Jiao Yue had quit his overseas job. Despite the ongoing argument between the two, Cai Wenjuan intervened and tried to mediate.
After leaving Jiao's house, Jiao Yue thanked Nan Fei and apologized for making her feel embarrassed earlier. Nan Fei understood and expressed empathy towards him.
Jiao Yue underwent a makeover with the help of Qi Jiayi and Nan Fei, and then appeared in front of Nan Fei's parents via video call as her partner. Facing a series of questions from Dong Bihua, Jiao Yue answered them one by one and gained her approval.
Chen Po went to the hospital for a check-up with the help of Chen Fang and Liu Shuting. The doctor suspected that Chen Po had selective mutism and provided suggestions to Chen Fang and Liu Shuting.
Seeing Chen Po like this, Liu Shuting was very worried and proposed to remarry Chen Fang by recalling their happy past, but was still rejected by Chen Fang.
Jiao Yue refused a job offer due to his dislike of traditional work.
Next month, Tian Zhongqing is getting married and because of her inability to let go of the past, she did not invite Qi Jiayi. When Tian Zhongqing met with Qi Jiayi, she asked the question that had been weighing on her mind for years – why Qi Jiayi didn't want to leave with her back then. Qi Jiayi explained the misunderstanding and clarified that she never cheated, but rather her immature views on relationships at the time. Now that she understands what happened in the past, she realizes that she missed her chance with Tian Zhongqing. Qi Jiayi encourages Tian Zhongqing to look forward and they hug each other again, sending blessings to each other.
Jiao Yue and actress Shen Xue were once in a relationship, but they broke up when Jiao Yue went abroad. Jiao Yue never forgot about her and at a class reunion, he obtained Shen Xue's phone number. When he called, a man answered the phone, but Shen Xue eventually took the phone. Despite this, Jiao Yue still felt unhappy. Shen Xue is about to return to Shanghai and asks Jiao Yue to wait for her call.
On this day, Liu Shuting took Chen Po to the market but became unhappy because he was not talking. In the blink of an eye, Chen Po disappeared. After searching for a long time, Liu Shuting found Chen Po and couldn't help but blame him, but also felt heartbroken, and they hugged and cried together.
Qi Jiayi and Nan Fei spent the day together and after dinner, they returned to their home courtyard, both very happy. Jiao Yue next door overheard them talking and was splashed with water by Qi Jiayi.
Jiao Yue, who was eavesdropping on a conversation between Qi Jiayi and Nan Fei in the hospital, was drenched with cold water.
The next day, Nan Fei, who had regained her senses, decided to go for an interview. Qi Jiayi encouraged her.
After learning that Jiao Yue had moved in next door, Nan Fei visited his house.
During the interview at the hospital, Nan Fei heard from the interviewer's words that they had no intention of hiring her. When faced with the interviewer's doubts, she did not explain too much. Despite Nan Fei's rich experience, there were too few hospitals in her field of expertise, and she ultimately could not find a job.
Nan Fei contacted Ling Jiaoyang and learned that he was in Shanghai, so she hurried to meet him.
Nan Fei met Ling Jiaoyang at a private plastic surgery hospital and learned that he was the director. After some explanation from Ling Jiaoyang, he invited Nan Fei to work at the hospital, but she declined on the grounds that her specialty was plastic restoration, which did not match the field of cosmetic surgery.
While helping Jiao Yue arrange furniture, Jiao Yue pointed out that Qi Jiayi now attributed her work to service, which meant that design had no meaning, and urged her to think carefully about her design philosophy. Qi Jiayi was surprised to see the career plan that Jiao Yue had helped her make.
Qi Jiayi sent Jiao Yue to meet his ex-girlfriend, and on the way they passed a coffee shop. When Jiao Yue got out to buy coffee, he happened to run into his ex-girlfriend Shen Xue, and only then did Qi Jiayi realize that Jiao Yue's ex-girlfriend was a celebrity.
During a conversation between Jiao Yue and Shen Xue, Jiao Yue found out that Shen Xue wanted him to manage her investments and was also willing to introduce him to her network. The two had a very harmonious exchange.
When Nan Fei listened to Qi Jiayi talking about Jiao Yue and Shen Xue's situation and was asked about it, Nan Fei believed that Jiao Yue was her ideal type in the past, but she currently doesn't have feelings for anyone.
The next morning, Qi Jiayi and Nan Fei were attracted by Jiao Yue's coffee and went to his yard to have two cups. They then had a conversation with Jiao Yue over the wall. When Jiao Yue suggested opening the door to the yard, they immediately rebuked him.
Qi Jiayi noticed that Nan Fei spent money recklessly and had no concept of financial management. Nan Fei believed that money is earned, not saved, but she still agreed with Qi Jiayi's observation. However, she still didn't want Qi Jiayi to interfere with her finances.
After picking up Chen Pei from school, Chen Fang took him to play a game they used to play with Nan Fei – randomly getting on a car and then switching to another car, exploring wherever they ended up. Seeing that Chen Pei was having fun, Chen Fang finally felt relieved. He took Chen Pei out to eat when he realized that he was hungry and repeatedly emphasized at the table that his parents' divorce wouldn't affect his love for him.
After this incident, Chen Pei began to speak. Chen Fang rejected Liu Shuting's suggestion to take Chen Pei out to play, believing that he wasn't sick and decided to go to Shanghai after the exhibition introduction.
When Nan Fei went home with Jiao Yue again, they were discussing marriage when Jiao Yue's mother, Cai Wenjuan, brought it up. They were confused, and Nan Fei's mother, Dong Bihua, called. Unable to tolerate her, Nan Fei turned off her phone. Dong Bihua was worried about Nan Fei and contacted Qi Jiayi for Jiao Yue's contact information.
Photos
Reviews
You May Also Like
Related Posts
Chinese Dramas Like Warm and Sweet

Who Is Victoria Song Qian's Boyfriend?

Who Is Chen Xiao's Wife? He and Michelle Chen Fell In Love Over A Drama

Victoria Song Qian, Luo Yunxi: Dangerous Relationship in "Broker"

Wang Yibo's new drama "Luoyang" was announced, Huang Xuan is the leading role

Victoria Song Dramas, Movies, and TV Shows List

Jing Chao Dramas, Movies, and TV Shows List

Michelle Chen Dramas, Movies, and TV Shows List

Sun Jian Dramas, Movies, and TV Shows List

Lu Yi Dramas, Movies, and TV Shows List