Ultimate Note – Joseph Zeng, Xiao Yuliang, Hani Kezi
Ultimate Note is a youthful adventure drama co-directed by Zou Xi, Ma Xiaogang, and Wei Lizhou, led by Joseph Zeng Shunxi, Xiao Yuliang, and Ha Ni Ke Zi, with special appearances by Liu Yuning, Fan Ming, Wang Jingsong, and Liu Xuehua, co-starring Cheng Fangxu, Liu Yuhan, and Liu Ruoyan.
The drama tells a series of stories after the events of the Yunding Heavenly Palace.
Wu Qi receives two videotapes sent by Zhang Qiling after learning from his third Uncle about the hidden story at the bottom of the Xisha Sea and the feud between the Warring States Silk Book and the Mystic Nine. In order to uncover the truth, he follows the fragmented clues on the tapes to Qinghai, only to be plunged into a deeper mystery and adventure ever since.
Details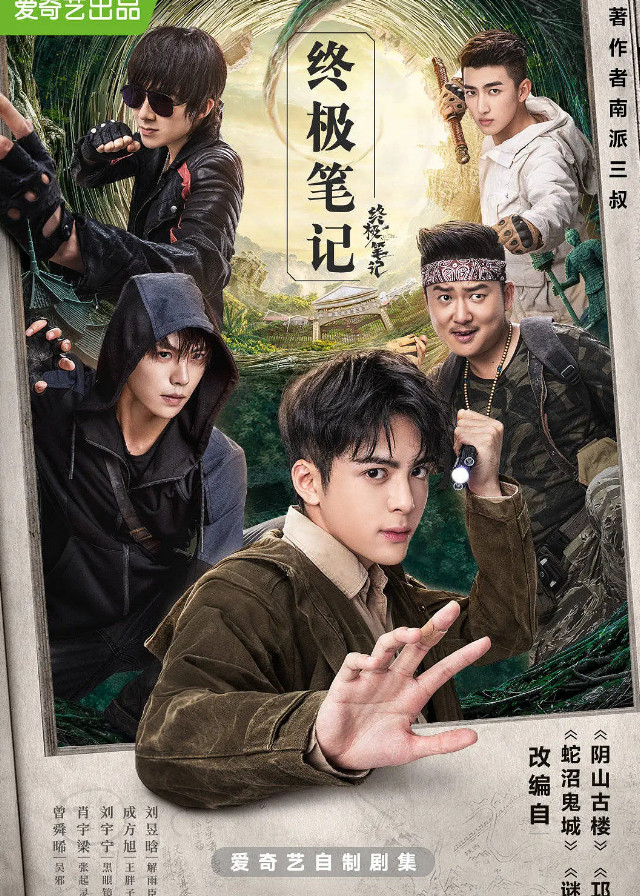 English Title: Ultimate Note
Chinese Title: 终极笔记
Genre: Youth, Adventure, Suspense, Thriller
Episodes: 37
Duration: 45 min.
Director: Zou Xi, Ma Xiaogang, Wei Lizhou
Writer: Tian Liangliang, Zhang Yan'ang
Producer: Li Linying, Bai Yicong
Product Company: iQIYI, H&R CENTURY PICTURES
Released Date: 2020-12-10
Boradcast Website: iQIYI, 爱奇艺
Cast
Synopsis
Wu Xie, who is only interested in his third uncle's experiences, receives a mysterious videotape upon his return from an adventure and finds himself caught up in a conspiracy.
He explores the Geermu Sanatorium alone and meets Zhang Qiling and the others, forming a team of six.
They accidentally discover a mysterious meteorite jade in the Palace of Xi Wang Mu, but at the same time, his third uncle suddenly disappears and Zhang Qiling loses his memory.
In order to help Zhang Qiling recover his memory, the group explores the ancient building of the Zhang family and discovers that it is the key to the mysterious jade, but due to the intervention of Qiu De Kao's forces, they are unable to do so.
Huo Laotai suddenly joins forces with Wu Xie and the others to replicate the joint operation of the Mystic Nine to find out the truth again, but unexpectedly an accident occurs during the operation and the group is plunged into a crisis.
The mystery is still unsolved and the forces are out of balance. Wu Xie is forced to wear a mask and disguise himself as the third uncle.
You May Also Like
Related Posts