Take My Brother Away – Joseph Zeng, Sun Qian
Take My Brother Away is a youthful inspirational school drama based on the national comic of the same name by "You Ling Jie Mei", directed by Han Qing, starring Joseph Zeng, Sun Qian, Wang Xudong, Lv Xiaoyu, Hu Yongtao, Ma Boquan, and Li Menglu, with guest appearances by Luo Haiqiong, Zhang Benyu, Cao Weiyu, and Zhang Heng.

The drama is inspired by the topic of the second child and tells the hilarious daily lives of two siblings, Shi Fen and Shi Miao, as well as the various geeky stories of they getting along with their classmates such as Zhen Kaixin, Wan Sui, Wan Xing, and Miao Miao.
Details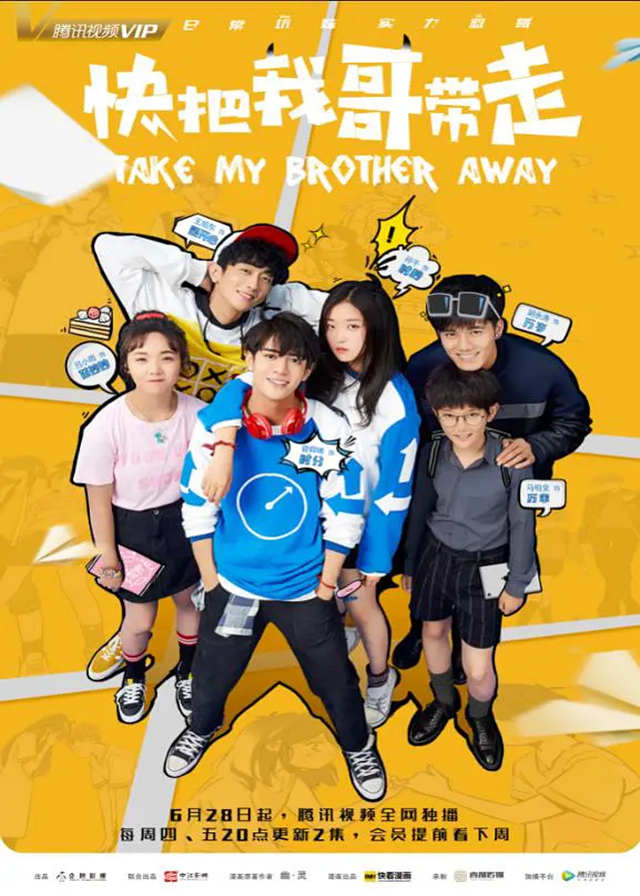 English Title: Take My Brother Away
Chinese Title: 快把我哥带走
Genre: Family, School, Youth, Comedy
Episodes: 30
Duration: 45 min.
Director: Han Qing
Writer: Peng Lilan
Producer: Fang Fang, Huang Xing, Chen Anjun
Produce Company: TENCENT PENGUIN PICTURES, China Wit Media
Broadcasting Website: TencentVideo, Netflix
Released Date: June 28, 2018
Cast

Joseph Zeng
as Shi Fen

Sun Qian as Shi Miao

Wang Xudong as Zhen Kaixin

Lv Xiaoyu as Miao Miaomiao

Hu Yongtao as Wan Sui

Ma Boquan as Wan Xing

Xu Xiaonuo as You Le

Li Menglu as Wang Keke

Tan Quan as Cheng Haonan
Synopsis
If there is such a brother, will you want to have a cow a hundred times a day like Shi Miao?
He promised to grill sausage for his sister, he only ate a bite, but a largemouth of the sausage was swallowed; he said the loser of the finger-guessing game went to buy ice cream, but he came back with a missing ice cream ball; potato stew beef for 6 days eventually turned into a dark cuisine can not see what it is.
The overbearing little sister Shi Miao and lazy and interesting brother Shi Fen quarrels because of a variety of small daily conflicts. But, when one is in trouble, the other one will firmly stand by side, silently guarding each other.