Two Conjectures About Marriage – Yang Zishan, Peng Guanying
Two Conjectures About Marriage is an urban female inspirational light comedy directed by Liu Xuesong and led by Yang Zishan and Peng Guanying, co-starring Lin Peng and Zhao Zhiwei, and Huang Cancan.

The drama tells the story of Shen Mingbao and her best friend Xue Kexin, who both get married in a flash and go through a series of conflicts in their marriage, each taking a different emotional path to find happiness again.
Details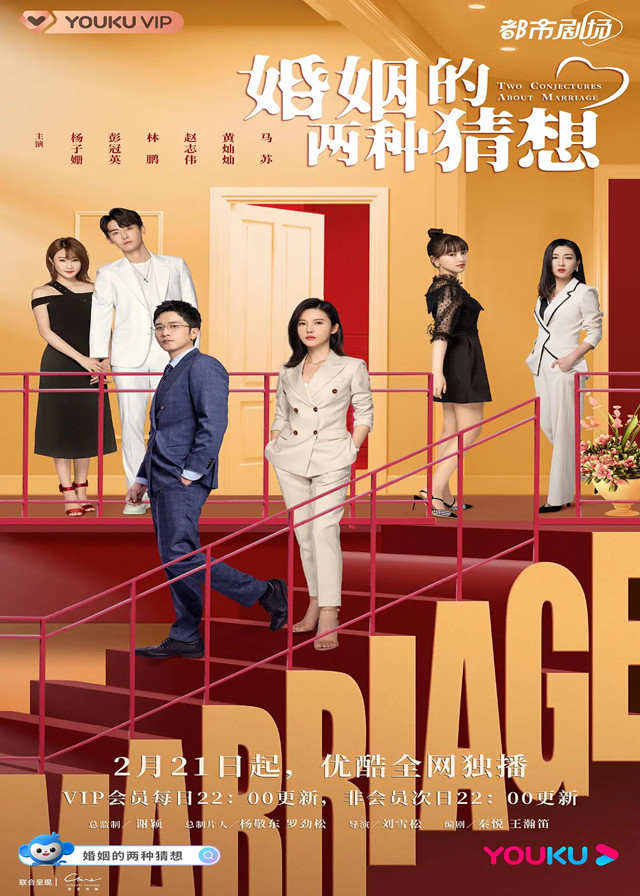 English Title: Two Conjectures About Marriage
Chinese Title: 婚姻的两种猜想
Genre: Urban, Romance, Comedy
Tag: Pregnancy, Married Life, Multiple Couples, Life Lesson, Older Woman/Younger Man, Miscarriage
Episodes: 36
Duration: 45 min.
Director: Liu Xuesong
Writer: Qin Yue, Wang Handi
Producer: Yang Jingdong, Luo Jingsong
Product Company: Beijing CIWEN FILM Distribution CO., LTD
Released Date: 2022-02-21
Watch On: Youku, youku.tv
Subtitle:
English, Chinese, Thai, Indonesian, Malay, Vietnamese, Spanish, Portuguese
Cast
Synopsis
Shen Mingbao, an office lady, met and married Yang Zheng, an IT man in a flash. But the new couple is so busy that they can only meet twice a week.
Shen Mingbao's childhood friend Xue Kexin is a beautiful girl from a wealthy family. She just got married to Chen Tonggang, an actor eight years younger than herself.
In order to support her husband's career, she bought a company, where Shen Mingbao worked in.
To make up for the loss of clients, Shen Mingbao worked harder, resulting in a miscarriage.
When Yang Zheng learned of this, he resigned on her behalf, causing conflict between the couple.
Xue Kexin and Chen Tonggang have a three-view disagreement, leading to a divorce.
Shen Mingbao was pregnant again, but Yang Zheng's career suffered a change, Shen Mingbao had to work harder. The company survived.
Xue Kexin's best friend Zhao Songwen returned from overseas to start her own business. She asked Yang Zheng to write the code and become a partner, bringing an unprecedented crisis to the pregnant Shen Mingbao.
Zhao Songwen's company has a financial black hole of over ten billion dollars.
She set a trap for Yang Zheng, who will be held responsible for all the collapses.
The good thing was that Shen Mingbao hacked the company's intranet, got the overdue rate data, and stopped the corporate version from going online.
In the end, the four people went through trials and tribulations. Xue Kexin, Chen Tonggang remarried. Shen Mingbao, Yang Zheng faced the choice of marriage.
Reviews
You May Also Like
Related Posts