Once We Get Married – Wang Yuwen, Wang Ziqi
Once We Get Married is an urban romance drama, directed by Li Yaobo and Chu De Jian, starring Wang Yuwen and Wang Ziqi, and co-starring Yi Bochen, Zhong Li Li, Yang Yue, Li Junchen, and Chen Yixin.

The drama is adapted from the popular novel "Shan Hun Zong Cai Qi Yue Qi / 闪婚总裁契约妻", which tells a "evenly matched" urban fashion love story.
Basic Info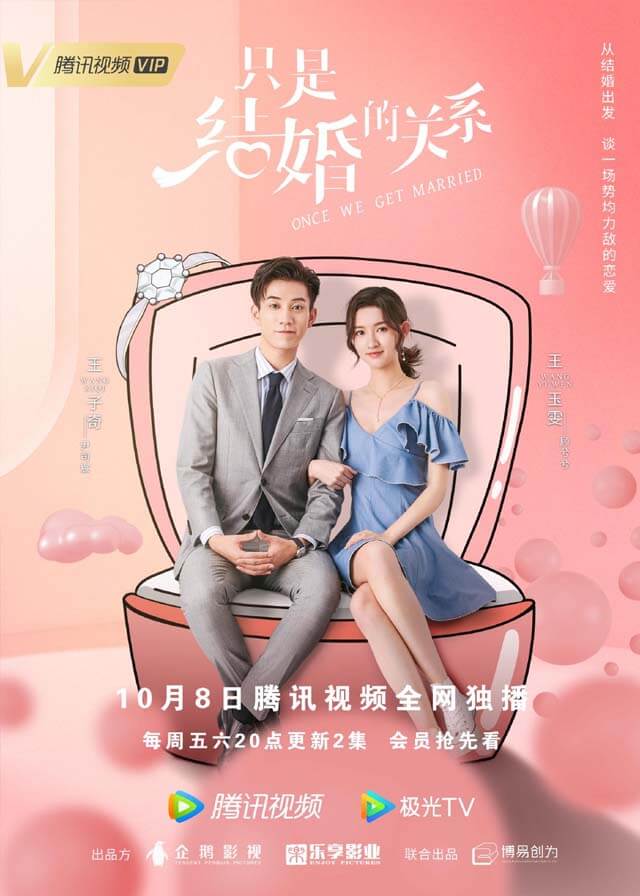 English Title: Once We Get Married
Chinese Title: 只是结婚的关系
Genre: Urban, Romance
Episodes: 24
Director: Li Yaobo, Chu De Jian
Writer: Shang Menglu, Zhang Xiao
Producer: Li Er'yun, Huang Xing, Liu Zhimin, Yin Cuihan
Product Company: Tencent Penguin Pictures, Enjoy Pictures
Broadcasting Website: WeTV
Released Date: October 8, 2021
Cast

Wang Yuwen
as Gu Xixi

Wang Ziqi
as Yi Sichen

Yi Bochen as Mo Zixin

Zhong Lili as Ran Xiwei

Yang Yue as Mu Ruona

Li Junchen as Shang Ke

Chen Yixin as Lin Xiaoya
Synopsis
Fashion buyer Gu Ruoxi sneaks into a private reception to buy Alex's wedding dress for a client. She mistakenly befriends Yin Sichen, a scheming boss who comes to discuss business cooperation with Alex.
A 'deliberate' incident allows them to temporarily reach a win-win situation, but in order to maintain a long-term relationship with Alex, Gu Ruoxi is forced to become a contractual couple with Yin Sichen.