Once We Get Married – Wang Yuwen, Wang Ziqi
Once We Get Married is an urban romance drama, directed by Li Yaobo and Chu De Jian, starring Wang Yuwen and Wang Ziqi, and co-starring Yi Bochen, Zhong Li Li, Yang Yue, Li Junchen, and Chen Yixin.

The drama is adapted from the popular novel "Shan Hun Zong Cai Qi Yue Qi / 闪婚总裁契约妻", which tells an "evenly matched" urban fashion love story.
Details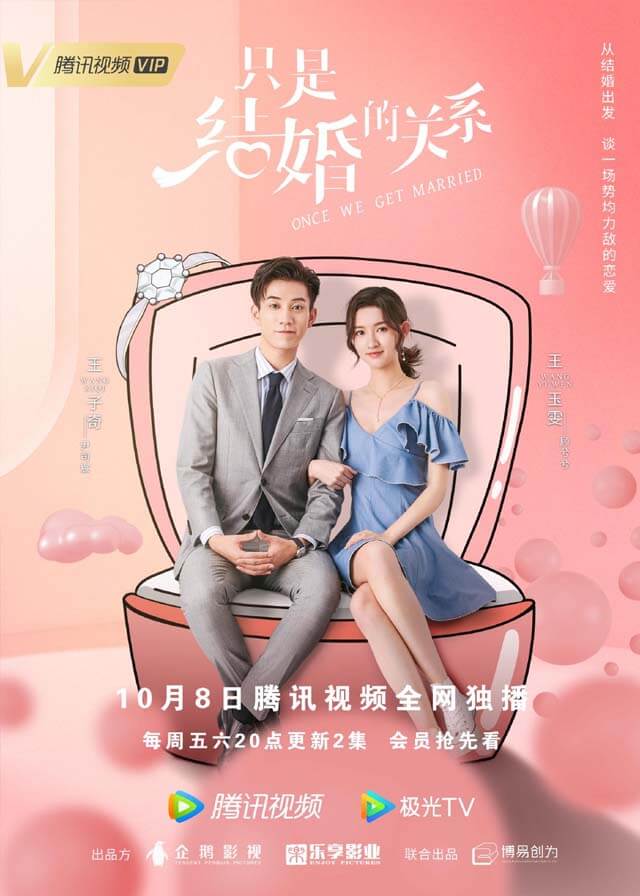 English Title: Once We Get Married
Chinese Title: 只是结婚的关系
Genre: Urban, Romance, Comedy
Tag: Contract Relationship, Contract Marriage, Rich Man/Poor Woman, Cinderella and Ceo, Love Triangle, Overbearing CEO
Episodes: 24
Duration: 41 min.
Director: Li Yaobo, Chu De Jian
Writer: Shang Menglu, Zhang Xiao
Producer: Li Er'yun, Huang Xing, Liu Zhimin, Yin Cuihan
Product Company: Tencent Penguin Pictures, Enjoy Pictures
Released Date: 2021-10-08
Boradcast Website: WeTV, TencentVideo
Cast
Synopsis
Fashion buyer Gu Xixi sneaks into a private reception to buy Alex's wedding dress for a client. She mistakenly befriends Yin Sichen, a scheming boss who comes to discuss business cooperation with Alex.
A 'deliberate' incident allows them to temporarily reach a win-win situation, but in order to maintain a long-term relationship with Alex, Gu Xixi is forced to become a contractual couple with Yin Sichen.
You May Also Like
Related Posts