Novoland: The Castle in the Sky 2 – Xu Zhengxi, Wang Yuwen
Novoland: The Castle in the Sky 2 is a historical fantasy romantic co-directed by Zhao Jintao, Min Guohui, and Zhang Jinqing, led by Xu Zhengxi and Wang Yuwen, co-starring Li Muchen, Dai Wenwen, Wang Ziqi, and Chai Ge.
The drama follows the fated love affair between Feng Ruche, the daughter of Feng Tianyi and Yi Fuling, and Xue Jingkong, the greatest cabalist in the land of Lanzhou.
Details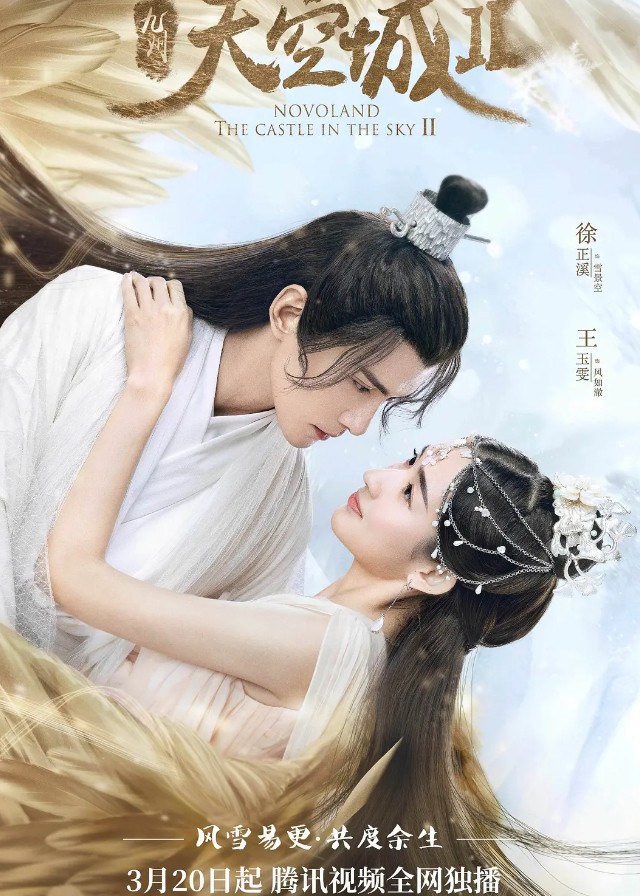 English Title: Novoland: The Castle in the Sky 2
Chinese Title: 九州天空城2
Genre: Historical, Fantasy, Romance
Tag: Novoland, Xianxia, Interspecies Romance, Steamy Kiss, First Love, Arranged Marriage
Episodes: 34
Duration: 35 min.
Director: Zhao Jintao, Min Guohui, Zhang Jinqing
Writer: Lin Weirui, Yang Zhili, You You
Producer: Huang Xing
Product Company: Tencent Penguin Pictures, CANLING PICTURES, XINGGE MEDIA
Released Date: 2020-03-20
Broadcast Website: WeTV, 腾讯视频
Cast
Synopsis
Feng Tianyi, the Emperor of the Feathers, and Yi Fuling, a human girl, broke the fatal reincarnation, and married in the end, which was passed down to posterity.
In the year of his daughter Feng Ruche's birth, a drop of heart blood from Xue Jingkong, the greatest Cabalist in Lanzhou, saved Feng Ruche who was killed by the Flower God, thus starting the destiny of their lives.
The oracle says that "when golden wings emerge, the empress will appear", and all forces are looking for Feng Tianyi's only daughter who has golden wings.
On her 18th birthday, Feng Ruche suddenly grows a pair of golden wings, and her destiny changes forever.
Once a "little thief" in Jianghu, she is now the empress of the world.
When she enters the palace, Feng Ruche becomes a pawn in the struggle of the powerful ministers. At the time, she has a fateful encounter again with Xue Jingkong...
Reviews
You May Also Like
Related Posts