The Chang'an Youth – Wang Yuwen, Caesar Wu
The Chang'an Youth is a historical romantic drama directed by Zhou Jiawen, led by Wang Yuwen, Wu Xize, Liu Yichang, Xie Binbin, and Qi Peixin, co-starring Li Boyang, Jin Zhong, Wen Qing, Xie Shiyu, and Xing Yang.
The drama tells the story of Shen Yiyi, a cook who married Chang'an instead of her friend to repay her friend's kindness and enters the Shang Yi Guan by mistake, starting a youthful journey of solving strange cases, fighting corrupt officials, and finding true love.
Details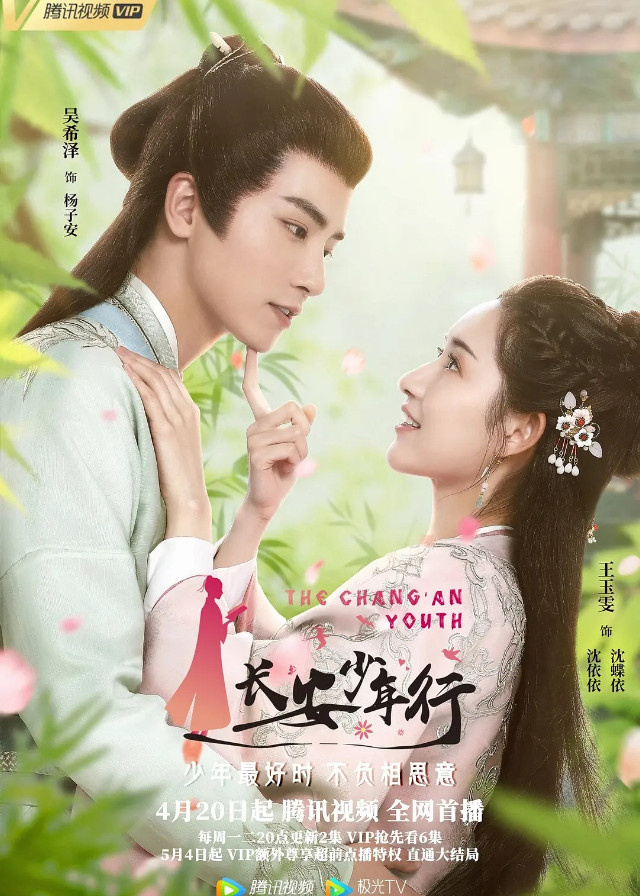 English Title: The Chang'an Youth
Chinese Title: 长安少年行
Genre: Historical, Romance, Youth, Suspense
Tag: Secret, Love/Hate Relationship, Calm Male Lead, Reverse-Harem, Gender Bender, Bromance
Episodes: 24
Duration: 45 min.
Director: Zhou Jiawen
Writer: Xiong Cheng, Song Jinchuan, Guo Qi, Zhang Han, Meng Yuan,,
Producer: Fang Fang, Lu Xuanzhu
Product Company: Tencent Penguin Pictures
Released Date: 2020-04-20
Watch On: WeTV, 腾讯视频
Cast
Synopsis
Shen Yiyi is a superb cook. When she was young, she became close friends with Lady Shen Dieyi by coincidence, but Die Yi passed away due to a coughing disease, leaving the mystery of her origin behind.
In order to repay kindness her, Shen Yiyi pretended to be Dieyi and went to Chang'an to fulfill the marriage contract, hoping to find out the truth about Dieyi's origin.
In order to delay the wedding, Yiyi disguises herself as a man and enters the Shang Yi Guan with Dieyi's fiancé Tang Jiuhua, and coincidentally meets Yang Zi'an who is ordered by the emperor to investigate the case.
They have a mutual affection for each other in the "quarrels", but Zi'an struggles with Yi Yi's "male identity" and is in a dilemma.
Meanwhile, Shen Yiyi, Yang Zi'an, Tang Jiuhua, the second prince Li Xinyuan, and swordsman Dugu Muxue repeatedly solve the amazing cases and fight against the eastern diplomatic corps, forming the "Five of Shang Yi Guan", which is famous in Chang'an.
In the smoky battlefield, Shen Yiyi and Yang Chang'an are dependent on each other, expressing their feelings for each other, and the "Five of Shang Yi Guan" overcome the enemy army and return to the dynasty in triumph.
They thought everything would return to peace, but a bigger conspiracy has just begun, the culprit behind many cases emerged, Yiyi's true identity was learned by Zi'an, and their relationship faced challenges.
The crown prince rebelled, Dieyi's identity caused an uproar, how the people of Shang Yi Guan will overcome the difficulties together, How will Yang Zi'an and Shen Yiyi's relationship go?
Reviews
You May Also Like
Related Posts