Lady of Law – Jiang Shuying, Liu Mintao, Peng Yuchang
Lady of Law is an urban female drama directed by Li Jiangming, starring Jiang Shuying, Liu Mintao, Peng Yuchang, and Gao Xin.

The drama takes the lawyer industry as the starting point, and tells the story of two lawyers with different philosophies, going from collision to understanding each other, and revealing the truth together.
Details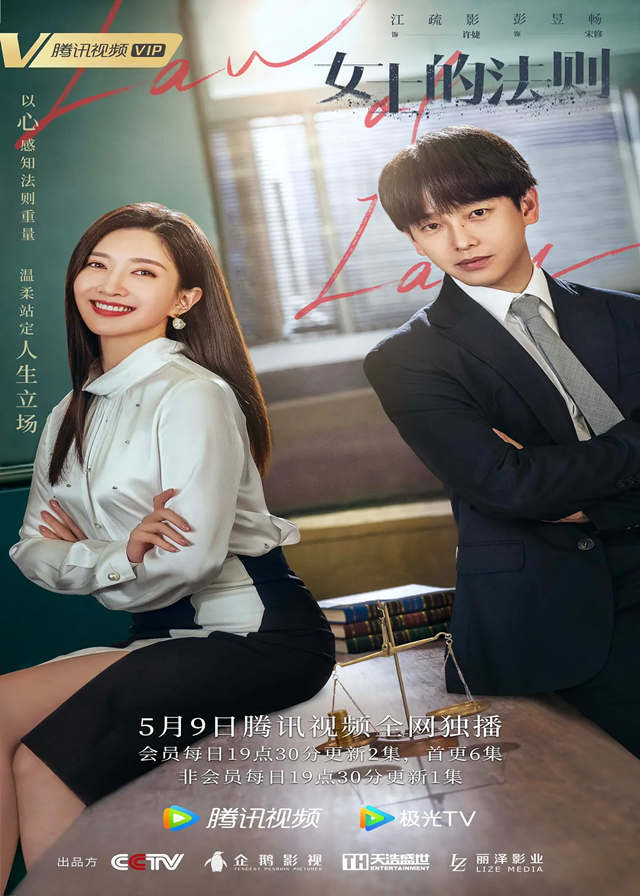 English Title: Lady of Law
Chinese Title: 女士的法则
Genre: Urban, Drama
Episodes: 40
Duration: 45 min.
Director: Li Jiangming
Writer: Liang Xiao, Miao Qijia
Producer: Xu Li, Yi Zhuang, Sheng Zhuoxian
Produce Company: TENCENT PENGUIN PICTURES, T.H ENTERTAINMENT
Broadcasting Website: WeTV
Released Date: May 9, 2022
Cast

Jiang Shuying as Xu Jie

Liu Mintao as Chen Ran

Peng Yuchang as Song Xiu

Gao Xin as Jian Peiran

Dai Xiangyu as Sun Zhewei

Gao Shuguang as Li Gongming

Shi Mingze as Chen Ke
Zhao Yihuan as Liu Fang

Xu Li as Bai Yu

Sha Baoliang as He Gang
Synopsis
Xu Jie, a female lawyer, is invited by Li Gongming, a partner of Ming Tang Law Firm as a trainee lawyer because of her emotional and career setbacks in her original city.
Xu Jie's main task is to investigate the bribery case of another partner of the firm, Chen Wenguang and to make a fresh start in a new environment.
Xu Jie is assigned to the legal aid department and becomes a colleague of Chen Ran, who is the daughter of Chen Manguang.
Chen Ran has been secretly investigating since her father was imprisoned, and after Xu Jie comes to the firm, the two lawyers with different philosophies gradually get to know each other, and with the successful resolution of one entrusted case, they trust each other as confidants.
As the investigation continues, Chen Ran discovers the real reason why Xu Jie come to the firm, and this workplace friendship seems to have turned into a conspiracy.
As the law firm continues to experience accidents, they are bound together by fate.
After redeeming each other, they join forces to find out the truth and finally learn the truth about the bribery case.