Inference Notes – Zhang Zifeng, Neo Hou
Inference Notes is a school mystery web drama directed by Lin Qingzhen, starring Zhang Zifeng, Hou Minghao, Wang Duo, Wang Jialiang, and Sun Qijun.
Based on the novel of the same name by Zao An Xia Tian, the drama tells the story of a girl, Xia Zao'an, and a super detective, Mi Kaka, who, after experiencing a series of sudden revenge cases together, gradually fall into a deductive adventure against a mysterious organization.
Details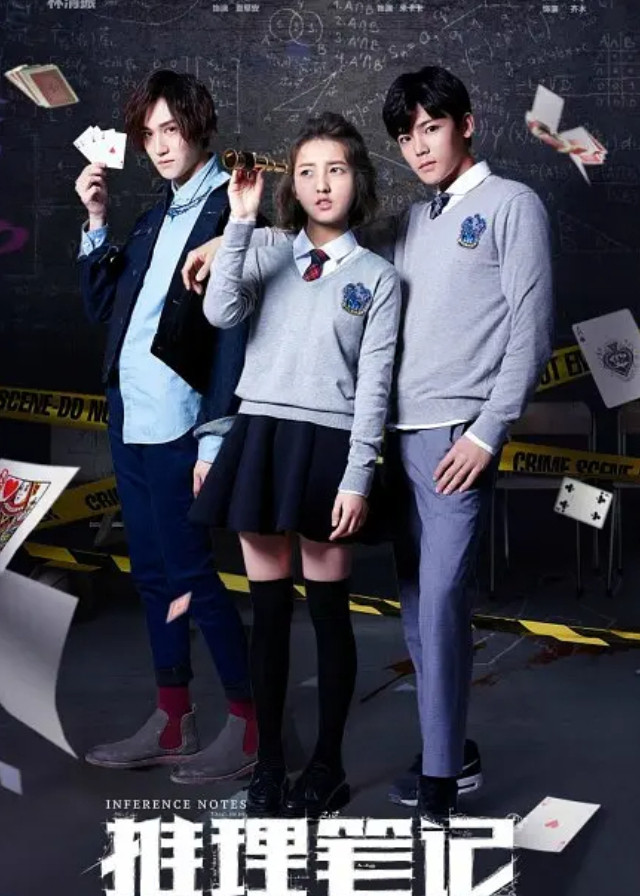 English Title: Inference Notes
Chinese Title: 推理笔记
Genre: Suspense, Thriller, Crime, Drama
Tag: Investigation, Genius Male Lead, Detective Fiction, Murder, Kidnapping, Different Personalities
Episodes: 20
Duration: 24 min.
Director: Lin Qingzhen
Writer: Xi Bei, Hong Jiapei, Wei Yan, Wang Shu, Wang Xinyu
Producer: Cai Yingdian
Product Company: LeTV
Released Date: 2017-11-03
Broadcast Website: Letv
Cast
Synopsis
A heart transplant operation gives a young girl, Xia Zao'an, a dual personality, and her second personality, named Edison, has the ability of Reasoning.
Edison draws Xia Zao'an into a series of serial murder plots.
To help her friend Xia Zao'an find out the secret behind Edison's personality, deductive genius Mi Kaka forms a school genius crime-solving team with her.
The kidnapping of a classmate, the murder of the head teacher, and the strange and mysterious senior, Qi Mu, are all seemingly unrelated clues that are threaded together.
The killer is directly linked to a mysterious organization called "Poker".
What is the organization, why did they carry out the serial murders, and who is Edison's true identity, there is more than one truth behind the mystery.
Reviews
You May Also Like
Related Posts