Here to Heart – Zhang Han, Janine Chang
Here to Heart is an urban romantic business drama directed by Tien-Jen Huang, led by Zhang Han, Janine Chang, Jenny Zhang Jiani, and Jing Chao, co-starring Zhou Qiqi, Jin Zehao, Guo Ziqian, Liang Dawei, Ji Xiaobing, Ma Qiuzi, Li Xinzhe, and Pan Yijun.

The drama tells the romantic love story of Zhan Nanxian and Wen Nuan. They experienced their youthful love. After the twists and turns of a decade of separation, they reunite.
Details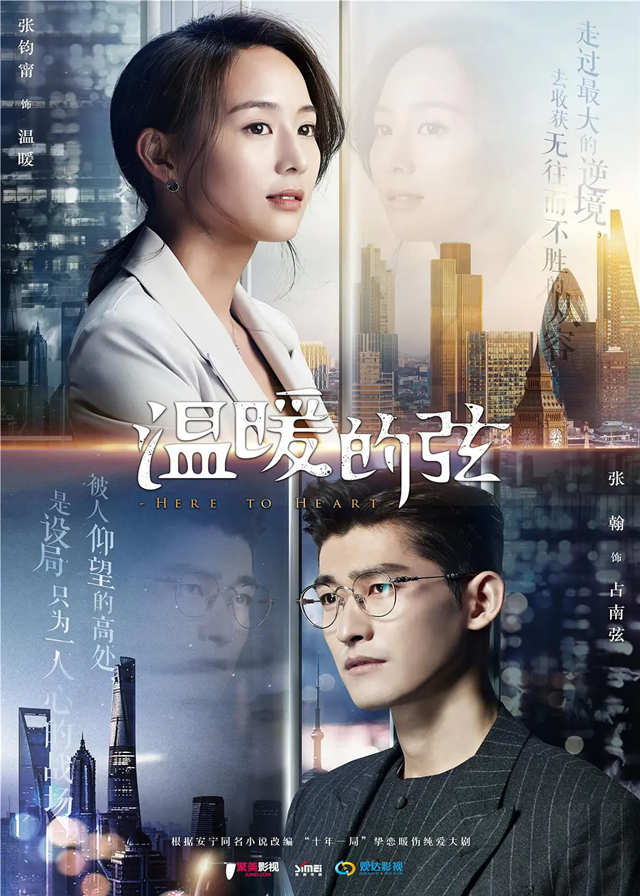 English Title: Here to Heart
Chinese Title: 温暖的弦
Genre: Urban, Romance, Business
Episodes: 48
Duration: 45 min.
Director: Tien-Jen Huang
Writer: Zhao Weina, Xu Luyan, Xie Xiaomi
Producer: Ma Sihong, Xu Yun
Broadcasting Website: Netflix, China Zone, Viki, WeTV, YOUKU, MGTV, TencentVideo
Released Date: April 30, 2018
Cast

Zhang Han
as Zhan Nanxian
Janine Chang
as Wen Nuan

Zhang Jiani as Yi Xin

Jing Chao as Zhu Linlu

Zhou Qiqi as Wen Rou

Jin Zehao as Guan Ti

Guo Ziqian as Ding Xiaodai

Liang Dawei as Pan Weining

Ji Xiaobing
as Gao Fang

Ma Qiuzi as Du Xintong
Synopsis
Zhan Nanxian has a keen insight into the development trend of domestic high-tech. He partnered with his classmates to set up the company Qianyu.
There is only a 10% success rate of entrepreneurship in the high-tech industry, Qianyu was finally successfully listed after a variety of turmoil.
Wen Nuan resolutely quit her job at a well-known venture capital firm in the UK to return to China. She came to Qianyu and became the president's special assistant on her own strength.
It turns out that Wen Nuan and Nanxian were once lovers, but they broke up due to a misunderstanding.
On the one hand, Wen Nuan came back to help Nanxian, and on the other hand, she wanted to restore their love
After experiencing the Leng's tender case, the Yizhong poaching incident, the agent dispute and other events, Nanxian and Wen Nuan not only ushered in a beautiful love, but also joined hands to suppress bad competition.
They also work together to purify the entire industry, allowing the high-tech industry to develop steadily in a healthier environment