Growing Pain 2 – Guo Junchen, Angel Zhao
Growing Pain 2 is an urban family drama directed by Liu Huining and Li Shaofei, led by Zhang Jiayi and Yan Ni, co-starring Angel Zhao Jinmai, Fiction Guo Junchen, Jiang Guannan, and Han Peiying.

The drama tells the story of four former classmates Lin Miaomiao, Qian Sanyi, Deng Xiaoqi, Jiang Tianhao. Although they have their own problems with their families, they are still trying to move forward.
Details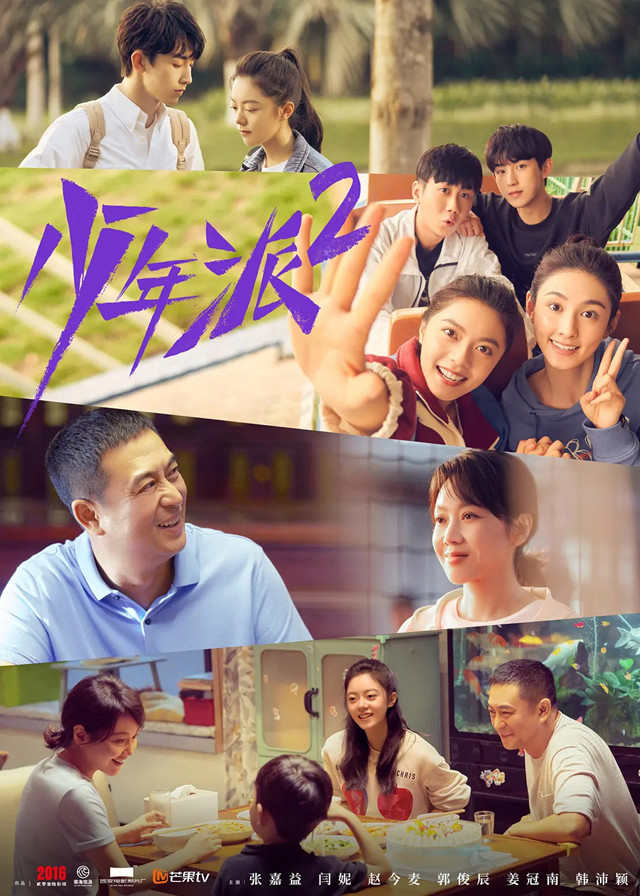 English Title: Growing Pain 2
Chinese Title: 少年派2
Genre: Urban, Family
Episodes: 40
Duration: 45 min.
Director: Liu Huining, Li Shaofei
Writer: Jiu Mei Yu
Product Company: MGTV, THE NOBLE SPIRIT MEDIA 2016 CO., LTD, Leihai Guanlang Pictures & Media Co., XI'AN FILM STUDIO
Broadcasting Website: MGTV
Released Date: –
Cast

Zhang Jiayi as Lin Dawei

Yan Ni as Wang Shengnan

Angel Zhao
as Lin Miaomiao

Guo Junchen
as Qian Sanyi

Jiang Guannan as Jiang Tianhao

Han Peiying as Deng Xiaoqi

Wang Wenqi as Yan Yudi
Synopsis
The four former classmates have different problems with their families, but they are all on their way to happiness.
Lin Miaomiao is nearing graduation and is uncertain between studying abroad and working, but with the company of her parents and friends, she is moving forward and harvesting a lot.
Lin Dawei's career is upgraded and he opens "Leling Zhongxin" in the community.
With the encouragement of Lin Dawei, Wang Shengnan also joins the senior care industry and finds another "spring" in his career.
Qian Sanyi has been having a crush on Miaomiao for many years, and although his mother has a lot of complaints about his affection, Qian Sanyi is trying to "be himself" and is trying to get the support of his family.
Jiang Tianhao had a lot of twists and turns on his way to start a business, and his youthful enthusiasm made him miss the road.
But after experiencing a low point, he wakes up and restarts his journey with the support and encouragement of his family and friends.
Deng Xiaoqi's dream is to become a good actor, but his mother, Deng Xinhua, has a different idea.
She perseveres in the pursuit of art and eventually completes a beautiful transformation.
The growth process is full of tests, but the teenagers still do not forget the original intention. Accompanied by family and friends they keep moving forward!