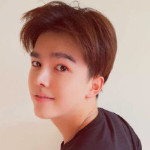 Wang Haoge dramas, movies, and TV shows list contains the best TV series, films of Wang Haoge and the ongoing and upcoming shows. The list will be updated continuously, bookmark this list to get the latest tv shows of Wang Haoge.
Wang Haoge Dramas List
2022-08-31

#1

Historical, Suspense, Romance

Wang Haoge, Liao Huijia

Gong Yiyin was granted a marriage by the Emperor and married Qin Mo, the dream man of many girls. But on the night of the wedding, she is left out and there is even news that her husband wants to divorce her! She is so angry that she disguises herself as a man and takes up a job at the Ting Wei Si to "fight" with her husband, whom she has never met. A game in which he runs away and...

2021-09-29

#2

Historical, Romance, Comedy

Ding Yiyi, Wang Haoge

The female physician, Yi Hua, is on her way to the mountains to collect medicine when she suddenly comes across Ye Xiang, who is unconscious and injured. She took him back to the medical clinic for treatment. Ye Xiang has lost his memory as a result of his injuries and has also developed a split personality, sometimes well-behaved and sometimes violent. Yi Hua took him in as a medicine...

2021-06-01

#3

Historical, Romance, Crime

Xing Zhaolin, Liang Jie, Alen Fang

After Mo Liancheng ascended to the throne, he and Qu Xiaotan continued to live happily in Dongyue. However, the soul pearl had a disturbance, resulting in time and space being disrupted again, and Qu Xiaotan traveled to another world, at which time she found that Mo Liancheng had lost all memories of his previous life. In order to regain the memory loss of her lover, Qu Xiaotan would...

2018-10-22

#4

Historical, Romance, Fantasy

Xing Zhaolin, Liang Jie

Qu Xiaotan, who has lost all her memories, and Mo Liancheng, who is scheming and plotting reunited, experiencing the Dong Yue Kingdom's dispute for the Crown Prince position, and finally defeating their rivals to continue their happy lives.

2017-07-10

#5

Historical, Romance, Comedy

Liang Jie, Xing Zhaolin

A magical power changed the second daughter of the Qu family of the Dongyue Kingdom. The second daughter of the Qu family, Qu Tan'er, who attempted suicide for the Grand Prince, has changed her temperament from then on, sometimes gentle and introverted, sometimes savage and bold. With a "dual personality", Qu Tang'er had to marry the eighth prince Mo Liancheng by order of the...
Related Posts