Boys to Men – Xu Kaicheng, Liu Shuailiang, Fan Jinwei
Boys to Men is a fencing-themed youth drama directed by Yang Xi, starring Xu Kaicheng, Wang Jiayao(Wang Jingping), Liu Shuailiang, Chen Shimin, Fan Jinwei, and Zhou Yixuan, with Sun Wei in a special appearance.
The drama revolves around the growth and journey of three brothers from the same school, Ouyang, Fan Qi, and Chen Qingteng, as well as their bond of destiny and mutual companionship, telling the story of young men who are brave enough to follow his dreams, firmly believing in them and fighting for them.
Details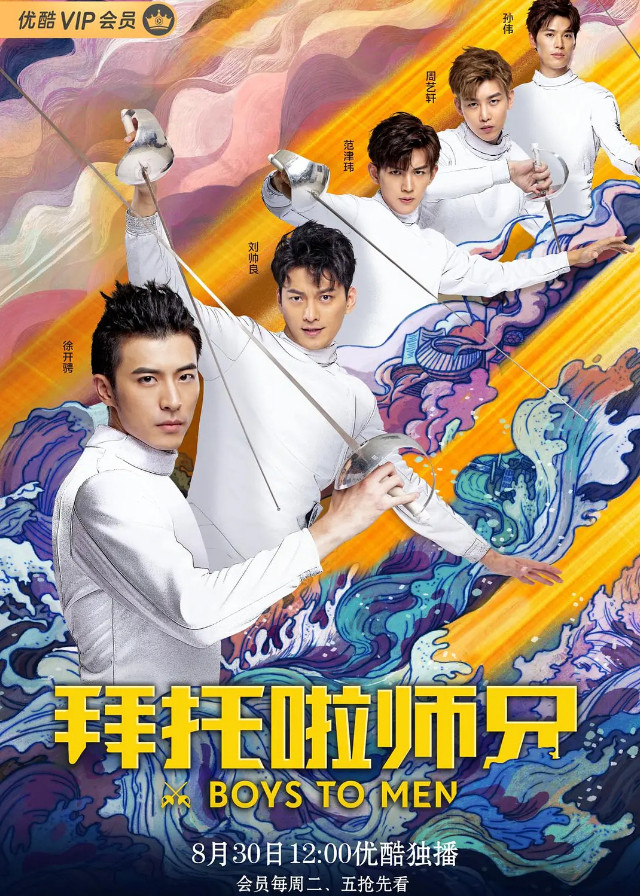 English Title: Boys to Men
Chinese Title: 拜托啦师兄
Genre: Youth, Sport, Drama
Episodes: 38
Duration: 40 min.
Director: Yang Xi
Writer: Zhou Luming
Producer: Liu Lu
Product Company: XINGGE MEDIA
Released Date: 2019-08-30
Watch On: 熱點劇場Hotspot!
Cast
Synopsis
The fencing genius, Ouyang, experienced a dramatic change in his life on his 20th birthday.
Ouyang, who had just won the World Championship, was injured in a motorbike race and fell into a deep coma.
Five years later, Ouyang awakens from his slumber to find his father Ou Xiong dead, his girlfriend Chu Chu, and his family business all taken away by his best friend Fan Qi.
At the bottom of the pile, Ouyang is depressed. But his love for fencing reawakens him.
With the help of his uncle Zhou Miyang and the mysterious Mr. Z, Ouyang is "reborn". Through his tireless efforts, he returns to the top of his sporting career, finds out the truth about his father's death, and wins back the heart of his lover.
Reviews
You May Also Like
Related Posts
Is Xu Kaicheng Dating Gulnazar? Cheated on Crystal Zhang Tian'ai?

Who Is Xu Kaicheng's Girlfriend? He Is Dating Crystal Zhang Tian'ai?

Who Is Crystal Zhang Tian'ai's Boyfriend? Is Xu Kaicheng?

Rosy Zhao Lusi, Xu Kaicheng Interpret The Sweet Relationship Between Teacher And Student In The Ancient Campus

Xu Kaicheng Apologies to Crystal Zhang Tian'ai and Gulnazar

Zhao Lusi, Xu Kaicheng's New Drama Is Hit, But The Douban Rating Is Only 4.3

Xu Kaicheng, Xing Fei- Sweet And Funny Adventure In "Yue Zhao Ji"

Xu Kaicheng Photos

Xu Kaicheng Dramas, Movies, and TV Shows List

Fan Jinwei Dramas, Movies, and TV Shows List

Liu Shuailiang Dramas, Movies, and TV Shows List