A Year Without a Job – Lamu Yangzi, Wan Peng, Zhai Zilu
A Year Without a Job is a contemporary urban life drama, led by Lamu Yangzi, Wan Peng, and Zhai Zilu, co-starring Li Junxian, Jiang Xueming, Zhu Rui, and Li Yanman.

The drama tells the story of He Yu, a career-oriented post-85s and a casual post-95s, who start a "cohabitation life" because they are unemployed or left their jobs.

During this period, they gradually find the meaning of life and work through their different attitudes towards life and influence of each other in a year without work.
Details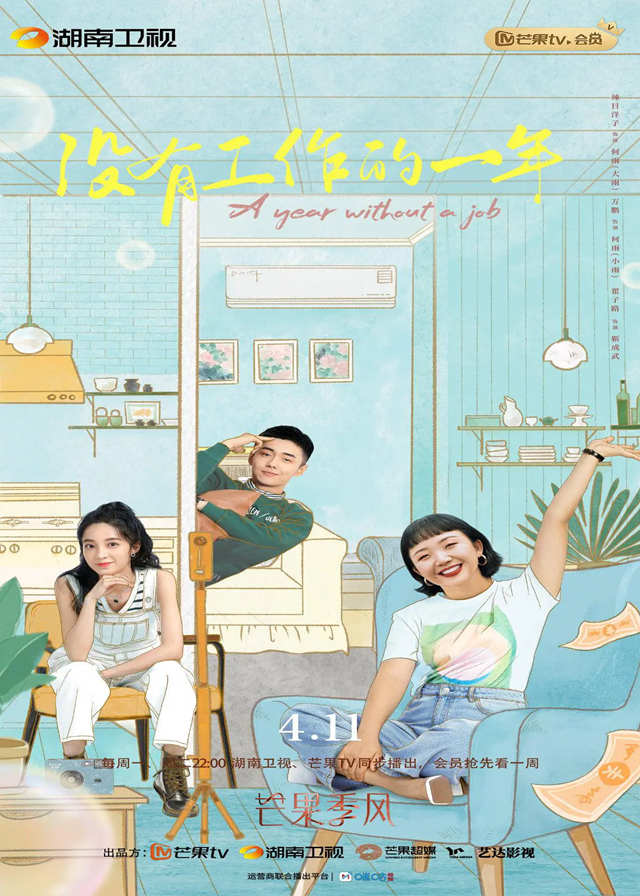 English Title: A Year Without a Job
Chinese Title: 没有工作的一年
Genre: Urban, Life, Romance, Drama
Tag: Poor Female Lead, Healing, Smart Female Lead, Meaning of Life, Kind Male Lead, Unemployed Female Lead
Episodes: 16
Duration: 69 min.
Director: Guo Zengyou
Writer: Sun Tingting, Sun Ziyan, Li Tianyi
Producer: Tang Fan, Jia yIqun, Zhou En, Xiong Xinyan, Yu Zibo
Product Company: YIDA MEDIA, MGTV, MANGO EXCELLENT MEDIA
Released Date: 2022-04-11
Boradcast Website: MGTV, China Zone
Cast
Synopsis
Dayu(He Yu) is a Post-85s with strong career ambition. Due to working hard and not caring about her boyfriend, she lost her boyfriend and her job at the same time.
On this day, Dayu met Xiaoyu, who has the same name as herself and is spontaneous. Xiaoyu resigned voluntarily due to work boredom. They coincidentally lived under the same roof on the first day without work.
In this year without work, under the leadership of Xiaoyu, Dayu do a variety of new attempts to enjoy leisure time.
Xiaoyu learned to plan everything under the influence of Dayu.
After the transformation, they decided to return to the workplace. Dayu repeatedly encountered difficulties because of the age limit and the requirements of the profession. Finally, she decided to start her own business.
On the contrary, Xiaoyu no longer was on longer to go through the motions of everything and was appreciated by her superiors in the workplace.
In this way, Dayu and Xiaoyu completed the role reversal and found the meaning of life and work from each other.
You May Also Like
Related Posts