Wonderful Time – Tong Mengshi, Wang Herun
Wonderful Time is an urban romantic drama directed by Ren Haiyao and Chen Shuliang, led by Tong Mengshi, Wang Herun, Liu Chao, and He Ruixian, and co-starring Liu Yufeng, He Meixuan, Chen Qianhua, Rong Rong, Weng Hong, Jun Sheng, Chang Yuan, Qiu Xinzhi, Wang Zaiyue, and Yan Jingyao.
The drama tells the story of a manga artist, Shi Xiaonian, who is at a low point in her life and meets the CEO of her company, Gong Ou. By coincidence, they live in the same house, and as they spend time with each other, they gradually get to know each other, but their love encounters many obstacles.
Details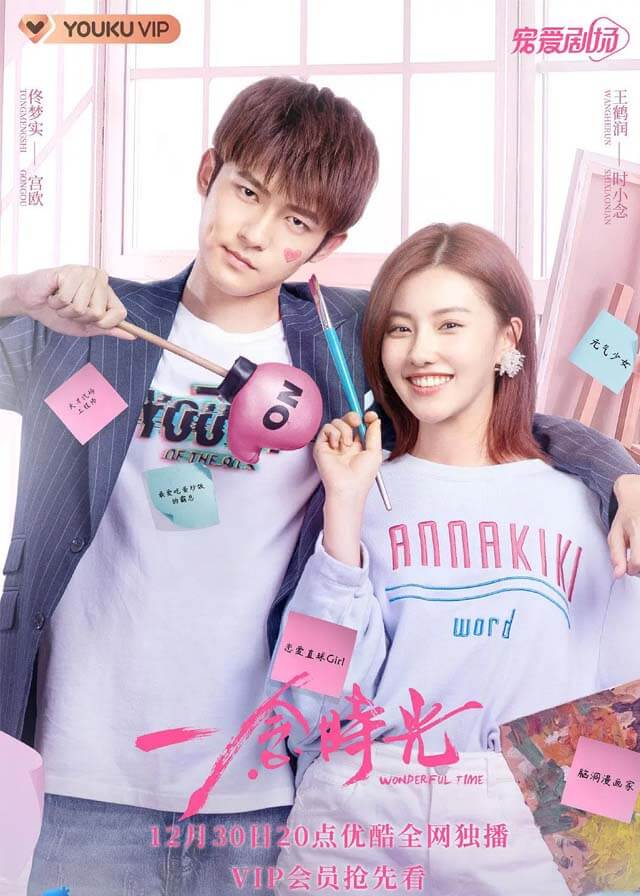 Cast
Synopsis
A cartoonist, Shi Xiaonian, who is at a low point in her life, befriends Gong Ou, the president of NE Group. Gong Ou is investigating the whereabouts of his missing brother, Gong Yu, and decides that Shi Xiaonian is the girl who Gong Yu was photographed with before he disappeared.
Shi Xiaonian was confused, but Gong Ou was sure and paranoid, forcing her to give an answer. When Shi Xiaonian try to prove her innocence, she started to live in the same house with Gong Ou.
As they get along, they gradually enter each other's hearts, and as they gradually let go of their past hurts and get closer to each other, their romance is met with resistance from many sides, and they also face various tests such as the truth of Gong Yu's disappearance, the power struggle of NE Group, and Gong Ou's perennial paranoia.
Shi Xiaonian knew that for the sake of Gong Ou, the best option was to separate for the time being. Regardless of the final ending, she gained the best memories in the time she spent with Gong Ou, she wistfully expects to meet again one day.
Reviews
You May Also Like
Related Posts