Winter and Lion – Du Chun, Wang Ziqi
Winter and Lion is a military drama directed by Gao Xixi, led by Du Chun, Wang Ziqi, co-starring Zhang Bo, Lu Nuo, Yu Zhen, Ji Ta, Yu Zhen, Zheng Wei, Yu Bin, Xue Qi, and Ju Jing, with special appearances by Li Chen, Ying Er, and Chen Yicheng.
Set against the backdrop of the Battle of Changjin Lake in 1950, the drama tells the story of the predecessors of the "Steel Seventh Company" who fought against the US and supported North Korea.
Details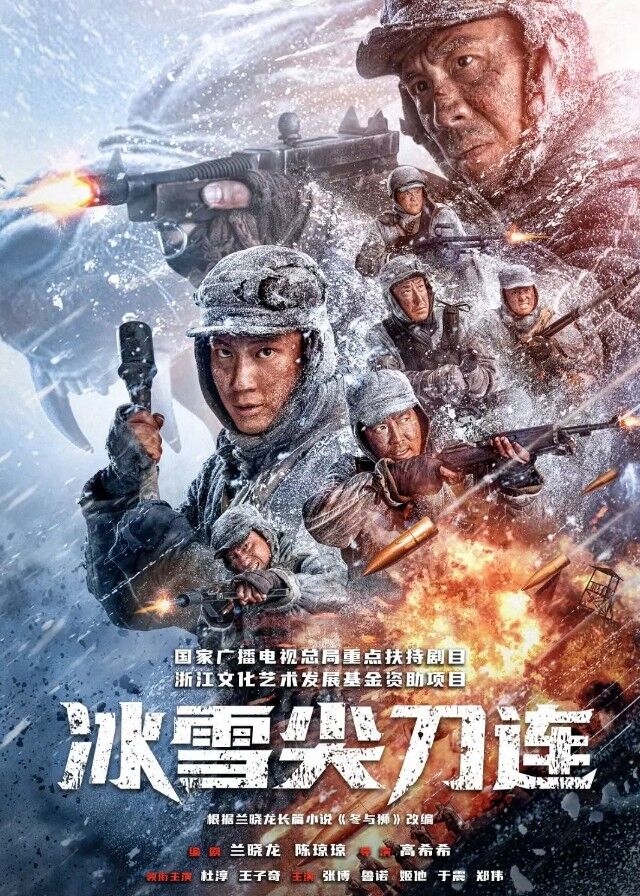 Cast
Synopsis
In the autumn of 1950, as the new China was undergoing tremendous changes, Captain Wu Qianli, the leader of the 7th Reconnaissance Company, returned home to visit his family.
Wu's eldest brother had sacrificed his life in the Huaihai Campaign, while his younger brother, Wu Wanli, was a troublemaker and caused trouble in the neighboring fishing village.
Qianli decided to bring him onto the right path by joining the military. The two brothers returned to the camp just as the army was about to set off for the Korean War to resist America and aid Korea.
Upon his arrival, Wanli, who was new to everything, got to know a group of experienced veterans who had been through many battles. Each of them was tough and had a genuine character.
As they crossed the Yalu River, they encountered an extremely cold winter, which was a rare occurrence in Korea for a hundred years.
The division ordered them to split up and infiltrate deep into enemy lines. Wanli, as a new soldier, became a burden to the 7th Company. However, in a series of difficult battles, Wanli and the 7th Company grew together.
During a major battle at the airport, the 7th Company exposed the tricks of the American troops, saving the entire army corps but getting separated from the main force.
They searched for the main force until they reached the Shuimen Bridge, which was a crucial point in determining the outcome of the Korean War. With only around thirty soldiers left in the 7th Company, they had to carry out the mission of blowing up the bridge.
Through great sacrifices and a strong revolutionary spirit, the "Steel 7th Company" accomplished a feat that would go down in history.
Qianli sacrificed himself, while Wanli grew into a responsible soldier. He would spend the rest of his life fulfilling the promise he made to his brother by rebuilding the "Steel 7th Company."
Reviews
You May Also Like
Related Posts
What is Wang Yuwen and Wang Ziqi's Relationship?

Wang Ziqi Girlfriend Is Wang Churan? They Were Exposed To Be In A Relationship, Heart of Drama Fans Are Broken

Wang Ziqi, Uvin Wang Yuwen Make A Contractual Marriage Surprisingly

Su Xiaotong, Wang Ziqi-"The Imperial Coroner" Gained Good Reviews With Good Plots And A New Cast

Wang Ziqi Photos

Wang Ziqi Dramas, Movies, and TV Shows List

Du Chun Dramas, Movies, and TV Shows List

Zhang Bo Dramas, Movies, and TV Shows List

Lu Nuo Dramas, Movies, and TV Shows List

Yu Zhen Dramas, Movies, and TV Shows List