To Get Her – Daddi Tang, Huang Riying
To Get Her is a historical romantic comedy directed by Zhong Qing, starring Daddi Tang, Huang Riying, Lu Yunfeng, Lin Fengsong, Zeng Keni, Jin Luying, and Pan Leiyi, with a special appearance by Kenji Chen Bailong.
The drama is a follow-up story to Accidentally in Love and will continue the sweet and funny style of the drama, telling a series of funny stories between Tu Siyi and Lin Zhengxheng by coincidence.
Details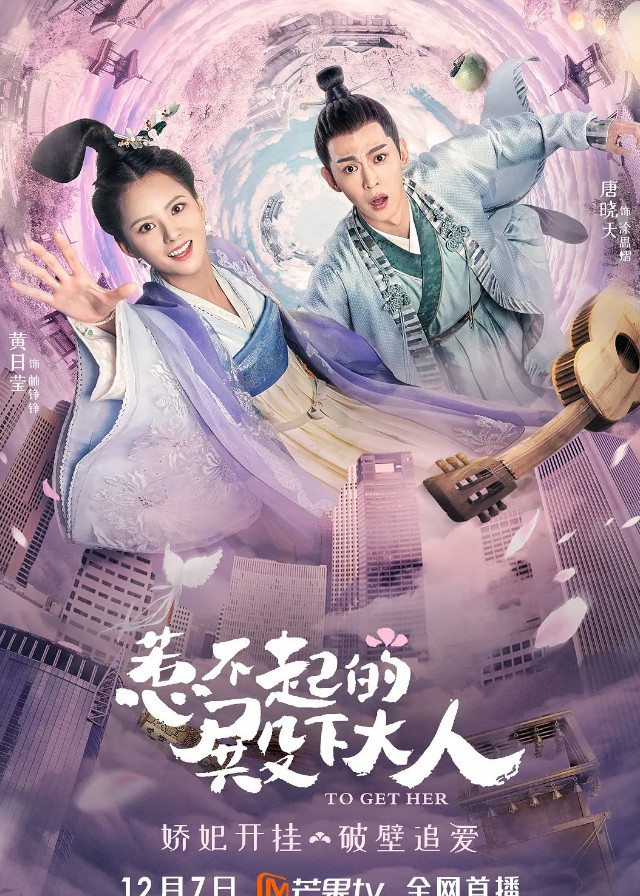 English Title: To Get Her
Chinese Title: 惹不起的殿下大人
Genre: Historical, Romance, Fantasy, Comedy
Tag: Game World, Crossworlds Traveler, Multiple Mains, Marriage, Love/Hate Relationship, Competition
Episodes: 30
Duration: 34 min.
Director: Zhong Qing
Writer: Zhong Qing, Deng Zhanneng, Zhong Wenxuan, Luo Manying, Yang Xiaomei, Zhang Menglin,, Huang Yingyue
Product Company: Tencent Penguin Pictures
Released Date: 2019-12-07
Broadcast Website: WeTV, 腾讯视频
Cast
Synopsis
Tu Siyi and Lin Zhengzheng were originally childhood sweethearts and lovers, but as Tu Siyi became an idol and became more and more popular, there was a gap in their relationship.
When Tu Suyi endorses an ancient game, he is accidentally trapped in the game and becomes the third prince of the game.
In order to save her boyfriend, Lin Zhengzheng enters the game as a player, but she finds that she has become the villainous wife of the third prince, and needs to assist Tu Siyi to complete the game task of winning the throne and ascending to the throne within the three life chances given by the game system.
The system empties his memory, so Tu Siyi regards Lin Zhengzheng as his nemesis, and is driven by his subconscious mind to be uninterested in the throne.
On one side is Lin Zhengzheng, who aims to win the throne and complete her mission, and on the other side is Tu Siyi, who is obsessed with music and wants to return to the countryside.
They start to "fight" against each other on their way to winning the throne, finally finding their love again.
Reviews
You May Also Like
Related Posts