Singing All Along – Ruby Lin, Yuan Hong
Singing All Along is a historical romantic drama directed by Lin Feng and Chen Quan, starring Ruby Lin, Yuan Hong, Li Jiahang, Wang Yuanke, Yu Bo, Kenny Kwan, Zong Fengyan, Wang Lin, and Rayza.

The drama is based on the web novel "Xiuli Jiangshan" by Li Xin, which tells the legendary story of Yin Lihua, who fights alongside her lover Liu Xiu in a complicated historical situation after the destruction of the Western Han Dynasty and Wang Mang's usurpation of the Han Dynasty, and works through hardships to complete the great work of the Eastern Han Dynasty.
Details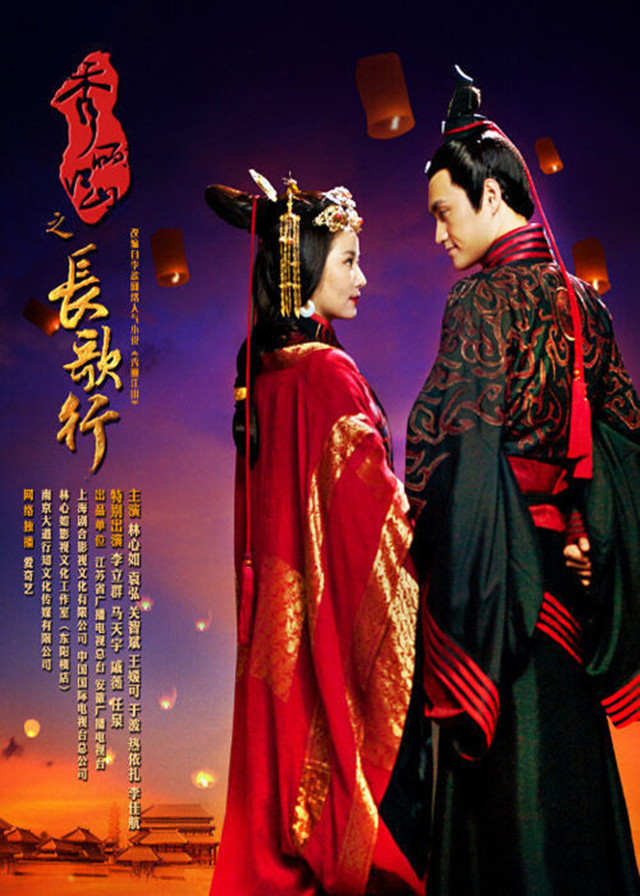 English Title: Singing All Along
Chinese Title: 秀丽江山之长歌行
Genre: Historical, Romance
Episodes: 56
Duration: 45 min.
Director: Lin Feng, Chen Quan
Writer: Shao Sihan, Gu Xuerou, Li Yanqian, Wang Xiaoquan
Broadcasting Website: Viki, Prime Video
Released Date: July 21, 2016
Cast

Ruby Lin as Yin Lihua

Yuan Hong
as Liu Xiu

Li Jiahang as Feng Yi

Wang Yuanke as Guo Shengtong

Kenny Kwan as Deng Yu

Zong Fengyan as Liu Yan

Yu Bo as Liu Xuan

Wang Lin as Guo Zhu

Wang Yu as Yin Shi

Hong Xiaoling as Deng Chan
Synopsis
During the new dynasty, Liu Xiu got to know Deng Yu, Liu Xuan, Feng Yi and other young talents and little Yin Lihua when he was studying at Chang'an Imperial College.
A few years later, the world was in chaos due to the tyranny of Xin Mang. Liu Xiu revolted with his brother Liu Yan. Yin Lihua followed him under the disguise of Yin Ji.
From the Chun Ling uprising to the Kun Yang war, Liu Xiu fought side by side with a group of gallant companions.
After Liu Xuan became the emperor, he was afraid of the great achievements of Liu's brothers and killed Liu Yan. Liu Xiu married Yin Lihua and kept in a low-key, so that Liu Xuan relaxed his vigilance and let him go north as military governor.
The road to Hebei was full of crises, but fortunately, there were Deng Yu, Feng Yi, Wu Han, Geng trap, and other old friends and new friends came to join them one after another and shared the difficulties.
The Lord of Hebei Zhending Liu Yang proposed a marriage alliance, for the sake of the overall situation, Liu Xiu painfully separated from his wife.
After that, Liu Xiu joined hands with Deng Yu and Feng Yi, ended the war after dozens of years of unremitting efforts, pacified Hebei and other places, fixed the capital of Luoyang, and established the Eastern Han Dynasty, finally fulfilling the common long-cherished dream.