Oh My General – Sandra Ma, Sheng Yilun
Oh My General is a historical romantic legendary drama co-directed by Wen Jie and Huo Yaoliang, led by Sandra Ma Sichun, Sheng Yilun, co-starring Ding Chuan, Wang Churan, Pan Shiqi, and Wang Xuan.

The drama is based on the novel "Jiang Jun Zai Shang Wo Zai Xia" by Ju Hua San Li and is set against the backdrop of the Song Dynasty. It tells the story of a misplaced legendary love between a cold-faced female general with superb martial arts skills and a cute charming prince.
Details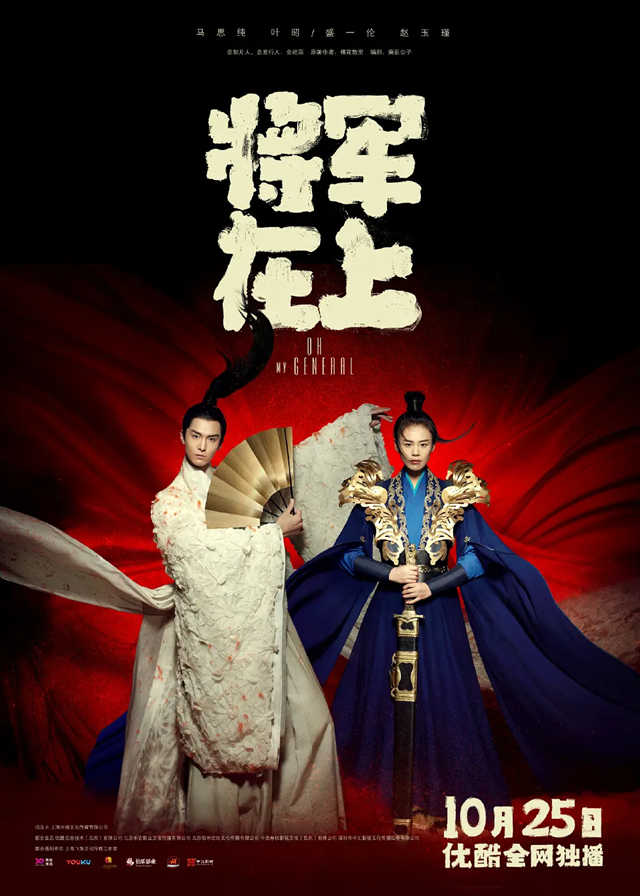 English Title: Oh My General
Chinese Title: 将军在上
Genre: Historical, Romance, Political
Tag: Female Chases Male First, Strong Female Lead, Arranged Marriage, Weak Male lead, Older Woman/Younger Man, Girl Disguised as Boy
Episodes: 60
Duration: 45 min.
Director: Wen Jie, Huo Yaoliang
Writer: Shi Chen Gong Zi
Producer: Jin Yifei
Product Company: YOUKU
Released Date: 2017-10-25
Watch On: YoYo English Channel, Viki, YoYo Television Series Exclusive, AsianCrush
Subtitle:
English, Chinese, Dutch, French, German, Hungarian, Indonesian, Italian, Polish, Portuguese, Romanian, Serbo-Croatian, Spanish, Vietnamese, Serbian
Cast
Synopsis
During the reign of Emperor Renzong of the Song Dynasty, Ye Zhao, the daughter of General Ye Zhong, grew up dressing up as a man. She was skilled in martial arts and was very heroic.
At the age of 16, she was entrusted with an important task by the imperial court and went into battle, killing countless enemies and gaining fame.
As Ye Zhao led the Ye family army to gain a great victory at the border, the emperor appointed Ye Zhao as the Grand General.
However, Ye Zhao told the emperor that she was actually a girl and the court was shocked.
Empress Dowager Liu had been worried about Ye Zhao's army threatening the emperor's power, so she made an imperial decree to marry Ye Zhao to the emperor's nephew, the useless Lord Nanping, Zhao Yujin.
One is a "Lord Yama King" ( Greatest of the Lords of Death), a powerful female general who kills the enemy without blinking an eye on the frontier, and the other is a beautiful county prince who has been spoiled since childhood and is eager to fight for the country. Then, the story unfolded…
Reviews
You May Also Like
Related Posts