Medical Examiner Dr. Qin – Zhang Ruoyun, Jiao Junyan, Li Xian
Medical Examiner Dr. Qin is a suspenseful criminal investigation web series directed by Xu Ang, starring Zhang Ruoyun, Jiao Junyan, Li Xian, Cheng Feng, and Qu Jingjing.

The series is adapted from Qin Ming's literary work "第十一根手指/The Eleventh Finger", from the viewpoint of medical examiner Dr. Qin Ming, which tells the story of his team with forensic assistant Li Dabao and criminal police team leader Lin Tao, who work together with other police officers to solve important cases.
Details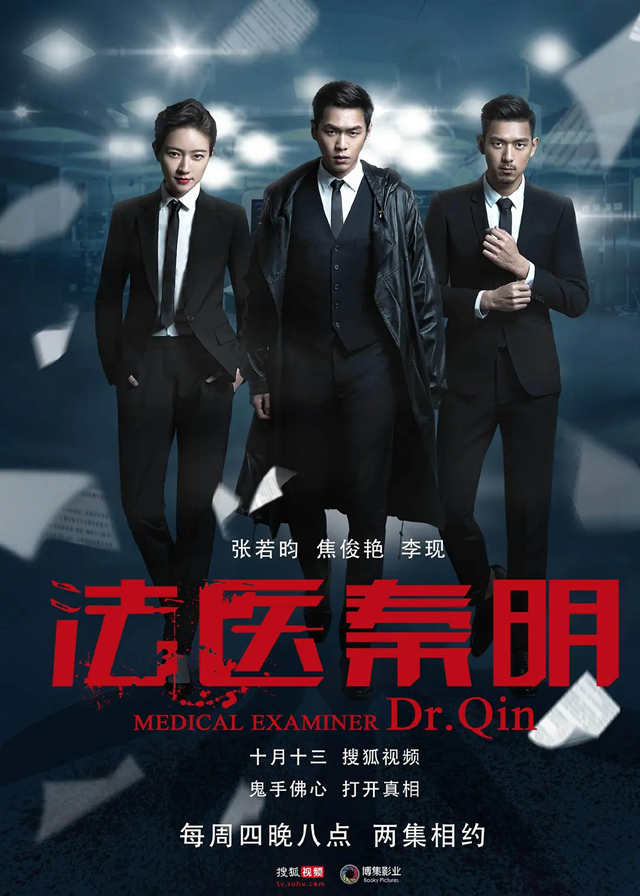 English Title: Medical Examiner Dr. Qin
Chinese Title: 法医秦明
Genre: Suspense, Crime, Thriller
Tag: Investigation, Smart Male Lead, Smart Female Lead, Bromance, Murder, Death Game
Episodes: 20
Duration: 40 min.
Director: Xu Ang
Writer: Guo Linyuan, Yang Zhe
Producer: Guo Linyuan, Liu Mingli
Product Company: tv.sohu.com
Released Date: 2016-10-13
Boradcast Website: AsianCrush, Caravan中文剧场, Prime Video, Viki
Cast
Synopsis
Lin Tao, the chief of the criminal police in Longfan City, has been an old friend of Qin Ming, the head of the Forensic Medicine Section, for many years.
Qin Ming's assistant resigned because he could not stand Qin Ming's eccentric temper.
Li Dabao of the Trace Inspection Section was assigned to join the working group.
In the beginning, Qin Ming distrusts Dabao for she is a girl, but the stubborn Dabao reflects good reasoning and observation skills in solving cases and has an extremely keen sense of smell, so the picky Qin Ming decides to keep Dabao.
Long Fan Police Department's "iron triangle" is formed.
With the "oil explosion case" as the beginning, Qin Ming, Dabao and Lin Tao solve a variety of unbelievable cases one after another.