Marvelous Women – Jiang Qinqin, Zhang Huiwen
Marvelous Women is an ancient emotional drama co-directed by Wang Xiaoming, Guo Hao, starring Jiang Qinqin, Zhang Huiwen, Yang Rong, Mao Zijun, Xu Haiqiao, Li Yinan, Wang Yu.

The drama tells the story of the childhood sweetheart and the legitimate wife, who were born enemies, working together to pass on the culture of brocade weaving.
Details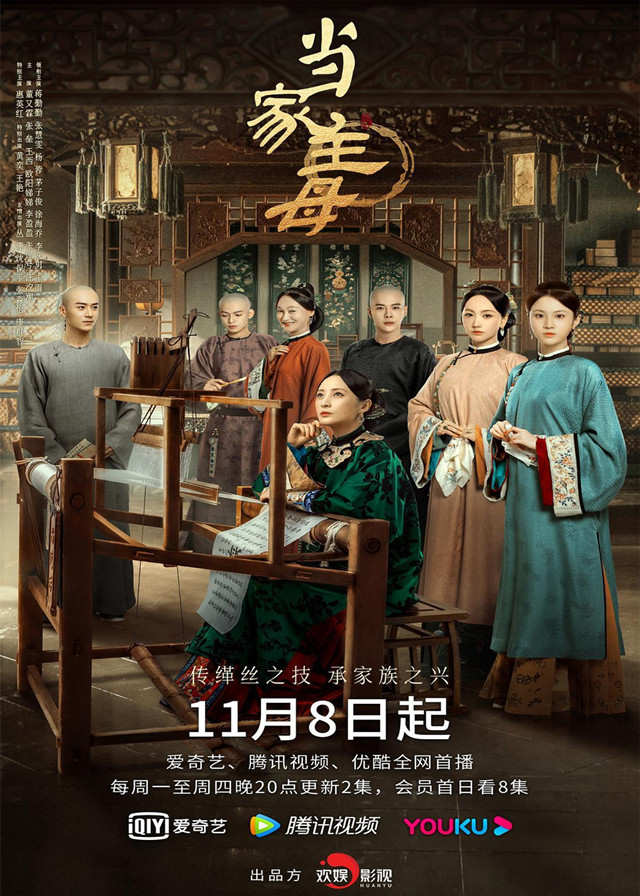 English Title: Marvelous Women
Chinese Title: 当家主母
Genre: Historical, Romance, Family, Life, Business
Tag: Strong Female Lead, Qing Dynasty, Slight Romance, Embroidery, Disappearance, Female Centered Plot
Episodes: 35
Duration: 45 min.
Director: Wang Xiaoming, Guo Hao
Writer: Wen Yu, Li Binbin, Li Li
Producer: Yang Le, Yang Bei, Ma Tian, Wang Xiaoyan
Product Company: HUANYU, iQIYI
Released Date: 2021-11-08
Broadcast Website: Viki, China Huanyu Ent. Offical Channel
Cast
Synopsis
The Ren family of Suzhou has inherited the position of the leading weaver in the Suzhou Weaving Department and possesses the secret technology of the Chinese silk tapestry.
The head of the family, Ren Xuetang, never participated in the family business and only loved to study poetry, calligraphy, and painting. The wife of Ren, Shen Cuixi, was not only a good embroiderer, but also a good manager, and was the real head mother of the Ren family.
Ren and Shen have been married for many years, but Ren Xuetang has never forgotten his former lover, Zeng Baoqin.
He wanted to bring her back to the Ren family, but unexpectedly, he had an accident while chasing a water bandit and his whereabouts were unknown. Ren's family was in crisis.
Shen Cuixi took the responsibility for saving the Ren family. Fortunately, with the help of Zeng Baoqin, she finally cleared the treat-unjustly and returned to the former peace after experiencing millions of hardships and setbacks.
Reviews
You May Also Like
Related Posts