Love When the Stars Fall – Chen Xingxu, Landy Li
Love When the Stars Fall is an ancient mythological drama directed by Zhu Ruibin, and starring Chen Xingxu, Landy Li, Chen Muchi, and He Xuanlin.

The drama is based on the novel of the same title by writer Yidu Junhua and tells the story of a pair of twin sisters with very different personalities in the human royal family, who are married by mistake due to an accident. It is not only causing numerous jokes but also involving two romantic and beautiful love stories.
Details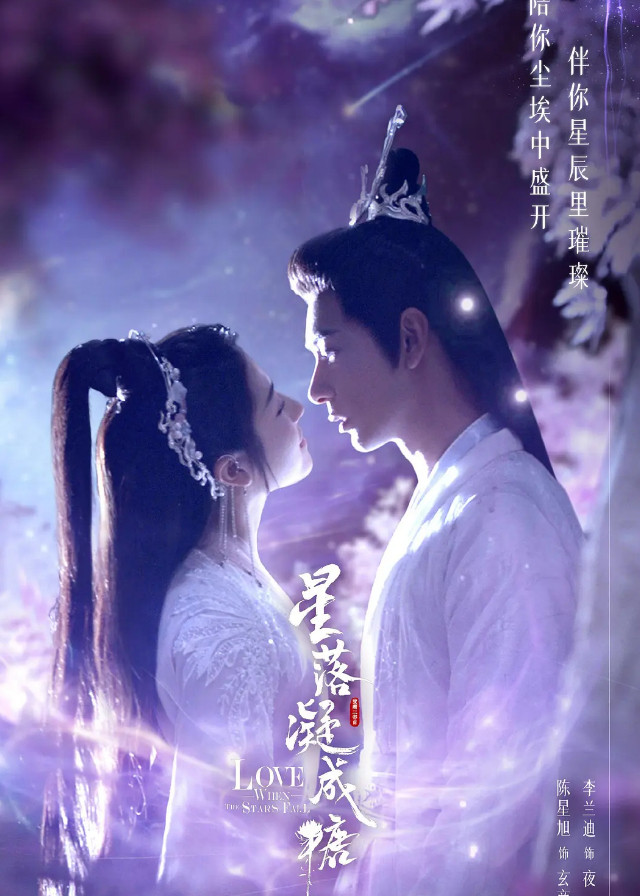 English Title: Love When the Stars Fall
Chinese Title: 星落凝成糖
Genre: Historical, Romance, Fantasy, Imortal
Episodes: 40
Duration: 45 min.
Director: Zhu Ruibin
Writer: Ma Jia
Producer: Liu Ning
Product Company: Perfect World Pictures, OMNIJOI
Released Date: –
Boradcast Website: Youku
Cast
Synopsis
The queen of the human race gave birth to twin sisters, one good and one evil.
The older sister, Qing Kui, is gentle and kind. She is admired by the human race, so was chosen by the gods as the Heavenly Concubine.
The younger sister, Ye Tan, was smart and cunning and was bullied, so she was promised to the demon world as a demon concubine.
During the marriage between the gods and the devils, the twin sisters' palanquin is accidentally switched, and Night Tum becomes a happy couple with the Emperor Xuanshang, while Qing Kui becomes a pawn of the third highness Miao Feng to compete for the crown.
The two CPs made numerous jokes, but their feeling for each other also grew.
At this time, the crisis of extinction comes, the four worlds learned that the identity of the twin sisters is about the survival of the four worlds, they want to kill the twin sisters.
The two CPs are faced with a huge test between thinking about life and holding on to their love. Finally, the two sisters break through the situation with courage, ushering in the light after darkness.