Guardian – Bai Yu, Zhu Yilong
Guardian is an urban fantasy drama directed by Zhou Yuanzhou, starring Bai Yu and Zhu Yilong, co-starring Xin Peng, Gao Yu'er, Li Yan, Jiang Mingyang, Li Siqi, Liu Minting, Wang Chaowei.

The drama is adapted from the novel of the same title by author Priest and tells the story of Shen Wei and Zhao Yunlan, who led the Special Investigation Division and worked together to protect the peace between the two worlds.
Details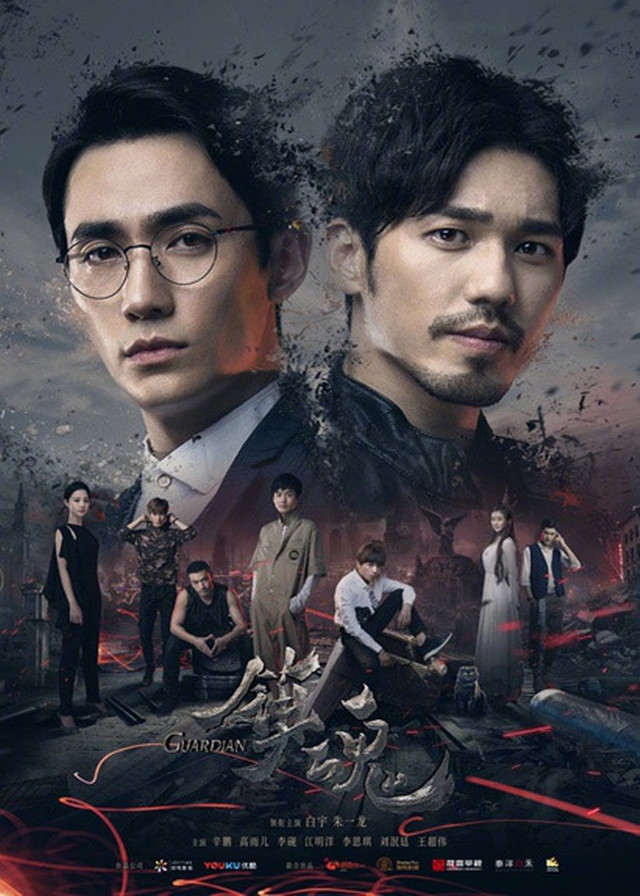 English Title: Guardian
Chinese Title: 镇魂
Genre: Suspense, Fantasy, Thriller
Tag: Censored Adaptation of Same-sex Original Work, Bromance, Lovers Separated, Tragic Past, Star Crossed Lovers, Supernatural
Episodes: 40
Duration: 45 min.
Director: Zhou Yuanzhou
Writer: Ye Fangzhou, Qi Xiaoyu, Huang Liang
Product Company: JOYTIME
Released Date: 2018-06-13
Watch On: Viki, Youku, youku.tv
Subtitle:
English, Chinese, Thai, Indonesian, Malay, Vietnamese, Spanish, Portuguese
Cast
Synopsis
Ten thousand years ago, in order to seize the survival resources of the planet "Hai Xing", the extremists among the "Di Xing Ren" attacked the whole planet, triggering a prehistoric war between the "Di Xing Ren" and the "Hai Xing Ren".
In order to fight against the "Di Xing Ren" who have supernatural powers, the "Hai Xing Ren" built four sacred weapons.
Under the leadership of the leader "Kunlun" and the leader of the "Di Xing Ren"'s peace faction "Hei Pao Shi Zhe", the ""Hai Xing Justice Alliance" finally won the war, and the "Di Xing Ren" retreated to the Earth's core to live.
After the war, "Kunlun" disappeared, and the "Hei Pao Shi Zhe" kept his promise to "Kunlun" and became the caretaker of the planet.
"Di Xing Ren" and the "Hai Xing Ren" have been at peace with each other since then, maintaining peace for nearly 10,000 years.
Until the Four Sacred Weapons disappeared, the energy weakened, and some "Di Xing Ren" escaped from the Earth's core to the surface and used their special powers to commit crimes.
So the "Hai Xing" hierarchy set up a special investigation division to catch these "Di Xing Ren" and sent them back to Earth's core.
In the thirty-fifth century, there are numerous bizarre events in the center city of "Hai Xing", Dragon City.
In the investigation process, a seemingly ordinary biology professor Shen Wei (played by Zhu Yilong) is attracted the special investigation department's attention.
The real identity of Shen Wei is the caretaker of the "Di Xing Ren" – "Hei Pao Shi Zhe", and Shen Wei seems to be hiding a secret from Zhao Yunlan (played by Bai Yu).
As the investigation progresses, the source of a series of bizarre events seems to be inextricably linked to the "Four Sacred Weapons".
In order to seize the Four Sacred Artifacts, the evil forces of "Di Xing Ren" are stirring.
Behind the conspiracy, Zhao Yunlan's true identity, the mysterious connection between Shen Wei and the masterminds behind the scenes, are also revealed one by one!
Reviews
You May Also Like
Related Posts