Memory Lost – Yang Rong, Bai Yu
Memory Lost is a crime and suspense web series, directed by Li Dachao and Liang Xinquan, led by Yang Rong, Bai Yu, and Evan Li Geng, co-starring He Fengtian, Merxat Yalkun, Cindy Sun Xiaoxiao, and Zhang Yijie, with a cameo appearance by Zheng Guolin.

The drama is based on Ding Mo's novel of the same name, which tells a high-intelligence crime suspense love story that police officer Bai Jinxi and her former boyfriend Han Shen met again after several years, and were trapped in a shocking conspiracy and solved various unsolved cases, and finally got back together.

The series is divided into three seasons. The first season premiered on October 24, 2016, on iQIYI.
The second and third seasons were launched on November 14, 2016, and December 12, 2016, respectively, on iQIYI.
Details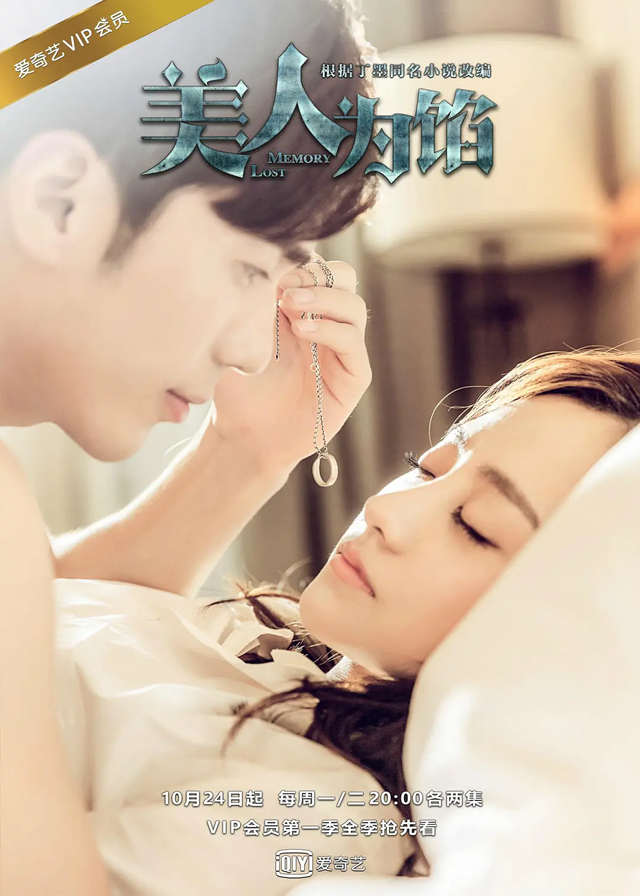 English Title: Memory Lost
Chinese Title: 美人为馅
Genre: Romance, Suspense, Crime, Thriller
Tag: Investigation, Detective Male Lead, Detective Female Lead, Sexual Assault, Love Triangle, Amnesia
Episodes: 36
Duration: 45 min.
Director: Li Dachao, Liang Xinquan
Writer: Yu Zheng, Ding Mo
Producer: Dai Ying, Yu Zheng
Product Company: iQIYI
Released Date: 2016-10-24
Boradcast Website: iQIYI
Cast
Synopsis
Season 1
During a mission, the female police officer Bai Jinxi and the mysterious man Han Chen met by mistake.
Later, when investigating a rape case, they met again, and Han Chen's identity turns out to be a veteran criminal police officer.
They worked together to solve cases, and Han Chen's application of traditional criminal investigation methods also impressed Bai Jinxi.
In the process, they cleared up their misunderstanding and gradually developed a mutual affection for each other.
Because of an accident five years ago, Han Chen lost part of his memory.
He always remembered that there was a fiancee who was very important to him.
In order to find this girl, he searched around and refused to open his heart to others.
When Han Chen met Bai Jinxi and developed a crush on her, this obsession made Han Chen keep avoiding his feelings for Bai Jinxi.
Later, Bai Jinxi was transferred to the provincial team and joined the "Heidun Team" to work with Han Chen.
In a bizarre CS case investigation, they sacrificed their lives to protect each other, which finally broke their barrier. Han Shen promised to give Bai Jinxi an answer after finding out the truth about his lost memory.
Season 2
Under Han Chen's persistent tracking, he discovers that Bai Jinxi is actually his fiancée Su Mian, whom he has been searching so hard for.
Their accidental memory loss of them involves a case committed by a serial killer group five years ago.
The members of this serial killer organization are all codenamed by letters, they act treacherously and enjoy killing, and create an explosion when they are banned by the police, thus taking Su Mian and faking her identity so that she survives.
And the cases that they experienced afterward were inextricably linked to this killer organization.
The duel between good and evil is about to start. When Han Chen and Su Mian recover their memories little by little and plan to fight against the Killer Organization, they find that the psychopathic killers of the Organization have already infiltrated their side.
Season 3
The mysterious alphabet killer group gradually emerged to the surface.
In Han Chen and Su Mian's persistent tracking, the group unexpectedly took the initiative to send a letter of proclamation.
The city has been in crisis for a while, with the Plaza bomb undershirt case, the uncontrolled casualties of the chemical plant system, the poisoning of the human sculpture in the botanical garden, and all kinds of cases coming one after another.
The Alphabet Killer Organization seems to be preparing a big "net", silently leading Han Chen and Su Mian into the trap.
The duel between good and evil is about to start, Han Chen and Su Mian work together to fight against the alphabet killer organization, and at the same time find the memory little by little. They finally identify the identity of the killers one by one.
But unexpectedly, the leader of the killer organization S, actually is the best friend f Su Mian, Xu Sibai. It turns out that Su Mian's father died because of Xu Sibai's father, Xu Sibai has been secretly spying on Su Mian for many years and has long been in love with her.
Five years ago, the Alphabet Killer Group planned a shocking case, replacing Su Mian with his cousin Bai Jinxi, who looked similar to Su Mian and died, while Su Mian became Bai Jinxi. It even planned to make Han Chen, Su Mian, and Xu Sibai suffer from amnesia, just to let Xu Sibai stay with Su Mian in a new identity.
The police officially began to arrest the Alphabet Killer Organization, both sides experienced a great battle, and finally, justice prevailed, the "Heidun Team" received a happy ending.
After the case ended, the "Heidun Team" met for a small gathering, not far away but someone left a portrait, the person on the portrait is none other than Su Mian, and the signature is S.