Detective L – Bai Yu, You Jingru
Detective L is a mystery detective drama directed by Deng Ke, starring Bai Yu, You Jingru, Ji Chen, He Yongsheng, Dong Weijia, Zhang Yi, Chen Mengqi, and Zhang Luyao.
Set in Shanghai during the Republic of China, the drama tells the story of bizarre cases hidden behind the city.
Details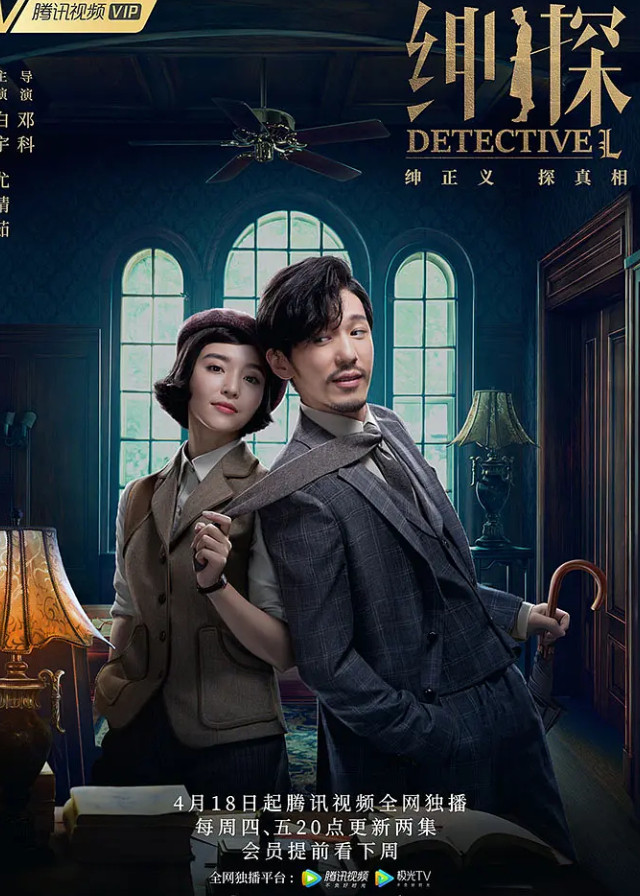 English Title: Detective L
Chinese Title: 绅探
Genre: Suspense, Thriller, Crime
Tag: Chinese Republican Era, Investigation, Murder, Eccentric Male Lead, Orphan Female Lead, Tragic Past
Episodes: 24
Duration: 45 min.
Director: Deng Ke
Writer: Zhao Jingjing, Lu Xuan, Gong Xiaobai
Producer: Liu Zhimin, Fang Fangfang
Product Company: Tencent Penguin Pictures, TANDANG CULTURE
Released Date: 2019-04-18
Boradcast Website: WeTV, 腾讯视频
Cast
Synopsis
In 1930s Shanghai, when people were asleep, bizarre cases were quietly unfolding in a corner of the city.
A beautiful girl, Qin Xiaoman, who has just graduated from the police academy, arrives in the British Concession with the ambition of becoming an outstanding police detective.
She lives in Shaliwen flat and becomes neighbors and colleagues with Luo Fei, a police detective who has made a name for himself by solving many strange cases.
They are at odds with each other at first, but by chance, they are forced to work together to solve crimes…
You May Also Like
Related Posts