The Wind Blows From Longxi – Chen Kun, Bai Yu
The Wind Blows From Longxi is a historical military drama directed by Lu Yang, led by Chen Kun and Bai Yu, co-starring Nie Yuan, Chang Yuan, Angelababy, Sun Yi, Yin ZhuSheng, Yu Haoming, Wang Xiao, Yang Yi, Liu Tingzuo, Zhao Zheng, Zhang Xiaochen, Cong Ruilin, Zhang Ge, Hou Weitao, Peng Yicheng, Chen Kaiwen, with special appearances by Dong Zijian, Guo Jingfei, and Li Guangjie.

The drama is based on Ma Boyong's novel of the same name, which tells the heroic legend of two "minor characters", Chen Gong and Xun Xu, who are not in the spotlight of the chaotic world. But they burst into glory in the thrilling espionage war and write a heroic saga outside of history in the era when the world was divided into three parts, beacons were raging, and there were many heroes.
Details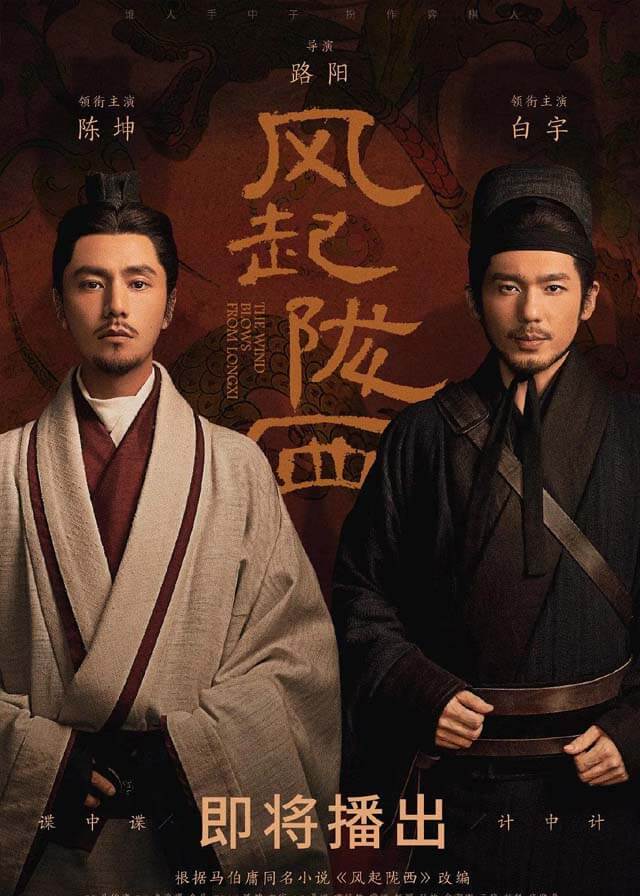 English Title: The Wind Blows From Longxi
Chinese Title: 风起陇西
Genre: Military, Historical, Suspense
Tag: Three Kingdoms, Investigation, Adapted From A Novel, Corruption, Spy, Historical Fiction
Episodes: 24
Duration: 45 min.
Director: Lu Yang
Writer: Jin Haishu, Jin Yu
Producer: Xia Xiaohui, Tian Tian, Yang Bei, Zhang Lin
Product Company: iQIYI, NCM Television, HUACE FILM&TV
Released Date: 2022-04-27
Boradcast Website: iQIYI, Viki, NewTV热播剧场 Hit Drama, Chinese Drama HQ
Cast
Synopsis
In 228 A.D., Shu's army was defeated by Wei in a northern expedition.
Shu's intelligence department analyzed that the false information that led to Shu's misjudgment was sent by Chen Gong, a senior spy lurking in Wei.
Shu's counter-espionage expert Xun Xu was ordered to infiltrate Wei to investigate Chen Gong.
Chen Gong passed Xun Xu's investigation, they found that there has been a Wei undercover named "Zhu Long" in the Shu intelligence department.
"Zhu Long" not only replaced Chen Gong's information, but also prepared to steal the design of the Repeating Crossbow of Shu and start the "Qing Ping Plan" to create chaos in Shu.
Xun Xu returned to Shu and prepared to work with Chen Gong to uncover the true identity of "Zhu Long".
Xun Xu succeeded in stopping Wei from stealing the secret of the Repeating Crossbow and found out the traitor hiding in Shu's intelligence department.
Chen Gong completed his undercover career and returned to Shu. Together with Xun Xu, they went through many tests and finally uncovered the truth behind the "Qing Ping Plan".
Facing the righteousness of the family and the country, Xun Xu and Chen Gong make the right choice at the important juncture to crack the enemy's sinister plot and maintain the stability and unity of the country.