Far Away Love – Park Hae Jin, Li Fei Er
Far Away Love is an urban romantic drama directed by Zhu Shimao, starring Park Hae Jin, Li Fei Er, Leo Wu Lei, Zhang Lunshuo, Zheng Peipei, Angel Liu, and Song Yi.

The drama tells the story of Shen An, who no longer believes in love, who finally welcomes a far away love after meeting Meng Chuxia, but unveils another shocking past story at the same time.
Details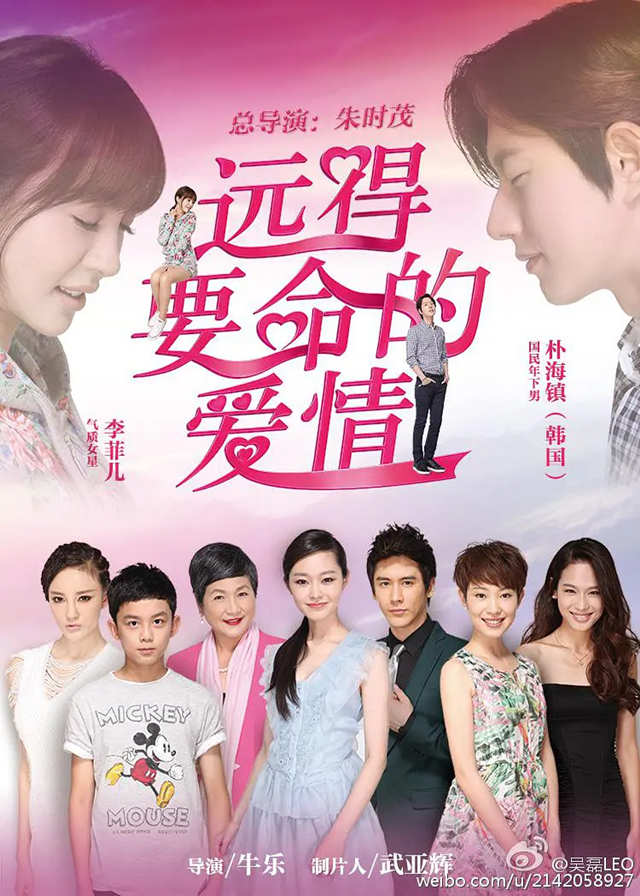 English Title: Far Away Love
Chinese Title: 远得要命的爱情
Genre: Urban, Romance
Episodes: 36
Duration: 44 min.
Director: Zhu Shimao
Writer: Mi Tianhui
Producer: Wu Yahui
Broadcasting Website: Huashi.tv(Youtube)
Released Date: March 1, 2016
Cast

Park Hae Jin as Shen An

Li Fei'er as Meng Chuxia

Leo Wu
as Meng Xiang

Zheng Peipei as Wang Meiling

Zhang Lunshuo as Li Taidi

Angel Liu as Ding Fei

Qu Jingjing as He Ruonan

Song Yi
as Qiao Jiaying

Yang Jincheng as Er Peng

Zhang Jingdong as Zhan Mu Si
Synopsis
Meng Chuxia lives alone with her missing sister's son, she is kind and optimistic but never fantasizes about love and struggles strongly.
Shen An returns to China to develop his career, but the hidden pain in his heart makes him stop looking forward to love, and he decides to get engaged to He Ruonan, Meng Chuxia's best friend, through a blind date.
Meng Chuxia and Shen An are prejudiced against each other due to a coincidence.
Chuxia loses her job unexpectedly and her son Meng Xiang is in his rebellious stage, but she is not afraid to fall down and smile at the ups and downs.
A car accident takes away Ruonan's life, before she dies, she entrusts her best friend Meng Chuxia to Shen An.
Chouxia has self-respect and self-improvement and repeatedly refuses Shen An's help.
Shen An's mother thinks that Meng Chuxia has other intentions and prevents them from dating each other.
Shen An resents his mother for destroying his love by the same means more than ten years ago. To prove that he is now in control of his life, Shen An is determined to marry Meng Chuxia.
Meng Chuxia and Shen An gradually get to know each other, warm each other, and finally, usher in a faraway love.
However, Meng Chuxia suddenly finds out that the person in Shen An's "past" is her sister Meng Chenshang, and that Shen's mother is the one who caused her sister to leave her home.
At this point, the sister who had been away from home for ten years suddenly appeared. In the end, Meng Chuxia and Shen An live happily together through a series of events to resolve years of misunderstanding!