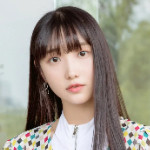 Xu Qingya dramas, movies, and TV shows list contains the best TV series, films of Xu Qingya and the ongoing and upcoming shows. The list will be updated continuously, bookmark this list to get the latest tv shows of Xu Qingya.
Xu Qingya Dramas List
2023-09-13

#1

Youth, School, Romance

Liu Te, Lin Qiyu

Chen Miren, as the "runaway" girlfriend of the school heartthrob, endured three difficult years in high school to escape the heavy burden of this "stolen love." She was determined to become a figurine designer and applied to the design department, thinking that university would bring a fresh start. However, fate took a twist, and she was accidentally switched to a different major. To make matters worse, she would be classmates with her ex-boyfriend who had been heartlessly dumped by her years ago! Zhong Wei relentlessly pursued her, using various methods to seek revenge in hopes of winning back his old love. However, Chen Miren was unable to admit that it all started because Zhong Weiqiong had mistaken her identity initially, leaving her in a state of confusion. But little did they know that their love for each other would ultimately bring them back together. They rekindled their romance until the unexpected appearance of the "real main character" turned their world upside down...

2023-05-30

#2

Historical, Romance, Fantasy

Xu Qingya, Wen Yifan

The story is about the protagonist, Yun Ruoyue, a modern doctor who travels through time, and the former crown prince of the Chu Kingdom, Chu Xuanchen, known as the "God of War." It is a tale of mutual achievement and redemption. The God of War represents "slaughter," while the doctor symbolizes "redemption." The "angel in a white coat" redeems the "lonely and brave prince. Chu Xuanchen is naturally elegant and wise, with both bravery and strategies. He carries the burden of avenging his father's murder. Yun Ruoyue is a skilled physician with a caring heart. The two start off with mutual distrust but eventually, let go of their prejudices and come to appreciate each other. Their relationship slowly unfolds and gradually deepens. Together, they face hardships while assisting Chu Xuanchen in achieving greatness for his family and country. They open their hearts to each other, working together in harmony to heal the people and alleviate their suffering. In the end, they achieve great success.

2023-05-15

#3

Historical, Fantasy, Romance

Xu Qingya, Wen Yifan

A modern doctor travels back in time and becomes the ancient imperial physician, Yun Ruoyue. With the goal of realizing her dream of "opening her own medical clinic," she engages in financing, investment, and building a career! As an added bonus, love comes knocking at her door, and Yun Ruoyue's feelings for the Lord, Chu Xuanchen, gradually grow. However, crisis soon follows as Yun Ruoyue becomes deeply involved in a lawsuit. In order to save his beloved consort, the Lord breaks into a prison and faces new challenges of his own. Let's see how they overcome the difficulties together.

2023-04-30

#4

Historical, Fantasy, Romance

Xu Qingya, Wen Yifan

The female protagonist, Yun Ruoyue, as a modern doctor, is electrocuted in the process of saving lives and traveled to ancient times, using her own medical system to practice medicine and cure illnesses. She is granted to marry the Crown Prince of the former dynasty, Lord Li. The two of them, one treating illnesses and saving lives, the other protecting the people, go from disliking each other to gradually admiring each other, and then to working together, falling in love, and redeeming each other.

2021-09-08

#5

Urban, Romance, Sport

Landy Li, Niu Junfeng

The talented young Go player, Sheng Jingchu, became famous as a dark horse and became a sensation in the Go world. Never giving any interviews, he has become the subject of many media reports. The intern reporter Cheng Liao helped Sheng Jingchu escape, but was misunderstood as his girlfriend, they faked a relationship, but did not expect to end up in love. Afterward, Sheng Jingchu suffered a loss in the competition, was kicked out of the studio by the master, his life fell to a low point, Cheng Liao had not left, they inspire each other. Eventually, Cheng Liao used new media to promote Go, to carry forward the tradition, and become an excellent cultural journalist. And Sheng Jingchu sticks on Go, hones his skills, makes more young people pay attention to Go, and becomes a new generation force to inherit the spirit of Chinese Go.

2021-06-11

#6

Youth, School, Comedy

Li Tingting, Yao Chi

Fang Xue the "hope of the village in the city" and Wei Lai who dropped out of key school, came to the Xiang Jiang High School. They became friends who formed a study group to fight the college entrance exams together and cross the first hurdle of adulthood.

2019-03-19

#7

Youth, School, Romance

Nicky Li, Zhao Yiqin, Li Geyang

Su Cancan, a young girl who loves literature, met her good friends during her adolescence, the lively and cheerful Xu Meili, the handsome and unrestrained Lan Tianye, the gentle and elegant Lin Jiaze, the beautiful and melancholy Tao Yating. In everyone's growth, there are many little secrets, there are also many worries. The sweetness and sadness of life also left one after another time's mark on Su Cancan. Whether it is a secondary school or university time, in Su Cancan's short but long youth, she has many unforgettable memories. These memories contain laughter and tears. Su Cancan grew up slowly in ignorance, not only gaining family love, friendship but also experiencing a shining transformation. After growing up, Su Cancan finally relied on her own efforts to reach a place she never dreamed of during her youth, and also unconsciously became someone else's dream. The dream at the age of eighteen became a reality at the age of twenty-eight. The people who were with her at the age of eighteen are still with her at the age of twenty-eight. A hurricane of youth suddenly blew by, leaving a field of golden memories.

2017-11-08

#8

Youth, School, Romance

Landy Li, Zhang Xincheng, Li Qian

In Yu Zhouzhou's long and lonely childhood, she never felt lonely because of her "superpower" of imagination. On her first day of elementary school, Yu Zhouzhou met a boy named Lin Yang after a fall. With Lin Yang's help, she got over her initial discomfort with school and they became good friends. However, because of some rumors, Lin Yang was asked by his parents to stay away from Yu Zhouzhou. In response to Lin Yang's distancing, Yu Zhou Zhou learned to pretend not to care. In junior high school, Yu Zhouzhou escaped from Lin Yang and her former classmates and finally got into the provincial Zhenhua Key High School as she wished. She reunited with Lin Yang in Zhenhua. Because of a coincidental phone call from Lin Yang, Yu Zhouzhou's fate was changed again. Lin Yang's guilt, eagerness to make amends, and indefinable fondness all made Yu Zhou Zhou feel at a loss. With the care of older brother Chen An, the fierce competition within the key high school for guaranteed places, and the death of her best friend Mi Qiao, Yu Zhouzhou has been facing the changes around him with a sunny, kind and positive heart, growing up fast.
Related Posts