Be Together – Sun Yi, Vin Zhang
Be Together is an urban romantic drama directed by Cui Liang and led by Sun Yi, Vin Zhang, co-starring Li Bowen, Ma Li, Zhang Wen, Du Yuchen.

The drama tells the healing story of four young girls, Xia Yan, Liang Shuang, Zhao Xiaolei, and Xiang Nan, who encourage and support each other in their lives.
Details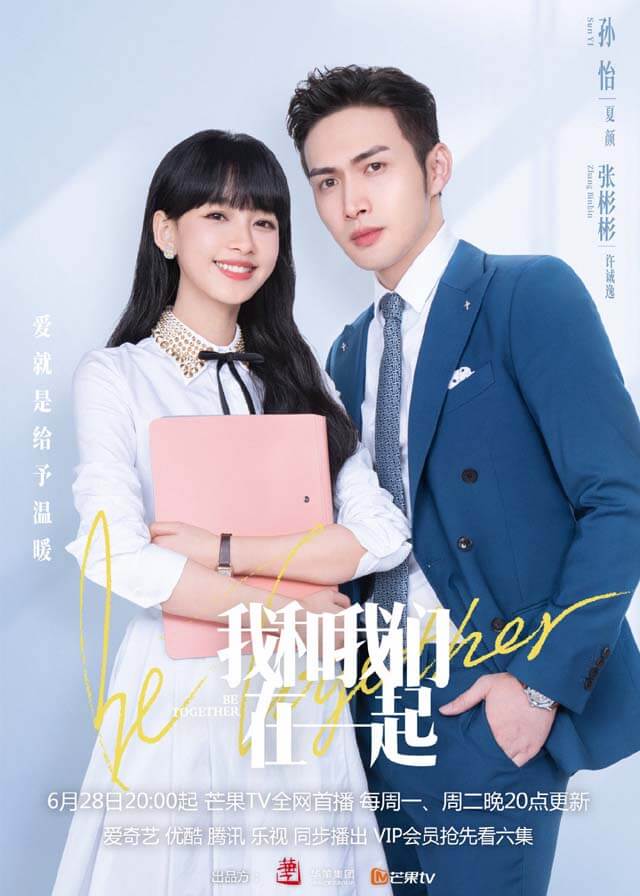 English Title: Be Together
Chinese Title: 我和我们在一起
Genre: Urban, Romance
Tag: Rich Male Lead, Nice Male Lead, Multiple Couples, Sismance, Boss-Employee Relationship, Strong Female Lead
Episodes: 35
Duration: 45 min.
Director: Cui Liang
Writer: Yuan SHuai
Producer: Zhang Huali, Zhang Yong, Ren Xu, Gong Zhengwen
Product Company: Huace Media, MGTV
Released Date: 2021-06-28
Watch On: Viki, Huace, MGTV
Cast
Synopsis
Xia Yan, Han Shuang, Zhao Xiaolei and Xiang Nan are good girlfriends who have known each other since their college age, and they work and live in the same city.
Xia Yan aspires to design a quality app that can change people's lifestyle, so after graduation, she stays in the metropolis where the IT industry gathers, and with her hard work, she eventually becomes a project leader of SG Group and gains sincere love.
Han Shuang, who comes from a wealthy family, is able to jump out of the comfort zone and start working independently as a part-time store assistant in a fashion furniture store in order to hold on to her design dream. She and Mark, a doctor, finally became a couple after numerous trials and tribulations.
Born in a traditional family, Zhao Xiaolei was tragically broken up by her boyfriend on the eve of her wedding. With the encouragement and help of several friends, she finally got out of the shadow of her lost love and found her confidence and self.
Doctor Xiang Nan seems calm and sensible, but she is closed inside, until an accident makes her regain her faith in life.
Through all the twists and turns, the four young girl encourage and support each other, work together to solve the various problems and confusions that occur in each other's lives, and witness each other's growth and transformation.
Reviews
You May Also Like
Related Posts