Love Under the Floral Rain – Chen Yao, Leon Leong
Love Under the Floral Rain is an ancient romantic drama directed by Sun Kaikai and Zhang Mingguo, starring Chen Yao, Leon Leong, Fu Longfei, Jiang Zixin, Chen Xijun, and Ke Naiyu.

The drama is based on the novel "凤隐天下 / Feng Yin Tian Xia" by Yue Chu Yun, which tells the tangled love story of a beautiful female general, Hua Zhuyu, and a powerful left minister, Feng Junli.
Details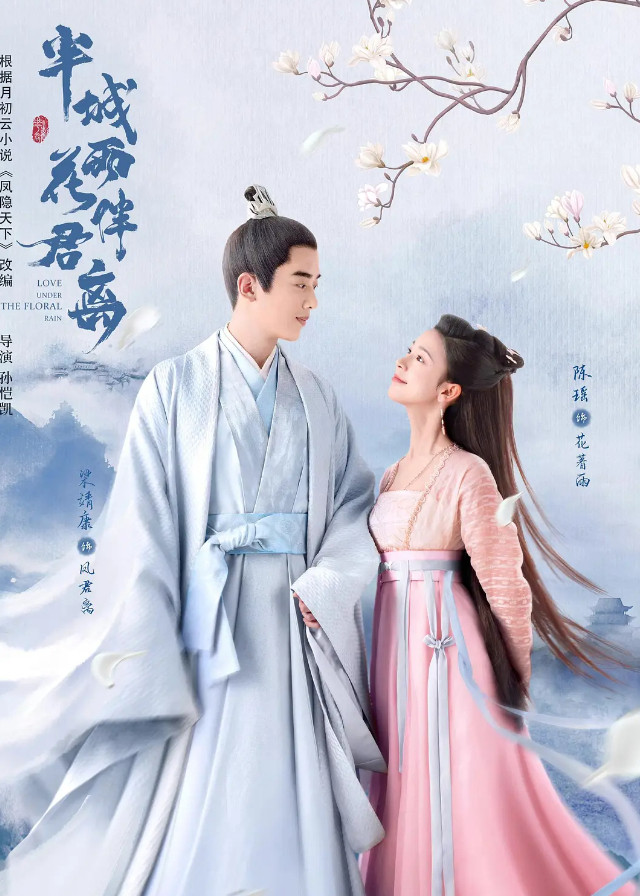 English Title: Love Under the Floral Rain
Chinese Title: 半城花雨伴君离, 凤隐天下
Genre: Historical, Romance
Episodes: 42
Duration: 45 min.
Director: Sun Kaikai, Zhang Mingguo
Product Company: Alibaba Pictures, FEIBAO MEDIA
Released Date: –
Watch On: Youku
Cast
Synopsis
Hua Zhuyu is a famous and strong warrior in the Qi Kingdom. She wore a silver mask, leading her army with a single piece of music.
She is the only daughter of General Hua Mu. She is a beautiful girl, with excellent military skills and qin skills, but she is also as innocent as her peers.
When she was young, she saved her "Ling Ge Ge" who was in trouble by chance. It was this lonely boy who suddenly entered and disappeared that became the "softness" she longed for most.
Many years later, Hua Zhuyu was granted marriage to the left minister Feng Junli. However, at that time, Hua Mu was convicted of the crime, and the Hua family was ruined overnight.
On the night of the wedding, Hua Zhuyu received a letter of repudiation and was forced to marry an enemy country to make peace.
The family was wronged, so Hua Zhiyu hibernated bitterly, and started life in the palace step by step.
The mystery of the family's destruction is because of a traitor's frame-up or a deliberate act by the Southern Emperor? She partnered with Feng Junli to find out the truth.
But this time, she recognized that he is the brother "Leng Ge Ge", they were no longer alone because they have each other, and will step on the road ahead together.
Reviews
You May Also Like
Related Posts