Yan Haoxiang (严浩翔) Profile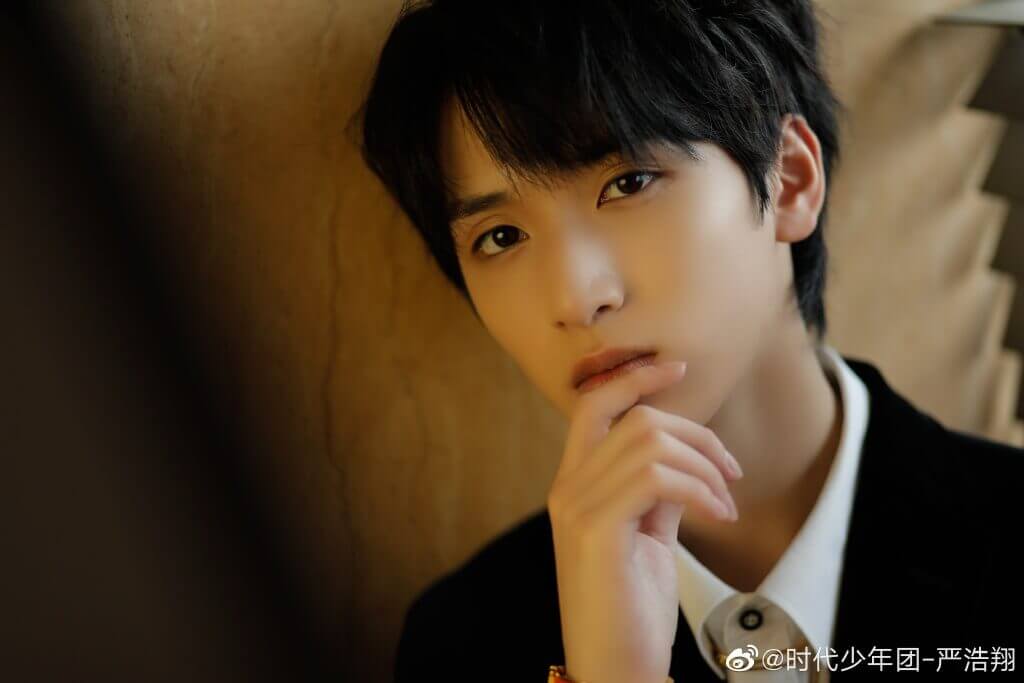 Yan Haoxiang, born on August 16, 2004, in Guangzhou, Guangdong, is a singer, actor, and a member of TNT. He is under Time Fengjun Entertainment.
Basic Info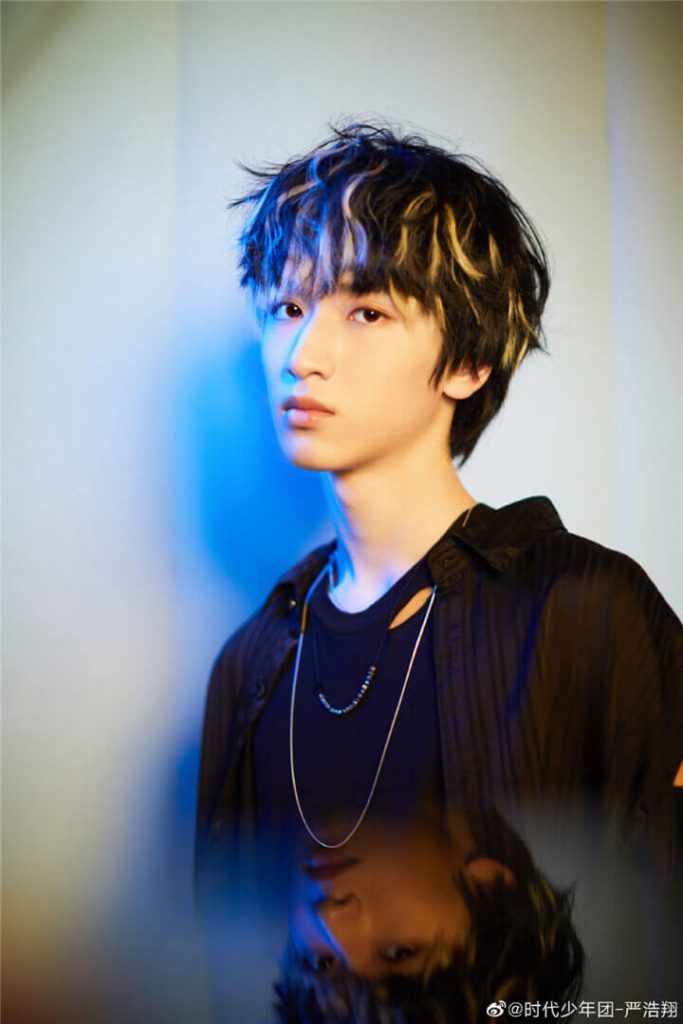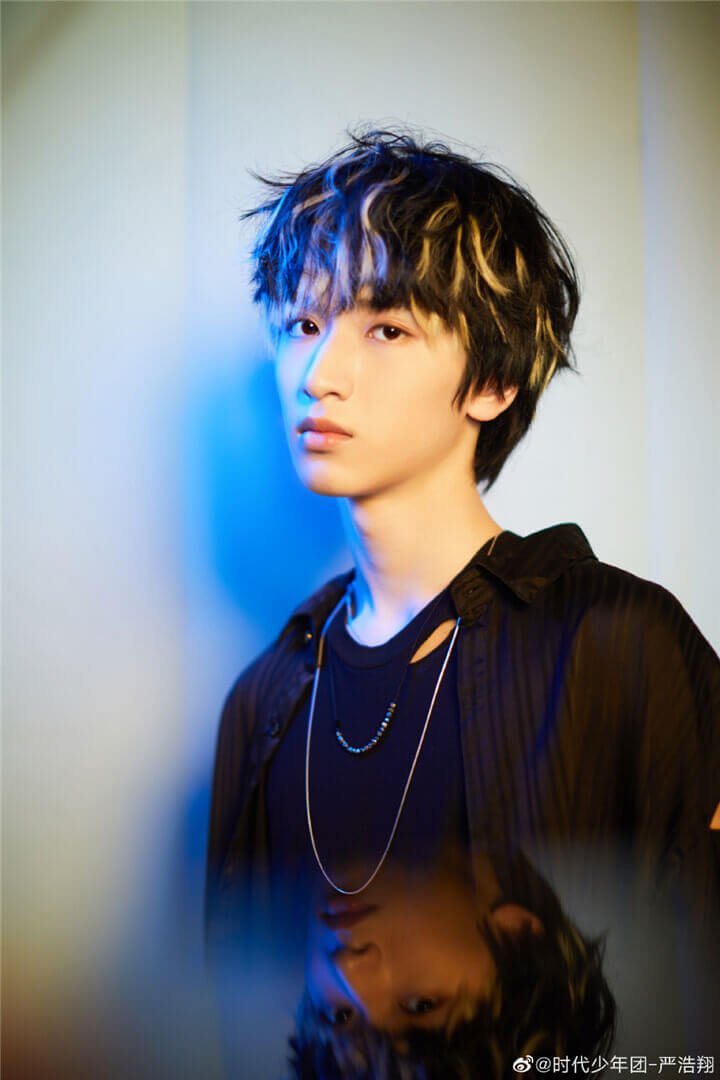 Stage Name: Yan Haoxiang
Birth Name: Yan Haoxiang(严浩翔)
Nickname: Gummy bear, Xiang Ge
Birthday: 2004.8.16
Talents: Rap, Sing, Dance
Place of Birth: Guangzhou, Guangdong, China
Zodiac Sign: Leo
Height: 180cm
Weight: 55kg
Fandom's name: Salt-soda
Fandom Color: #FF5546
Fanchant: chéng míng zài wàng yì qì yáng, shí lì rapperyán hào xiáng(成名在望意气扬,实力rapper严浩翔)
Weibo: 时代少年团-严浩翔
Facts
Haoxiang was a member of Yi An Musical. He stayed in Shanghai Original Painting Media Co. for 3 Years.
He likes the fans to call him Xiao Xiong (little bear)
He likes to play football. His favorite football team is FC Bayern Munich.
He wants to travel to Munich, Germany.
Haoxiang can play the violin.
He likes the mountains.
He prefers movies to TV plays and cartoons.
Haoxiang's favorite film is Captain America.
His favorite fruits are Dragon fruit, Kiwi fruit, and peach.
He likes sweet foods.
He like summer
He likes Gardenia fragrance.
Haoxiang can write and compose songs.
He owns a dog and a cat.
He will read books before sleep.
Haoxiang thinks his charming point is his face.
White and black, he chooses the white color.
He is afraid of high and bees.
He is good at play werewolf.
His favorite idol is Jackson Wang.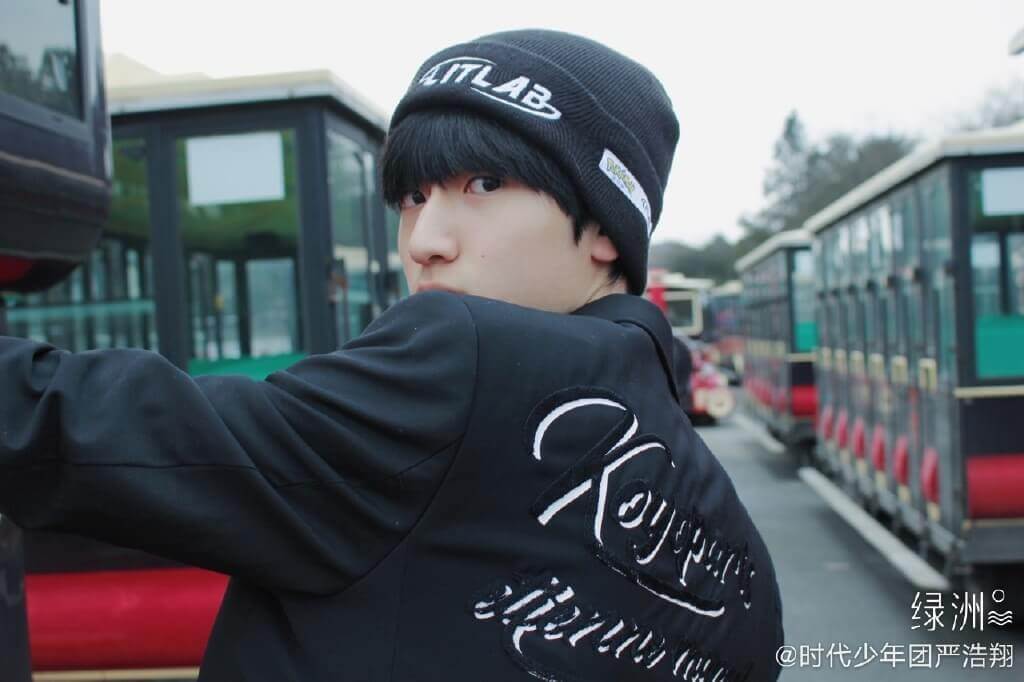 Career
In 2014, he acted in his first film, "Tears of the Sky" (天空之泪).

In 2015, he acted in the kung-fu movie "Zen Temple's Events"(禅师风云). At the end of the year, he became a TF Family contracted trainee.

In October 2016, he starred in TF Family's self-produced mini-drama "21 days with Cat"(和喵星人的21 天) as Yan MiaoMiao.

On March 30, 2017, Yan Haoxiang went public as "Zhan Yiwen" of Yi An Musical.

In January 2018, he participated in the reality show "Yi An After School"(易安放学后). In August, he participated in "Yi An Junior Development Program"(易安少年成长计划)and "Our Dormitory"(我们的宿舍).

.On August 25, the "Typhoon Project" which he participated in came to the end, Yan Haoxiang and the other 6 members formed the group, TNT.

In January 2020, he participated in the variety show "Teens Dream Journey"(少年梦游记).
Filmography
Films
"Tears of the Sky" (天空之泪) (2014)
"Zen Temple's Events"(禅师风云) (2015)
Television series
"21 days with Cat"(和喵星人的21 天) (2016.10)
Singles
"The School Bulletin"(全校通报) (2019-11-22)
"Endless adventures"(无尽的冒险) (2019-11-23)
"Dream travel"(梦游记) (2020-1-7)
Popcorn(爆米花) (2020-4-3)
For You (2020-5-15)
You Are Beautiful(姐姐真漂亮)(2020-8-14)
16 (2020-8-16)
---
If you have any content to add or anything want to know about Yan Haoxiang, Welcome to contact us or leave a comment below.