Sparkle Love – Ling Meishi, Zhang Linghe
Sparkle Love is a youth romantic fantasy drama directed by Huang Yuanda, starring Ling Meishi, Zhang Linghe, Dai Yunfan, Suolang Meiqi, Tang Jialong, Fan Jinwei, Ji Meihan, and Li Mohan, with a special appearance by Li Xinzhe.

The drama tells the inspiring story of Mei Weiwei, a young girl born with strange powers, and Mai Sichong, a swimmer with zero dating experience, who fall in love at first sight and overcome their fear of falling in love, and pursue their dreams.
Details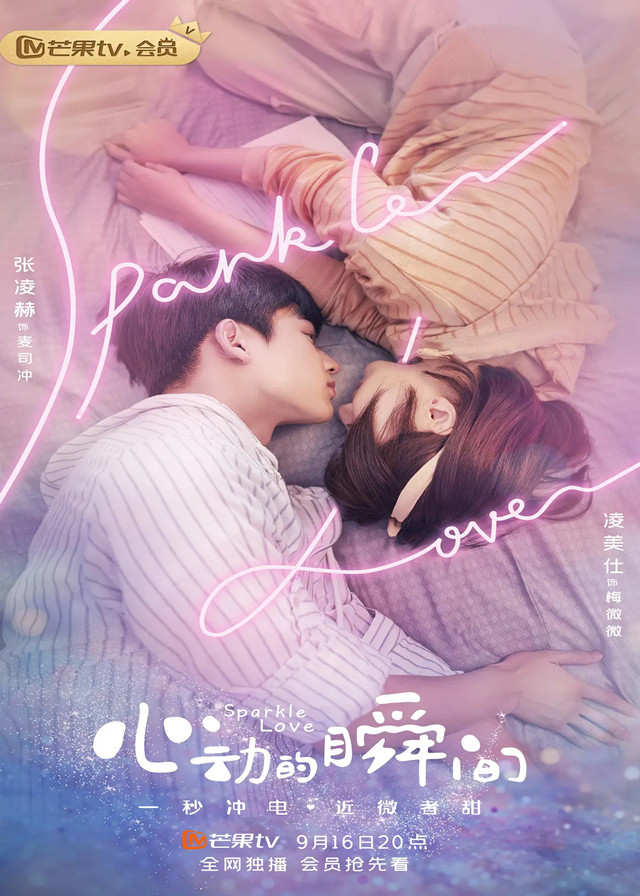 English Title: Sparkle Love
Chinese Title: 心动的瞬间
Genre: Youth, Fantasy, Romance
Tag: Male Chases Female First, First Love, Height Difference, Love Triangle, University, Student
Episodes: 24
Duration: 31 min.
Director: Huang Yuanda
Writer: Zhao Yue, Wu Yue, Ji Rourou
Producer: Chen Rongyan
Product Company: MGTV, LIKE MEDIA
Released Date: 2020-09-16
Boradcast Website: MGTV Drama Channel, MGTV
Cast
Synopsis
Mei Weiwei, a young girl who is born with electricity, is able to make boys who are electrocuted fall in love with her at first sight.
The electric body brought a lot of trouble to Mei Weiwei's growth process, so she tried her best to hide her electric secret after going to college, hoping to become an ordinal girl in the crowd, and not be noticed.
But soon after she entered the university, she accidentally met the schoolboy Mai Sichong.
Mai Sichong fell in love with Mei Weiwei at first sight and launched a love attack on her with great fanfare.
The sportsman Mai Sichong starts a brainless chase mode, and the ridiculous road of chasing love is so sweet…
You May Also Like
Related Posts