Mr. Honesty – Liang Jie, Xin Yunlai
Mr. Honesty is an urban romantic drama directed by Zhu Dongning and Li Yanqian, led by Liang Jie and Xin Yunlai, co-starring Liu Haikuan, Luo Qiuyun, Wu Jifeng, Chen Shimin, Wei Jin, Si Zheng, Wang Xichao, Liu Luoxi, Xiang Aoyu, and Su Zishan.

The drama is based on the comic of the same name and tells the romantic and sweet love journey of Xu Yiren, who meets the president Fang Zhiyou because of "lies" and gets to know and love each other in joyful interactions.
Details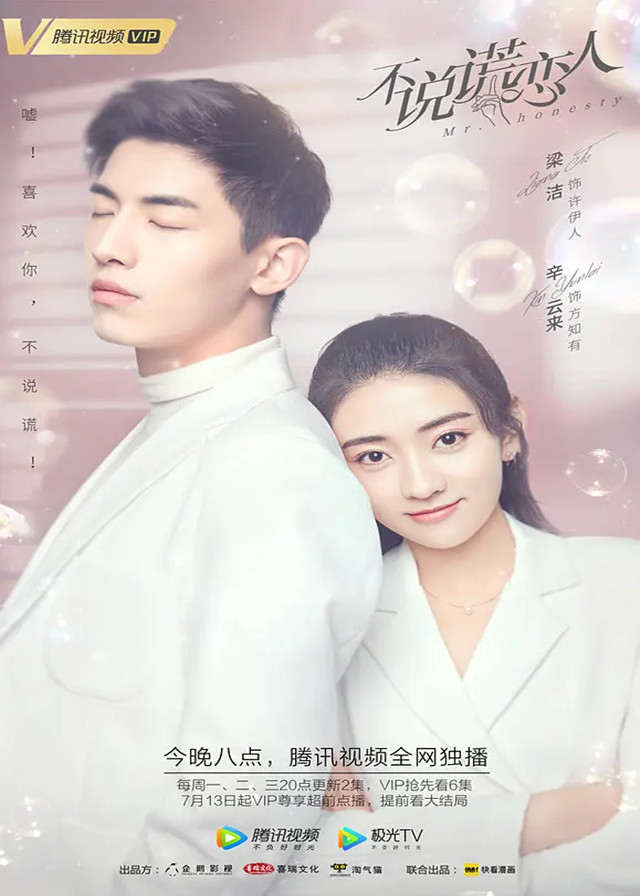 English Title: Mr. Honesty
Chinese Title: 不说谎恋人
Genre: Urban, Romance
Tag: Rich Male Lead, Cold man/Warm woman, Male Chases Female First, Overbearing CEO, Poor Female Lead, Marriage
Episodes: 31
Duration: 45 min.
Director: Zhu Dongning, Li Yanqian
Writer: Guo Shuang
Producer: Li Eryun, Tang Xuan, Chu Fei, Lin Yijie, Wang Zi
Product Company: TENCENT PENGUIN PICTURES, Xirui Culture&Media, TAOQIMAO
Released Date: 2020-06-29
Broadcast Website: WeTV, TencentVideo
Cast
Synopsis
Xu Yiren is a young vivacious girl, and Fang Zhiyou is a cool president. In their first encounter, Fang Zhiyou revealed Xu Yiren's boyfriend's lies in public, leading to their breakup.
It was thought that they will not meet again, but they met again at the interview.
When Xu Yiren was depressed about quitting her job and meeting her "enemy", she accidentally learned that she had been accepted by Fang Zhiyou.
Since then, she has been transformed into the assistant of the president who cannot lie. They went from mutual dislike to mutual support and gradually had a mutual affection.
Xu Yiren built a bridge of love with good-intentioned lies, and a series of unexpected and funny love stories occurred.
Reviews
You May Also Like
Related Posts