Love is in the Air – Ivy Chen, Wang Ziqi
Love is in the Air is a fantasy romantic drama directed by Ivy Chen, starring Ivy Chen, Wang Ziqi, Archie Kao, Zhang Bojia, Pei Liyan, and, Nita Xia.

The drama tells a fantasy love story of Jiang Yiyi, a white-collar worker, who meets Fang Muye, a super-sensitive " Angel guardian".
Details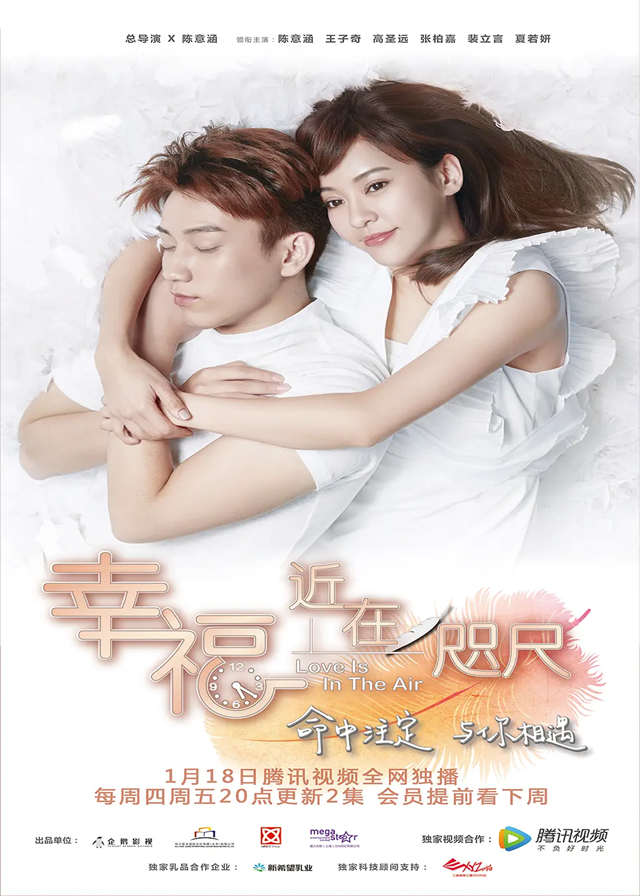 English Title: Love is in the Air
Chinese Title: 幸福,近在咫尺
Genre: Fantasy, Romance
Tag: Time Travel, Love/Hate Relationship, Love Triangle, First Love, Second Chance, Calm Male Lead
Episodes: 24
Duration: 42 min.
Director: Ivy Chen
Writer: Xu Yi, Tang Xialu, Qingyue Studio
Product Company: TENCENT PENGUIN PICTURES, HE LI CHEN GUANG GROUP
Released Date: 2018-01-18
Watch On: WeTV
Cast
Synopsis
During the late Ming Dynasty, the phenomenon of Crop Circles occurred due to the Lunar eclipse. It made the villagers of Taoyuan have the mysterious power to protect the world. They have become a clan of guardians over the centuries.
Jiang Yiyi, an urban white-collar worker, and her first boyfriend Chu Tianqi had broken up for two years, but she was still in love with him inside.
She encountered Fang Muye, "a guardian", and they shared a room and became a love-hate couple.
Fang Muye's amazing ability not only adds to the fun of life but also transforms Jiang Yi Yi's appearance, helping her to strive for success in the workplace and awakening her childhood dream of being an inventor. She was determined to develop a robot arm to help Shi Liang, an athlete who has lost his arm, to return to the court.
Fang Muye repeatedly turns Jiang Yiyi and her ex-boyfriend safe, making them rekindle their love.
But he accidentally became the research object of mad scientist Peter Chen and was in trouble.
Jiang Yiyi gradually recognized the true love in the process of independence, they found the true meaning of happiness in mutual protection and dedication.
Reviews
You May Also Like
Related Posts