Blue Flame Assault – Ren Jialun, Chen Xiaoyun
Blue Flame Assault is a firefighting and rescue drama directed by Lin Ke and Zhang Ke, starring Ren Jialun and Chen Xiaoyun, and co-starring Han Yuchen, Song Wenzuo, Showna Xie, and Li Yuxuan.

The drama tells the story of a young man from the city, Li Xicheng, who joined the firefighting squadron with the aura of a fire-fighting hero, and eventually formed a deep friendship after experiencing life and death tests together with a group of partners, and aspired to use his youth and blood to carry out the firefighting career to the end.
Details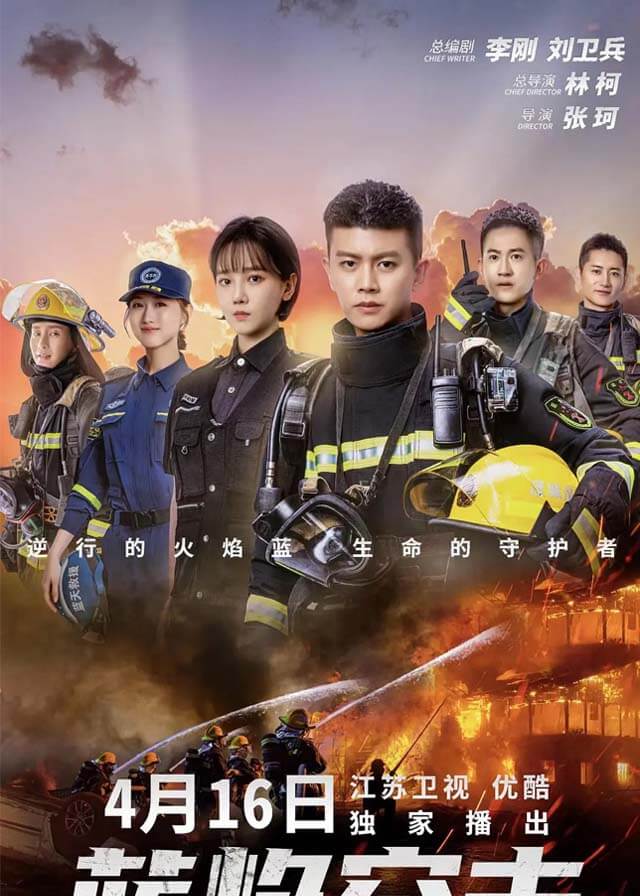 English Title: Blue Flame Assault
Chinese Title: 蓝焰突击
Genre: Urban, Action, Rescue
Tag: Slight Romance, Fire Accident, Firefighter Male Lead
Episodes: 33
Duration: 45 min.
Director: Lin Ke, Zhang Ke, Li Xiaoqiang
Writer: Liu Weibing, Cen Linlan, Dai Changjiang, Zhou Yuan, Chen Yining
Producer: Mu Xiaohui, Wang Wenyu, Zou Zhengyu
Product Company: Xiamen Feibao Culture Media.
Released Date: 2022-04-16
Watch On: Huashi.tv, Viki, Fresh Drama
Cast
Synopsis
Li Xicheng was a fire-fighting hero before joining the team, he entered the fire brigade with an aura but was struck by the relentless reality.
In order to hone this group of new recruits into a real "special duty elite", squadron deputy captain Ye Qiheng made a special training plan to hone Li Xicheng and others' minds and will.
After experiencing warehouse fire, chemical leaks, major car accidents, serial explosions, and other life-and-death tests, Li Xicheng really felt inside as a firefighter special team member, they don't only face crisis-ridden dangerous situations.
Li Xicheng saw the noble soul of this team, as he grew up in life and death and comradeship with his teammates, such as Wen Yibing.
Eventually, Li Xicheng found his lifelong career, in the fire department front line, to become a true hero, to go through the fire.
Reviews
You May Also Like
Related Posts